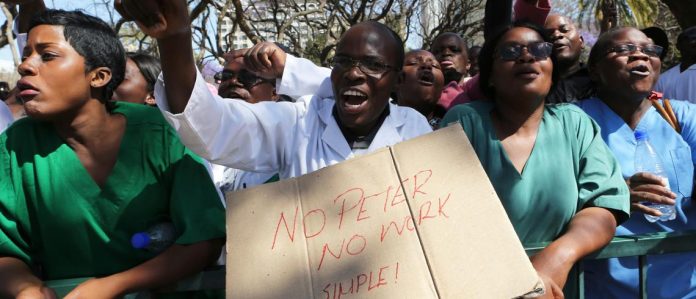 By Patience Rusare
ON May 13, embattled MDC MP Joanna Mamombe and party colleagues Cecilia Chimbiri and Netsai Marova were allegedly abducted after staging a demonstration in Harare's Warren Park Suburb.
The trio were found almost 48 hours later, dumped at Muchapondwa shops in Musana, Bindura South.
Ironically, according to police investigations, Chimbiri hails from a village not far from where the trio were dumped by their assailant(s) who tortured and sexually abused them.
Interestingly, Chimbiri is no stranger to such cheap activism.
In May 2018, she was among the group of 25 civil society and opposition parties' members from Zimbabwe trained in subversion by Srdja Popovic at Protea Hotel in Livingstone, Zambia.
They received US$400 each for the week-long Center for Applied Non-Violent Action and Strategies (CANVAS) workshop.
The workshop formulated strategies that were to be implemented during and after elections. A three-point strategy was adopted which includes 'dilemma action', 'declare own results' and 'question legitimacy'.
Some activists were taught to generate messages to the effect the MDC Alliance had won the July 31 2018 elections even before the results were counted and announced.
Others were to be 'independent analysts' who would confirm and create the image of poor human rights record in the country and yet others were trained to be perpetrators of violence in the ranks of the opposition.
And today, Chimbiri's alleged abduction has created an image of a very poor human rights record for Zimbabwe.
Many would ask what kind of a government abducts women, torture and sexually abuse them?
In this edition, I do not want to waste time on the profile of the 'victims' but rather I will focus on one of the 'coincidences' of the alleged abduction.
Doctors or regime change agents?
Barely nine months ago, Dr Peter Magombeyi, a nonentity in the medical fraternity, was allegedly abducted by State agents. 
He was found four days later, clean shaven, wearing a clean ironed shirt and with a cellphone which still had a full battery.
Independent medical reports showed Magombeyi had been'tortured' and 'poisoned' and was to be taken to South Africa for further treatment.
Not many people bothered to tell the world what happened to Magombeyi after he went to South Africa for treatment.
Even his resignation as the president of the Zimbabwe Hospitals Doctors Association on January 24 this year was not reported in mainstream media.
Nor was it mentioned on twitter.
Not even the US Embassy had the guts to tell Zimbabweans that Magombeyi's abduction had gained him a medical scholarship in the US.
This time, it's not a doctor who is abducted; maybe Magombeyi's abduction was a bad script to be discarded.
it seems doctors have assumed their old role of examining 'victims' of abductions and politically-instigated violence.
Remember 2007, at the US Congress meeting, Zimbabwe Association of Doctors for Human Rights chairperson Dr Douglas Gwatidzo, the same doctor who treated Tsvangirai, Chamisa and other MDC officials during a clash with police, gave an exaggerated medical report on the extent of the injuries.
In his account, Dr Gwatidzo admitted to having been warned in advance to prepare to receive and treat injured people prior to the violence.
For those not familiar with Dr Gwatidzo, he had an uncanny knack of mummifying his 'opposition movement' patients in bandages so they could be photographed and classified as severely brutalised.
However, most of these subjects usually miraculously healed after two-three days once the necessary political mileage had been gained from their alleged wounds.
The doctor even speculated about the weapons used to inflict the fractures and the wounds.
And for that, his organisation and other NGOs, the MDC factions and Studio 7 project received funding through USAID and the US Embassy in Harare.
According to investigations, after Mamombe, Chimbiri and Marova were found, they were taken to
Zimbabwe Association of Doctors for Human Rights-run Westgate 24 Medical Centre but when they found it closed, they were taken to Parktown Hospital, another centre run by Doctors for Human Rights.
They were attended to by Dr Fortune Nyamande and Dr Norman Matara.
The same doctors who compiled an October 2018 report titled 'ZIMBABWE: A NEW ERA / ERROR?
Medical Evidence of Post-Election Violence in Zimbabwe (1 August – 5 September 2018)'.
I will leave the analysis of the report for another day.
Who is Norman Matara?
Norman Matara is a graduate of the University of Zimbabwe (MBChB) and University of Leeds (MPH-International).
He joined the ZADHR as a medical student in 2007.
He was taken under the wings of Dr Gwatidzo.
His profile reads: "Over the years, he has worked with victims of organised violence and torture as well as disadvantaged and minority groups such as the LGBTQI community, young girls and prisoners."
He was elected the national secretary-general (2011-2013) for the Zimbabwe Hospital Doctors Association and currently sits on the board of ZADHR where he serves as Board treasurer.
This is the same Association which Dr Magombeyi led.
In September 2019, Dr Matara hyped the abduction of Magombeyi.
He noted that Dr Magombeyi had been receiving threatening messages following the doctors' industrial action.
"We were aware that he has been receiving threatening messages as they were accusing him of calling an industrial action. We were alerted that he was approached by three unidentified men. Ever since we have been trying his mobile number but it's not going through and he has not communicated with us since then," Dr Matara said then.
In 2015, Dr Matara was offered the Chevening Scholarship by the Foreign and Commonwealth Office to study for a Masters in Public Health at University of Leeds.
The name Chevening comes from Chevening House in Sevenoaks, Kent, – currently the official residence of the UK Foreign Secretary.
The scholarship, launched in 1984, is being awarded to the supposedly intelligent who have leanings towards the regime change agenda.
The Chevening Scholarship has, in the past, produced regime change activists such as Sydney Chisi, Okay Machisa, Chris Mhike, Ronald Chari, Masimba Nyamanhindi, Mfundo Mlilo, Blessing Gorejena, Phillip Dhauti, Sibusisiwe Ndlovu and Pedzisayi Nemadziba, among others, to its list of 'scholars'.
It is important to note Dr Matara also received the Mandela Washington Fellowship (MWF) for Young African Leaders Programme.
This saw him spend about six weeks enhancing his regime change skills at Drake University in the US.
He was also awarded the John Griffiths Award for distinctive work by the University of Leeds.
The fellowship, launched in 2014, is the flagship programme of the Young African Leaders Initiative (YALI).
These young African 'leaders' are at the forefront of pushing for regime change in Africa, as they have been taught and brainwashed to despise their past and heritage.
YALI was established when the US interests on the continent shifted from opposition political parties to the youths.
The term, 'generation democracy' best describes the targeted group.
Upon returning to their home countries, Fellows continue to build on the 'skills' they would have learnt during their time in the US through support from US embassies, four regional leadership centres, the YALI Network and customised programming from USAID, the Department of State and affiliated partners.
The Mandela Washington Fellowship is sponsored by the US Department of State, with funding provided by the US Government and administered by the International Research and Exchanges Board (IREX).
Who is Fortune Nyamande?
Fortune Nyasha Nyamande graduated from the University of Zimbabwe with a Bachelors Degree in Medicine and Surgery (MBChB).
He was awarded the Humphrey Fellowship sponsored by the US Department of State.
During his time as a Fellow, he also worked with the Human Rights Watch in New York in the Health and Human Rights Division and worked with the Population Reference Bureau in Washington DC.
He was elected national president (2014-2016) of the Zimbabwe Hospital Doctors Association.
Currently, he is studying for a Master of Public Health at Umea University in Sweden.
He also sits on the Boards of Youth Agenda Trust and ZADHR, where he serves as national spokesperson.
One then wonders if it was a mere coincidence that Mamombe and her colleagues were treated by Dr Matara and Dr Nyamande?
Can we believe such coincidences?