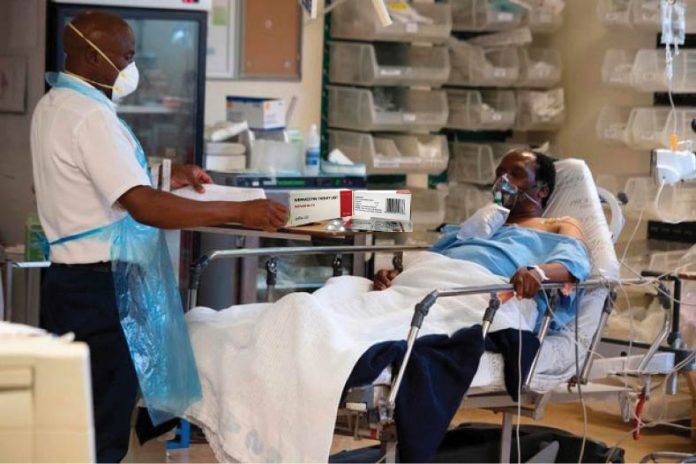 By Patience Rusare
IVERMECTIN fever has gripped Zimbabwe as medical doctors are now using the anti-parasitic drug as an off-label treatment for the COVID-19 virus.
Many believe Ivermectin is a 'miracle' treatment for COVID-19, with the potential to save many lives.
The second wave of the pandemic, which has seen Zimbabwe record 34 781 cases and 1 353 deaths as of February 10, has prompted a demand for the drug.
Zimbabwe has since approved the use and mass importation of Ivermectin to treat COVID-19 patients.
The approval came after some doctors, who are at the forefront of fighting COVID-19, wrote to the Ministry of Health and Child Care seeking permission to use Ivermectin and Nanosilver to treat the scourge.
Ivermectin is a medication used to treat many types of parasite infestations and has been in use around the world for over 40 years for treatment of head lice, scabies, river blindness (onchocerciasis), strongyloidiasis, trichuriasis, ascariasis and lymphatic filariasis.
It has been included on the World Health Organisation's (WHO) List of Essential Medicines and it has been proven safe – also in children.
About 3,7 billion doses have been administered to humans, with virtually no recorded severe side-effects.
In 2015, William C. Campbell and Satoshi Omura, the scientists who developed Ivermectin, won a Nobel Prize for the development of the drug, which has vastly reduced transmission of parasitic tropical diseases.
Despite being a 40-year-old drug, Ivermectin was not registered in Zimbabwe.
Doctors completed "Section 75" forms every time they used it.
The forms are for special exemption to use unregistered medicines.
Lobbying for Ivermectin
The Employers Confederation of Zimbabwe (EMCOZ) was the first to write a letter to Vice-President and Health Minister Constantino Chiwenga seeking authorisation for the use of Ivermectin for prevention and treatment of COVID-19.
In his letter dated January 18, EMCOZ vice-president Demos Mbauya said: "There is increasing evidence that the anti-parasite drug Ivermectin has the potential to improve outcomes for patients affected by COVID-19.
It also protects or prevents infection of both high-risk individuals such as healthcare workers and those exposed to contacts of persons infected with COVID-19."
And, eight days later, College of Primary Care Physicians of Zimbabwe wrote another letter to the Ministry.
The doctors claimed they had successfully used Ivermectin in conjunction with Nanosilver and recorded positive results.
In neighbouring SA, a group of doctors, clinicians, pharmacists, public health specialists and scientists interested in exploring the potential of Ivermectin to prevent and treat COVID-19, lodged an application with the SA Health Products Regulatory Authority seeking permission for doctors to prescribe the drug to patients.
Ivermectin has also been approved for use at provincial level in Argentina, at State level in India and country level in Belize and Macedonia, while possible use is being explored in the US and Australia.
The UK has also approved the use of the drug, according to a report in The Times.
In the protocol, those at high risk of COVID-19 infection receive Ivermectin at 0,2 mg/kg on day one and day three as well as weekly for four weeks.
Those who were exposed to COVID-19 receive the same dose at day one and day three; and both groups receive daily doses of Vitamin D3, Vitamin C, quercetin, zinc and melatonin.
For early outpatients with COVID-19, the protocol calls for one dose of Ivermectin at 0.2 mg/kg at day one and day three, along with the same daily vitamins and 325 mg/day of aspirin
The wonder drug?
Speaking during a Webinar recently, deputy Health and Child Care Minister John Mangwiro, urged caution on the use of Ivermectin to treat COVID-19.
"The Ivermectin drug has been researched internationally, but nothing has been found to suggest that it is a wonder drug against COVID-19 to be celebrated and, again, nothing has also been found to condemn it," said Dr Mangwiro.
"We, therefore, need to take it cautiously in line with the World Health Organisation (WHO) standards. It can be used in COVID-19 patients as a compassionate drug, simply because there is no other option — just like we do with the traditional herbs we take.
We say this because we realised when people are in trouble, they take anything, but it is a controversial drug since there is not much evidence to say it is a wonder drug in the case of COVID-19."
However, one of the lobbyists, Dr Martin Gill, an ear, nose and throat (ENT) specialist based in SA said Ivermectin is the most significant, safe and cost-effective drug for treatment in all phases of COVID-19 infections.
"This is the only medication that is effective as a prophylactic drug and a treatment in all stages of the disease. It has also been shown to be an effective treatment in the later stages of the disease to settle down the inflammatory process in the long haulers," said Dr Gill.
"Ivermectin controls and inhibits viral replication in the early stages of the disease and reduces the severity of the disease in the later, infective stages.
In the final phase of the disease, the use of Ivermectin can reduce mortality rates by as much as 30 percent. Being a potent anti-inflammatory, it settles down the inflammatory process that causes prolonged symptoms in long haulers.
If made widely available for treatment and prophylaxis, Ivermectin has a significant effect on new infection rates and mortality. This could restore pre-COVID-19 infection rates within a few weeks, thus controlling the feared second and third waves of the pandemic."
Dr Gill said, in addition to being extremely safe, it has the advantage of being a low-cost drug; all-in-all, being a strong contender for the treatment of COVID-19.
"Until such time as herd immunity is achieved and vaccines are widely available, it is the best, immediate option for keeping the pandemic under control."
The chief co-ordinator of the COVID-19 taskforce in the Office of the President and Cabinet, Dr Agnes Mahomva, cautioned people to not use animal Ivermectin bought on the black market.
"Ivermectin has been in use for a long time, although we have not imported it as the Government. What we have banned for use in human beings is the Ivermectin that veterinary clinics have, which is meant for cats and dogs. That one is not recommended for human beings," Dr Mahomva said.
Black market traders were now profiteering from the sale of Ivermectin for animal use.
Agricultural stores said the drug flew off their shelves last month after social media platforms started touting its effectiveness.
In SA, some animal Ivermectin manufacturers sold four months' worth of the drug in the first two weeks of January this year.
Acting director of the Medicines Control Authority of Zimbabwe (MCAZ), Richard Madzikwa, said they were in the process of putting measures to stop the illegal importation of Ivermectin into the country.
"We will allow certain importers to bring in the product as long as they satisfy good manufacturing practices. So, we will monitor its use. We hope that this will ensure that the pricing is affordable when the supply side is improved to protect citizens," Madzikwa said.
A survey by The Patriot showed that some pharmacies were selling the drug at US$20 for five tablets while others are charging US$10 per tablet.
Despite all the hype around Ivermectin, for the prevention and treatment of COVID-19, convincing clinical evidence is yet to emerge from current trials.