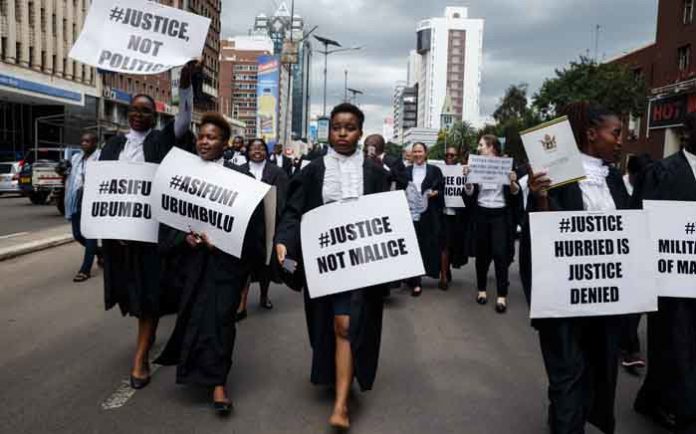 By Special Matarirano
FOR an ordinary person, Fadzayi Mahere is a shy-looking advocate who brought her name into prime view when she first demonstrated against the introduction of Bond notes in April 2016, working alongside Evan Mawarire and the so-called '#This Flag' team.
She would come back in the 2018 harmonised elections as a quasi-independent candidate for Mt Pleasant.
Mahere had a party in her mind called 'Be the Change'.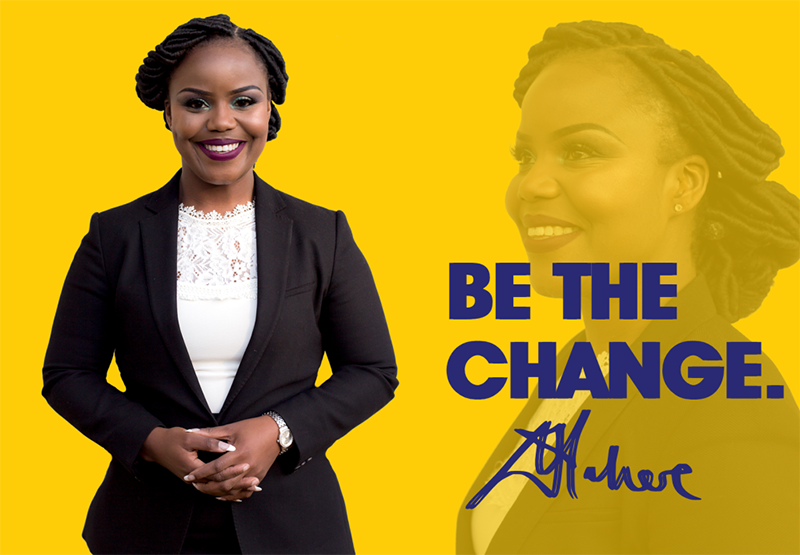 At that instance, she had already mooted her ideal party, a party she envisaged as a party for the future.
The only issue that she did not know at this time was how she would manoeuvre on the political landscape to have her name placed correctly for a 'political take-off'.
Just like German's Otto von Bismarck, Mahere is an opportunist as you shall see.
Apparently, an organisation that was, and still is, a victim of Mahere's manipulation is the Law Society of Zimbabwe (LSZ).
The LSZ, throughout history, from the time when it was known as the Bar Association of Rhodesia to the years that it operated under the new independent name of LSZ, it has not mistaken its identity to that of activism and a pressure group against Government.
Enter Mahere, there now exists a clear case of conflict of interest and an elevated degree of hypocrisy in the LSZ more than at any period in the history of its formation.
That's why the Minister of Legal and Parliamentary Affairs, Ziyambi Ziyambi, hinted on the need to restructure the society.
The LSZ is dedicated to effectively and efficiently representing and regulating the legal profession to promote the sustainable development of the legal profession, the observance of the rule of law and foster public trust and confidence in the justice system.
Throughout its independent and non-partisan history, the LSZ never worked as an antagonistic tool for Government but an instigator for legal up-rightness.
Some of the activities that the LSZ has done includes playing an active role against corruption and participating in building the capacity of the Zimbabwe Anti-Corruption Commission (ZACC) on the legal aspects of investigating corruption in the Zimbabwe justice sector.
The society also committed to capacitating registered lawyers and law firms in the area of anti-corruption, anti-bribery, fraud and asset tracing.
Further, it also partnered with Judicial Services Commission of Zimbabwe, Messenger of Court and Sheriff's Office to form Against Corruption Together (ACT), an initiative created to fight corruption in the justice delivery system.
But its current crop of lawyers, like Mahere, have made and turned it into an activists' organisation.
Why?
The society is constituted and run by mostly lawyers who have an opposition umbilical cord and these lawyers have been accused of abusing and acting ultra vires the scope and mandates of the LSZ.
Unsurprisingly, that is why we have the LSZ being dragged to court by Joshua Chirambwe.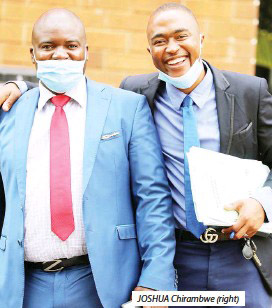 Chirambwe, in a High Court filing, is seeking a declaratory relief that Sections 58, 64 and 65(1) to (5) of the Legal Practitioners Act are invalid and in violation of the Constitution.
In her bid to market her oppositional bravado, in which many pundits have concluded that the action represents a 'self-raising' gesture, Mahere did the following in 2019:
On January 29 2019, Mahere was part of the lawyers under the banner of the LSZ who took to the streets demonstrating against what they called deterioration of rule of law and human rights.
Mahere did not know or she deliberately ignored a legal misnomer where a legal regulator and registrar is turned and used for activism.
Much as many were surprised by this, those who have been following events in Zimbabwe are in the know that Mahere represents an impatient, opportunistic activist-cum-politician when it comes to following the legal confines of roles and jurisdiction.
During this demonstration, the LSZ took and presented a petition to Chief Justice Luke Malaba and Mahere, representing the group, gave or issued a statement.
"Lawyers are matching in support of human rights and restoration of constitutional freedom," said Mahere. "And we do not want the military on the streets nor in civilian life.
It is a march in support of fair trial."
The greatest danger on the statement was when Mahere, as a representative of the LSZ, forgot that she was not speaking 
for her party or political leader.
Prior to all this, in 2017, Mahere announced her bid to represent Mt Pleasant in the 2018 elections as an independent candidate.
She launched her manifesto which she popularised as the Yellow Manifesto because of all its 21 yellow pages.
In that manifesto, Mahere contended that she was not a political party, she was an individual fed up with the status quo and she was a 'Hope Provider'.
And, in 2019, after failing to win the Mt Pleasant Constituency, she joined the MDC Alliance as a secretary for education in June 2019, and barely a year later, she became the party's secretary for communication in May 2020 and she became the 'change she wanted to be'.
The position of party secretary for communication is not a position that can be given to a 'mafikizolo' in any serious political party.
A lot then came out of how she had landed the post and that's a public secret today.
Controversy pays, some people say.
Mahere has been at the centre of many of these, including the Petina Gappa accusations that she was 'trying to get into her man, Acie Lumumba's pants', labelling her 'a husband snatcher' and the LSZ being turned into an antagonist society.
The coming on board of Mahere saw Chamisa being 'captured', a lot of analysts have concluded.
This has gone to the extent that the Citizens Coalition for Change (CCC) (or is it Chamisa Chete Chete!) abbreviation has taken other ancillary immoral meanings than what it was coined to mean.
On the said LSZ demonstration, Chamisa acted in cahoots, and was quick to corroborate like a good and supportive amorous snake, with Mahere.
"So apart from raising the issue with SADC, we want this issue to be addressed in the context of the international community helping us," said Chamisa.
"These are clear cases of unleashing our military on unarmed civilians."
As a lawyer himself, he should have known that there should be differences between how the opposition speaks and how the LSZ speaks and attends to pressing legal issues.
It is, therefore, not an exaggeration to say that there is a clear conflation between the LSZ and Chamisa's party as influenced by Mahere.
There is an evident confluence between the players in the LSZ and those in the former MDC Alliance (now CCC).
Chirambwe, in a High Court filing, is seeking a declaratory relief that Sections 58, 64 and 65(1) to (5) of the Legal Practitioners Act are invalid and in violation of the Constitution.
Chirambwe argues this is unfair because the Constitution gives everyone the right to associate with organisations or groups of choice.
He says he does not want to be affiliated to the LSZ, which he accuses of now pursuing political objectives.
He said in an affidavit: "It (LSZ) has organised demonstrations on political issues having nothing to do with the practice of lawyers or professional regulation.
It has made statements against Government policies without checking if members such as myself agreed with those statements.
The right of freedom of association is violated when money is taken from non-consenting legal practitioners as LSZ dues without giving them a choice to get a practicing certificate without paying such money."
Mahere is part of the influence in this regard.
Some have already prophesied that she will be the president of that CCC circus soon.
It's her colour, her idea and her plan.
And now back to the recent launch of a new name by the former MDC Alliance, it is clear whose ideas are circulating in that party.
The Yellow Manifesto is the document that is spearheading the CCC.
It's an individual idea, not a party idea.
Mahere is simply using her 'over-ripe' female ingenuity to gain control of the party.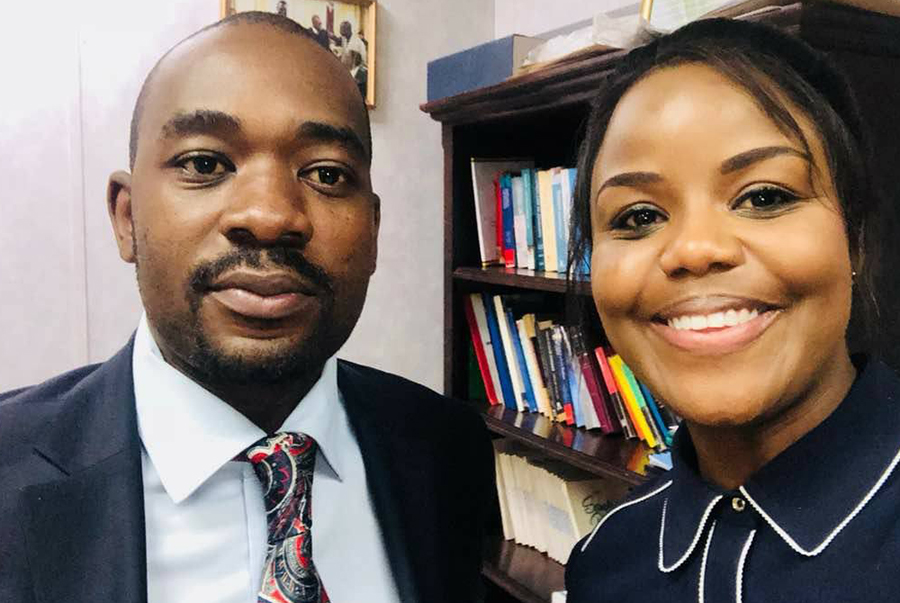 She indicated in her Yellow Manifesto document that she will remain independent of party affiliation, party politics and party squabbles.
On January 11 2022, during a party meeting to discuss the party's by-election stance, Mahere was reported as having been very blatant to Chamisa's proposal to boycott the by-elections.
Chamisa had presented a roadmap that opted for the boycotting of the March 22 2022 by-elections and never rebrand, rename or recolour the party.
Chamisa's logical reason, or lack of it, was based on his ego-centricism that 'any election that he would not be involved in as the president' was more likely to flop and dent the chances of the party in 2023.
Close sources reported that Chamisa looks at himself as the nerve-centre of the party and this does not augur well with others.
In his reasoning, Chamisa wanted to put to shame the by-elections by conducting the party primary elections for the 2023 harmonised elections on March 26 2022, the day the country would be conducting by-elections.
This was vehemently resisted by his lieutenants, very much resisted.
The meeting ended without a solution and Chamisa would only resort to social media to show his surrender. His "We have heard you…" tweet was a response to a very angry team.
This is what then forced the 'jecha man' to succumb to Mahere's plan, her idea to take over the party without fear of other MDC splinter groups.
She does not want 'party squabbles' and she is firmly laying her bricks well for a 'political take-off'.
The nation should brace for another split soon.