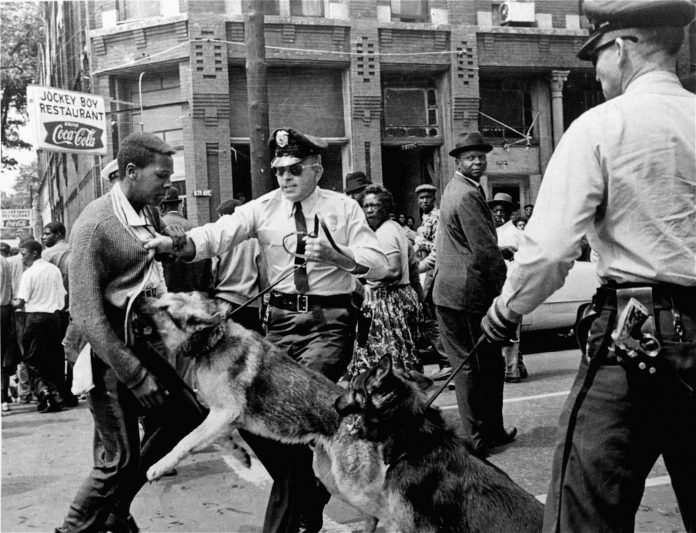 By Patience Rusare
THE wave of protests in American cities after the murder of George Floyd should not come as a surprise.
On May 25, Africa Day (pun intended), Minneapolis police officers murdered an unarmed 46-year-old blackman.
To many, the uprisings following the brutal killing of Floyd, particularly when they branched into property destruction, invoked uncomfortable and heinous urban unrest of the 1960s; from the 1965 Watts riots in Los Angeles to the Newark and Detroit riots in the summer of 1967, to unrest in almost every major American city in the wake of Martin Luther King Jr.'s assassination in April 1968.
A similar moment was when Emmett Till was lynched in 1955.
Like this moment today, that killing touched a collective nerve.
Too many young African-American boys and men had been lynched or murdered.
It's horrifying to see how little has changed since then.
Once more, thousands are demonstrating against racism and police brutality.
And once more, they have little hope that anything will change.
To make matters worse, US President Donald Trump is a white supremacist who seems to 'glorify' the killings and has described protesters as 'thugs'.
Days after the protests broke out, which are purported to be the longest in American history in the 21st Century, Trump tweeted that if protesters had attempted to breach the White House fence, "…they would have been greeted with the most vicious dogs, and most ominous weapons, I have ever seen. That's when people would have been really badly hurt, at least."
The remarks were met with outrage in many quarters, as many were reminded of the Associated Press photo, taken on May 3 1963, as Eugene 'Bull' Connor's Birmingham, Ala., police force unleashed vicious dogs on peaceful civil rights protesters.
"The image of the savage attack struck like lightning in the American mind," civil rights historian Taylor Branch wrote.
In the photography, the white policeman is seen with the German shepherd's leash wound loosely around his left hand.
With the right, the officer is reaching out to grab the cardigan of the young black protester, drawing him closer to the dog snapping viciously at his waist.
The teenager's eyes are cast down, a living symbol of nonviolence, his knee thrust forward as if to block the attack.
Behind him on the street, other African-Americans look on with alarm.
Two days later, in a White House meeting with liberals, President John F. Kennedy fumed in frustration at the photograph splashed above the fold on the front page of the New York Times and declared civil rights 'a national crisis'.
The image symbolised the brutality of American racism.
Sadly, as Jim Wallis bluntly puts it in his book America's Original Sin: "US was established as a white society, founded upon the genocide of another race and then the enslavement of yet another."
In cities across the country, and in rural areas of the Old South, the situation of the black underclass and, increasingly, of the black lower working classes is bad and getting worse.
The dream that race might some day become an insignificant category in the US now seems naively utopian.
In a replay of the eight minutes 46 seconds of Floyd's final moments, Derek Chauvin, the officer is seen most clearly in witness videos pinning Floyd to the ground.
The video shows Floyd crying out what's become a black refrain: "I can't breathe!"
But Chauvin, who is white, kept his knee on Floyd's neck for eight minutes and 46 seconds, according to the criminal
complaint against him.
The New York Times reconstructed video shows that Chauvin did not remove his knee even two minutes 53 seconds after Floyd lost consciousness, and for a full minute after paramedics arrived at the scene.
An independent autopsy says Floyd died of 'asphyxiation from sustained pressure' when his neck and back were compressed by Minneapolis police officers during his arrest last month.
The pressure cut off blood flow to his brain, that autopsy determined.
Series of deaths
Floyd's death was the latest in a series of fatal police shootings of blackmen that have led to protests across the US and accusations that the American justice system is biased against the country's black community.
Protestors have chanted: "I can't breathe," Floyd's last words and a phrase embedded in the national conscience after New York police choked Eric Garner during a 2014 arrest, resulting in his death.
Demonstrators also demand justice in the killings of Breonna Taylor in Louisville, Kentucky, and Ahmaud Arbery in Glynn County, Georgia.
Taylor, 26, was killed in March this year after officers forced their way inside her home in Kentucky.
Taylor was shot at least eight times by three officers.
The perpetrators roam the streets freely.
And we don't only see the brutal killings in encounters between African-Americans and the police — it even manifest in a simple walk in the park.
In February, Arbery, who was black, was jogging outside Brunswick, Georgia, when Gregory McMichael and his son, who are white, chased after him. Arbery and Travis McMichael struggled over the latter's shotgun and Arbery was shot three times.
These killings came on the painful heels of the murders of Sandra Bland, Walter Scott, Philando Castile, Michael Brown Jr., Trayvon Martin, Tamir Rice, Sean Bell and Emmett Till — to name just a few — along with the millions of Black bodies lost to slavery, Jim Crow, preventable health inequities, the school-to-prison pipeline and sanctions.
No wonder a blurred photo showing a CNN headline 'Two Deadly Viruses Are Killing Americans: COVID-19 And Racism' posted to Twitter became the platform's most-liked tweet this week according to data from social media-tracking firm NewsWhip.
Covid 19 and racism
Over 1,8 million Americans have been infected with COVID-19, while over 105 000 have died—but Centres for Disease Control data suggest black people are more likely to be hospitalised with coronavirus, while Wired reports that economic inequality, lack of access to quality healthcare, food deserts and other structural inequities contribute to black people being disproportionately impacted by the pandemic.
Across the US, black-Americans are contracting and dying of COVID-19 at wildly disproportionate rates and, in some areas, they aren't being tested for the virus nearly as frequently as their white peers either.
In addition, black people make up the majority of low-wage workers who remain on the front-lines in positions that don't permit them the privilege to work from home, leverage paid sick leave or access personal protective equipment.
On top of creating the black community's ongoing health crisis, according to Shervin Assari, a health inequality researcher at Charles R. Drew, one of the historically black medical schools in US, systemic racism is also a barrier to treatment.
In Wisconsin, a state that is only six percent black, black people account for about half of its COVID-19 deaths. In Chicago, black people account for 70 percent of deaths due to COVID-19 but make up only 30 percent of its population.
In Richmond, Virginia, all but one of the people who have died of COVID-19 were black.
Surely anyone who cares to pay attention knows that the gulf between the health statistics of white and black Americans has existed for decades, if not centuries.
COVID-19 is just the latest manifestation of an old and ugly trend.
So is the murder of Floyd.
The explanation for it is at once simple — racism — and its incredibly entrenched in all systems in the US.
Thus, fellow blacks fighting the racism that killed Floyd and many others before him require more than hashtags.