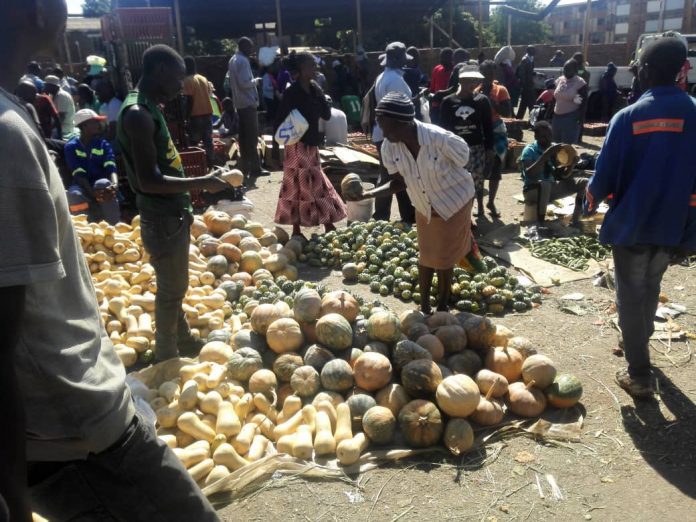 By Evans Mushawevato
"THIS disease is not a joke Kenyans must treat this matter with the seriousness it deserves by adjusting and changing their lifestyles if we continue to behave normally this disease will treat us abnormally behaving normal under these circumstances is akin to having a death wish." — Pastor Anthony Musembi Todii cover
The above words from a COVID-19 awareness song by Kenyan Pastor Anthony Musembi, delivered on the legendary and inimitable Oliver Mtukudzi note, must be to taken to heart, especially by Zimbabweans.
While the authorities are doing everything to ensure calamity does not befall the nation, citizens are proving to be a let down.
One of the most important rules in the fight against COVID-19 is social distancing.
And this is a rule that is being broken, everywhere.
People have also resorted to playing 'cat-and-mouse' with the authorities enforcing the lockdown.
Shebeens have sprouted in various neighbourhoods to counter closure of bars while some bottle stores and bars are 'opening' for special patrons.
The point being missed is that the lockdown has been enforced not to fix any one but to try and avert disaster.
The way people are going about their business makes one shudder.
It appears we have been given some guarantee that we are immune to COVID-19.
It seems there is a wide belief that the fight against COVID-19 will be won just by people not getting into town and going to work.
But some of the infections are happening to people in their homes.
The utter disregard of measures to ensure that we are not affected by the virus is beyond shocking.
Genuine concerns and everyday needs certainly do not guarantee us immunity.
While the need for social distancing has been emphasised time and again, the message has fallen on deaf ears.
In supermarkets, market places and neighbourhoods, it is business as usual while people are 'zero centimetres' apart.
It appears we are doubting Thomases who will not believe that COVID-19 is real until it hits us in the home.
However, truth and reality is that getting infected is horrendous for both the victim and family.
How exactly is COVID-19 spread?
"People infected with COVID-19 may spread the disease when they speak and breathe, not only when they let out a hearty cough.
The World Health Organisation states that COVID-19 spreads mostly through direct contact with infected people and with infected large respiratory droplets, which measure more than 0.0002 inches in diameter. The hefty droplets fly from a person's mouth when they cough or sneeze, falling to the ground by the time they've traveled only a few feet.
However, mounting evidence suggests that aerosols may spur transmission more than once thought, and these smaller particles "can remain aloft for a considerable amount of time," on the order of hours, said Jeffrey Shaman, an epidemiologist and head of the Climate and Health Program at Columbia University in New York City.
In one anecdotal account, dozens of choir members contracted COVID-19 after a rehearsal, despite members not reporting symptoms and keeping their distance from each other throughout rehearsal, the Los Angeles Times reported. In a study published in March in the New England Journal of Medicine, researchers described how aerosolized coronavirus particles can remain viable for up to three hours in the air, meaning they could infect a person hours after being expelled." — Source livescience.com
And what exactly are we doing in our various neighbourhoods?
People continue to cross neighbourhoods.
It has become common to hear phrases such as "KuMbare kuri kufire, kune social soccer big time."
Exercise groups are the latest craze in the high and low density suburbs.
And in these groups, all sorts of exercises are being done, with a lot of sweating and bodily contact as participants spur each other on.
Exercising is good but under current circumstances, can be lethal.
People continue to visit relatives in other towns.
In supermarkets and queues for various products people are not observing social distancing.
At Mbare Msika, it is business as usual with hoards of people in close proximity buying vegetables and having come from different parts of the city.
In some of these areas, especially at vegetable markets, there is no monitoring and testing taking place.
In European countries hard hit by COVID-19, people unwittingly spread the virus as they adopted the business- as-usual attitude before realising the seriousness of the virus.
From their misfortune, we must learn. The virus was slow to get to Africa but it's now upon us and evidence is showing that it spreads and we have seen how it has ravaged other countries.
According to health expert Nyasha Chakanyuka: "It's important during these times to hold fast to any sense of normalcy but one must try to find prudent ways to do so. More than ever self-care is needed."
"We can undertake social distancing measures ourselves, let us do that. Funerals are a cause for concern as our people continue to gather and shake hands," said Chakanyuka.
This is not the time to 'play clever'; it's time to play safe!