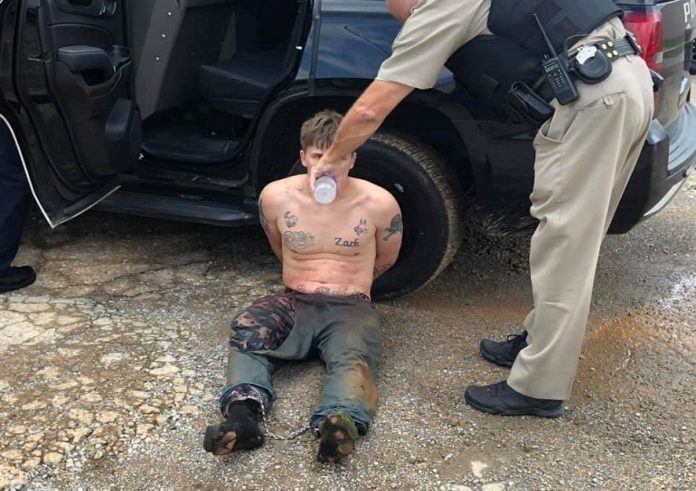 By Patience Rusare
LAST week, when a white double-murder suspect Sebastian Arzadon was arrested in Lawrence County, US, officers gave him water and dressed his wounds.
Within minutes, social media users couldn't help, but notice the difference in police treatment in Tennessee, despite the gravity of the crime versus the episode in Minnesota where George Floyd was murdered.
According to Lawrenceburg police chief Terry Beecham, 22-year-old Arzadon was charged with two counts of first degree murder, especially aggravated burglary and possession of a firearm during commission of a felony.
A check with Metro Police showed Arzadon has a record of arson and aggravated burglary.
Without wishing someone had died, people on social media were pointing out the apparent racist difference in police responses to white suspects who are armed and black suspects who are not.
A witness recorded video footage showed the suspect being given water, on a stretcher bed while his wounds were being dressed.
The incident in Tennessee came nearly two weeks after another suspected double-murderer, also accused of a range of other violent crimes, was safely taken into custody without the police resorting to any violence, let alone lethal force.
Peter Manfredonia was arrested on May 27 in Maryland, six days after he allegedly killed a 62-year-old man with a machete, held anther man hostage, stole the hostage's guns and vehicle, killed a former classmate and kidnapped the former classmate's girlfriend in her car in Connecticut.
And Instagram fan pages were created for Manfredonia.
Comments included dark sarcasm like: "He's just helping people go to heaven early."
Remember Dylann Roof — the admitted racist murderer of nine parishioners in a historic black church in South Carolina in 2015 — stopped officers to get him some Burger King on the way to being booked, even though he was considered very dangerous.
The list of similar examples literally goes on and on.
This is in stark contrast to Floyd who was killed during an arrest for possessing a supposedly fake US$20 bill.
Yes that was his crime.
Was it because he was black?
In a controversial 1975 article, titled, 'White Racism, Black Crime, and American Justice', criminologist Robert Staples argued the legal system was made by white men to protect white interests and keep blacks down.
Throughout this country's history, the hallmarks of American democracy – opportunity, freedom and prosperity – have been largely reserved for white people through the intentional exclusion and oppression of people of colour.
The deep racial and ethnic inequities that exist today are a direct result of structural racism; the historical and contemporary policies, practices and norms that create and maintain white supremacy.
Prosecution and incarceration
The US is notorious for putting more people in prison than any other country; its prison population accounts for over 20 percent of the world's total, according to the Prison Policy Initiative.
And African-Americans are incarcerated at a much higher rate than anyone else.
In 2018, the number of African-Americans in US prisons was at its lowest in almost 30 years and yet "…the imprisonment rate of black males was 5,8 times that of white males, while the imprisonment rate of black females was 1,8 times the rate of white females," the Bureau of Justice Statistics said in a report in April.
For every 100 000 black residents, 1 134 were in prison, compared to 218 for whites, it said.
"African-Americans are more likely than white Americans to be arrested; once arrested, they are more likely to be convicted; and once convicted, they are more likely to experience lengthy prison sentences," The Sentencing Project wrote in a 2018 report to the UN Special Rapporteur on contemporary forms of racism.
Poverty and unemployment
Racial inequality in the US manifests in a myriad of other ways in everyday life.
In 2018, the median income of black households was US$41 361 compared to US$70 642 for non-Hispanic white households, according to the US Census Bureau's Income and Poverty Report.
Meanwhile, the poverty rate for African-Americans was 20,8 percent, more than twice that for non-Hispanic whites (8,1 percent).
This has had far-reaching consequences on everything, from food security to housing, health insurance and education.
About 40 percent of homeless people in the US are African-Americans, even though they make up just 13 percent of the country's total population, according to the National Alliance to End Homelessness.
And about 6,5 percent of blacks are unemployed compared to 3,9 percent of whites.
Studies have found that African-Americans continue to be discriminated against at work and during the hiring process.
In low-wage jobs: "Black and Latino or Hispanic workers earn less than white workers with equivalent educational levels and experience," a report by the Brookings Institution noted in November 2019.
Among Fortune 500 companies, only four currently have black CEOs.
And the 2018 Missing Pieces Report by the Alliance for Board Diversity found that African-Americans held just 8,6 percent of board seats in those companies, compared to 83,9 percent of seats for whites.
Black adults make up 10 percent of college graduates and eight percent of professionals, but just 3,2 percent of executives or senior-level managers, according to a recent study from the Centre for Talent Innovation.
Schools and hospitals
Black and Latino students across the US are far more likely to be suspended than white students – and far less likely to have access to rigorous college-prep courses, according to a 2015 sweeping study released by the US Department of Education's Office of Civil Rights.
The trove of data, collected from 72 000 schools serving 85 percent of the nation's students, revealed tremendous disparities in the public school experiences of minority and white students.
Some of the most striking findings involved discipline: one in five African-American boys – and one in 10 African-American girls – are suspended from school.
Overall, African-American students are 3-1/2 times more likely to be suspended or expelled than their white peers. And 70 percent of students arrested or referred to law enforcement for disciplinary infractions are black or Latino, the study found.
According to a 2015 report from the National Centre for Education Statistics, there are more than 43 000 school resource officers and other sworn police officers, and an additional 39 000 security guards, working in the nation's 84 000 public schools.
Since when did school discipline require so many police or security officers?
Other researchers have found that students who are repeatedly punished by being barred from campus are far more likely to drop out.
Academic opportunities also vary widely by race.
Among high schools that serve predominately Latino and African-American students, just 29 percent offer a calculus class and only 40 percent offer physics.
In some school districts, those numbers are even more glaring.
In New York City, for instance, just 10 percent of the high schools with the highest black and Latino enrollment offer Algebra II.
The COVID-19 pandemic also exposed the inequality that black communities face even when it comes to health.
The COVID Racial Data Tracker found that African-Americans made up 24 percent of deaths so far, almost twice their population share.
Experts linked this to housing location, healthcare access, underlying health conditions and the fact that a disproportionate number of people in the community work in sectors deemed essential, such as healthcare and services.
Even before the pandemic hit, social and economic factors meant African-Americans were more likely to suffer from diabetes, high blood pressure or stroke and between the ages of 18 and 49, they are twice as likely to die from heart disease than whites, according to the Centres for Disease Control (CDC).
Yet, far fewer of them benefit from top health coverage: US Census Bureau data from 2018 showed that 74,8 percent of whites had a private health insurance, compared to 55,4 percent of blacks.
Indeed slavery was not abolished in 1865.
What was abolished in 1865 was the personal individual enslavement of one person by another, but the culture of slavery has persisted and central to this culture is the sense that the white population feel it is their duty to control and suppress black freedom.
They do this in various ways, through the lynch mob, but also by the use of incarceration, during the neo-slavery system of Jim Crow.
During Jim Crow, what persisted was the attitude of seeing blacks as outsiders, as people to be punished, to be held in control, to be denied basic privileges of citizenship or ownership of land and to be recklessly imprisoned.
And the Jim Crow System, even after 1960, is yet to be dismantled.
What a tragedy!