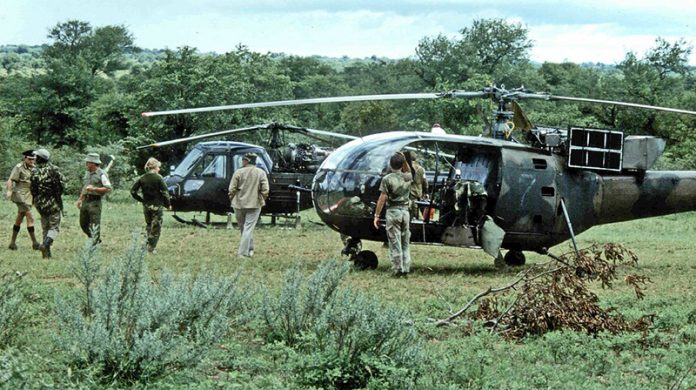 LAST week we looked at 'Operation Quartz' where the apartheid racists from South Africa planned, together with the Rhodies, to destroy ZANLA in the event ZANU PF won the elections.
The participation by the apartheid racists in 'Operation Quartz' was not the only involvement of these evil racists in their effort to destabilise independent Zimbabwe.
In this article we are looking at some of the evil plans that the apartheid racists crafted around Zimbabwe's independence celebrations time but were never carried to their logical conclusion as well as those they carried out well after our country's independence had been celebrated.
It is said when the apartheid racists heard that President Robert Mugabe and ZANU PF had won the elections, they got shocked. Don't forget these people seriously believed their own propaganda that Bishop Abel Muzorewa was going to win the elections handsomely.
Once their shock wore off, they decided to destabilise Zimbabwe big time by killing the entire ZANU PF leadership soon after the independence celebrations on April 18 1980.
They devised a plan to kill President Mugabe and Rev Canaan Banana in order to leave the ZANU PF Government leaderless.
How did they plan to carry this evil plan out?
They planned to kill the leadership as it made its way from independence celebrations at Rufaro Stadium by blowing them up using their own version of 'roadside bombs'.
These bombs had been manufactured in South Africa as one Rhodie explains.
"Four large explosive devices were contrived in Pretoria.
On completion, the bombs were loaded into a private aircraft belonging to Special Forces and piloted by one Major K.
He flew to a small farm airstrip just outside Salisbury (Harare) where he was met by one detective Inspector Jock, a member of the Rhodesian special branch.
The plan was for Jock's team to put the explosive devices in place on the afternoon of April 17 1980.
They would disguise themselves by wearing overalls of municipal workers."
The 'roadside bombs' would then be put at strategic places in Sam Nujoma Street, Samora Machel Avenue, outside Meikles Hotel and at various road junctions the leaders were expected to pass through. Some of the apartheid operatives were stationed on rooftops of major buildings in Harare where they were to act as snipers.
For one reason or another, this evil plan was never carried out.
Then there was a huge military plan which was also put in place aimed at invading Zimbabwe by the apartheid racists to overthrow the newly elected ZANU PF Government as explained below.
"At the end of the first week of March 1980, the commander of the 'Panzer' school of armour at Bloemfontein was ordered to deploy 34 tank transport low bed trucks to the South African Defence Forces base at Potchefstroom.
Three Eland armoured cars with either 60mm or 90mm guns were loaded onto each transporter – making a total of 102 armoured cars. Also amassing at Potchefstroom was the 61 mechanised Infantry Battalion equipped with Ratel armoured troop carriers fitted with 20mm or 90mm guns.
The Artillery Regiment made available four batteries of 88mm artillery pieces and a battery of large guns…with a range of more than 50 kilometres.
In support of the armour were six battalions of infantry along with technical and mechanical back-up troops, a medical corps unit with medics and ambulances, a logistical unit and signals unit.
It took a week for the different units to assemble at Potchefstroom. Here they were designated battle group Charlie."
This battle group 'Charlie' then left Potchefstroom in various groups towards Zimbabwe and ended up at Polokwane airbase, a town on the way to Zimbabwe.
At Polokwane, they were ordered to remove all military insignia after which they proceeded towards Zimbabwe and ended up at Musina at the Zimbabwe border.
However, for some reason again, they did not eventually invade Zimbabwe.
But the above narration tells us that everything had been put in place and some major steps were taken for the apartheid forces to invade Zimbabwe.
There were, however, other destabilisation plans that were actually carried out to the end soon after our independence by the apartheid racists and cost us dearly.
For example, in December 1980, the ZANU PF headquarters at 88 Manica Road (Robert Mugabe Road) was severely damaged by the detonation of a massive bomb that had been set on the roof of the five floor building.
The blast from the explosion killed seven people in an adjoining bakery and injured 124 Christmas shoppers in the busy Manica Road. President Mugabe (then Prime Minister) and his ZANU PF Central Committee had been due to hold a meeting in the conference room of the building later that day.
There were many more destabilisation operations which were carried out by the apartheid racists soon after our independence in 1980. Thankfully our Government was able to weather the storm and guarded our independence jealously.
This brings us the very ugly political noises we are enduring day-in day-out these days coming from across the Limpopo calling for President Jacob Zuma and the ANC to surrender power and hand it over to a puppet party called the DA.
There is no doubt these ugly noises are the work of apartheid racists who have once more come out of the woodwork.
Whenever apartheid racists, who are not dead by the way, see a black Government embarking on an exercise to redistribute the country's wealth from whites to blacks, they will go on a destabilisation spree of the Government in power.
This is what is happening in South Africa right now.
The ANC comrades in South Africa therefore should be aware of this and stand their ground resolutely, taking the apartheid racists head-on.