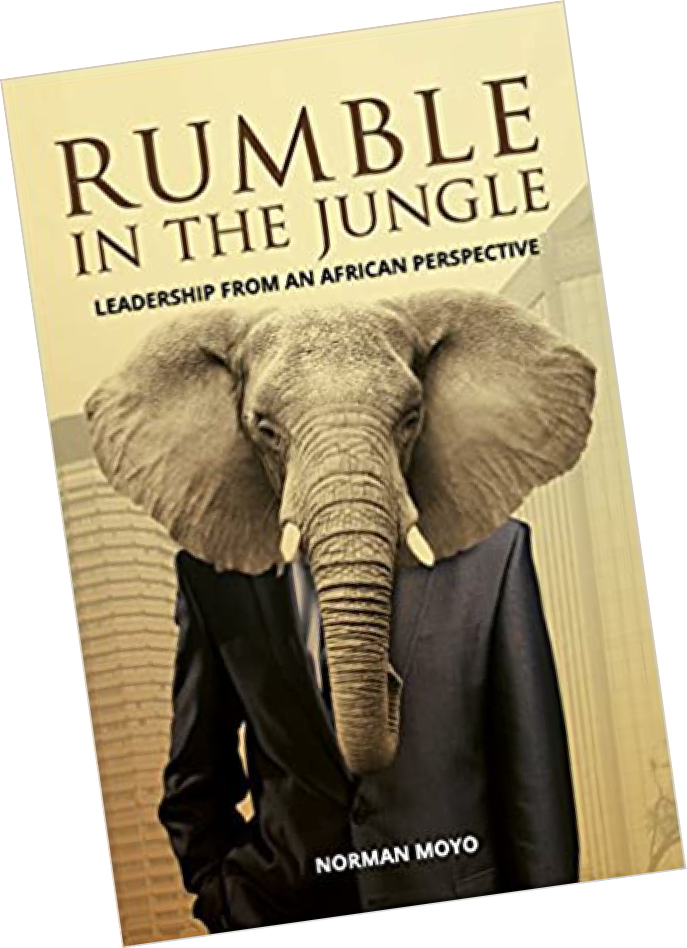 Talk about leadership skills
Rumble in the Jungle
By Norman Moyo
Published by Porcupine Press (2014)
ISBN: 978-1-920609-74-0
LEADERSHIP is a fundamental needed for the success and development of any given community.
It is through good leaders that members of society can be able to achieve greatness and be successful in various aspects of life.
Important to note is that leadership, without a leadership style, is futile.
A leader has to be identified through a certain leadership style but that style and behaviour are culture-bound.
In other words, one can say the culture of some societies endorses a certain type of leadership behaviour.
It is against this background that writer Norman Moyo, in his book under review this week, focuses on leadership from an African perspective.
Titled Rumble in the Jungle, the book is a must-read for leaders and anyone who aspires to be a leader.
The book is divided into six chapters and the author emphasises that culture is intergral to leadership to African corporates, local and national government.
His narrative is tries to convince that finding the right leaders in communities, societies, companies and countries is crucial to bringing prosperity.
He writes about leadership from an African perspective based on his own personal experiences in corporate leadership in a number of African countries.
The author bemoans his fellow African brothers and sisters who fail to learn from past mistakes instead, ridiculing a certain attitude within them that pushes them to choose the same type of toxic leadership, be it in communities, companies and in government.
In his book, Moyo is proposing a change of attitude or 'culture' that Africans embrace in the way they operate their businesses or work in an organisation.
This is about them being spectators and criticising after the damage is done.
However, Moyo recommends changing the status quo by making positive changes in leadership.
"I believe before you choose a Member of Parliament, Minister, or President of your country, you definitely need to carry out the ultimate litmus test and look at that person's resume. Act as if the person is going to run your own father's company or tuckshop," writes Moyo.
In Rumble in the Jungle, the author also talks of leadership from an African perspective, starting from an individual to government.
In other words, the book speaks to leaders on individual basis, giving insights on how better leadership can lead to fruitful benefits for yourself, organisation and the nation at large.
Writes Moyo: "A Hedgehog Concept is not a goal to be the best, a strategy to be the best, an intention to be best, or plan to be best. It is an understanding of what you can be the best at.
To achieve breakthrough in your market, as a leader you need to be able to simplify your business and understand exactly what business you are into.
You need to understand what that thing is that your business can do better than anyone in the market(place)."
To an individual, the book also challenges one to conduct a self -review and introspect on questions about goals, values and leadership skills.
It is also a book written for organisations and it clearly shows the importance of certain departments in ensuring the success and growth of organisations.
Personal experiences and case studies about a number of corporates in the business world help Moyo to connect with the reader in pushing for introspection.
The chapter, 'Politics in an organisation', shows that organisations operate within political parameters ranging from power struggles, tribal and ethnic conflicts nepotism to bad management.
As a solution to deal with organisational politics, the writer of Rumble in the Jungle offers a number of principles that one should use.
Among the principles is for a leader to resist the temptation to play divide-and-rule.
In the chapter titled 'The law of holes, Mr African President', Moyo zeroes on a new breed of leaders who can steer the continent to success.
Writes Moyo: "The future of Africa belongs to the new crop of frustrated young executives who need to be bold enough to be involved in the socio-political web they find themselves in."
The author identifies the folly that some leaders make and how lack of proper leadership skills has resulted in Africa lagging behind in terms of development.
Arguments raised in the book are balanced because the author identifies problems and proffers solutions.
"Governments in Africa could do with an independent group of people that they can comfortably engage with and be assured of unadulterated feedback on their policies and direction," writes Moyo.
Rumble in the Jungle is a book for everyone because leadership exists even in the household.
There is need, therefore, for individuals to do a self-examination about leadership skills that can be applied at home, school, church, work and society, among other places.
This is very important.