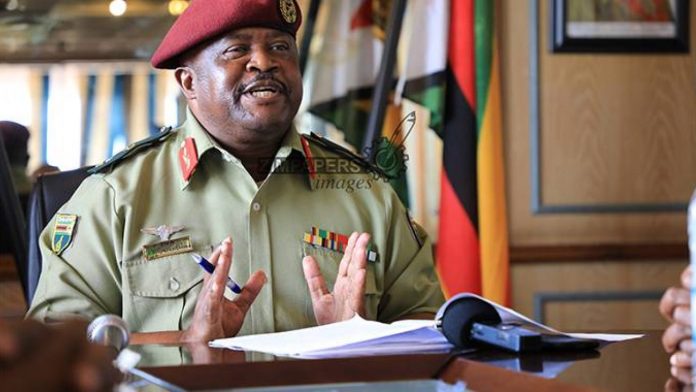 By Dr Irene Mahamba
THE death of Lt-Gen (Rtd) Douglas Nyikayaramba has brought more sadness and tears to our eyes.
While we are still mourning Cde Paradzayi Zimondi, another matchless national hero, another gallant son of Zimbabwe departs in his prime.
Just turned 60, Cde Nyikayaramba had still so many years to give to his beloved Zimbabwe.
We continue to ask: What has disturbed the spirit force of Zimbabwe so that it is so disconsolate?
Why would you take your son who has served you so well when he is still in his prime?
When shall this day come that you shall be content to sit around the fire with all your children, telling them stories late into the night?
Mbuya Nehanda, when shall this day be!
Your children no longer survive into their ripe old age like their ancestors of old.
They are torn from the stalks while the grain is still green, yet to be, yet to mature.
Your death, Cde Nyikayaramba, is a disaster of unfathomable proportions.
Indeed Cde, you have left too soon; when there is still so much to do to quell the storm.
The ship is being tossed hither and thither, you have left us when there is still so much to do; why Cde?
You left a void we shall not be able to fill.
You know why this is so Cde?
It is because since we came back from the liberation struggle, we have not schooled the young in the legacy you wove with so much love and dedication; the legacy of giving up your life for others, the legacy which liberated our country, which brewed such gallant patriots as you.
And because we did not prepare our young to walk in these footsteps of love and sacrifice, when you depart, it is a double tragedy.
And so when you depart, who will replace you then?
Who will replace Perence Shiri, Paradzayi Zimhondi?
Who will replace Sibusiso Moyo and who will replace the gallantry of selfless love for country and countrymen.
This is a land of peace.
Why is it so disturbed that peace is no longer possible in its great wall of stone?
A fortress of stone should not be so disturbed that its children no longer know what tomorrow may bring.
Your resume reads like a summary of five lives.
Within the ranks of the Zimbabwe Defence Forces (ZDF), you served so well, you distinguished yourself each step of the way. Your path within the ZDF is a litany of medals; decoration after decoration sought you because of your matchless accomplishments.
To love the country and for that, to commit so much of your material, intellectual and spiritual capacities is the hallmark of those who reach for the stars and operate at that celestial level: We salute you comrade!
For the work of such as you, we have been safe within the stone fortress of Zimbabwe from the day we vanquished the British armed robbers to this day.
You were part of the force which trounced dissidents in the DRC and in Mozambique, thus helping bring sanity to these sister countries, our friends.
We owe you a debt of gratitude comrade; you and all those gallant sons of Zimbabwe transformed the lives of our sisters and brothers in these two countries which the enemy from the West had turned into veritable nightmares.
To date, you were engaged in extinguishing the fire of imperialist-sponsored terrorists in Mozambique.
President Emmerson Mnangagwa described the national hero thus: "Zimbabwe has lost a veteran of the armed liberation struggle, a strong revolutionary cadre who continued to serve his country after independence with utmost loyalty, dedication and commitment to promoting and safeguarding the country's territorial and national interests.
His track record in the military speaks volumes about the strong leadership qualities he had which resulted in his meteoric rise to the rank of lieutenant-general, the position he held when he retired from the army in 2019.
His military achievements are a matter of record and too numerous to mention.
The honours, titles and decorations that were bestowed on him in the course of his military service crown it all."
We are very proud and honoured to be your compatriots.
Every soldier knows that death is more real than life itself.
It is more real than tomorrow but this did not stop you from being at the forefront in the military. For 39 years, you eschewed to save your skin, your only priority was to serve and save.
We salute you comrade!
Although you advanced your studies in so many avenues, you chose to stay in the military; you did not seek a safe haven for yourself.
Comrade, you are a precious stone woven into the crown of jewels Zimbabwe wears so proudly.
But then, how shall we fill this void you have left, distinguished son of the soil?
We have enjoyed the harvest of your patriotic zeal and love but we did not teach your song to the children.
And this is what the enemy has been waiting for, the moment the enemy has sought with red eyes for the last 41 years, the enemy you have fought on so many fronts.
Who then shall sing your song great brother?
Who shall sing the song of Zimbabwe?
How shall they sing a song they don't know?
How shall they defend the land they don't know?
How shall they love a strange land?
A revolution without heirs will truly die.
This is a trap the enemy has set up against us.
We fell into it and got caught and, as you legendary heroes depart one by one, the fissures are yawning, gaping and frightening.
And yet, without the song of Zimbabwe, nothing will hold.
Things will surely fall apart.