AFTER a moderate recovery from the COVID-19 pandemic-induced globe contraction, several overlapping and reinforcing dynamics emerged resulting in the global economy experiencing a renewed slowdown.
This slowdown has been fuelled by a series of inter-related crises, including the continued impacts of the pandemic, the global effect from the Russia-Ukraine conflict, (Ukraine produced 30% of global wheat), soaring food prices and overall inflation and the general tightening of financial conditions in most regions.
The COVID-19 crisis, characterised by a high degree of uncertainty, unfolded in different ways as the pandemic developed over its initial, medium and potential longer-term impacts.
The complex dynamics triggered by the worldwide lockdowns, intended to contain the disease, affected food systems and threatened people's access to food through multiple dynamics with deep implications for food security and nutrition, including in Zimbabwe.
The major disruptions to food systems, gave rise to a dramatic increase in hunger.
The disruptions to food supply chains also resulted in loss of income and livelihoods; a widening of inequality; disruptions to social protection programmes; altered food environments; and uneven food prices in localised contexts.
Food systems include all the activities that relate to the production, processing, distribution, preparation and consumption of food.
The three constituent elements of food systems are, food supply chains, food environments and consumer behaviour (HLPE 2017).
As a result of the combination of COVID-19 and climate change, global hunger jumped by 150 million between 2019-2021; prior to the Ukraine-Russia conflict, and before the predicted economic downturns struck.
Future threats to food security and nutrition, including the potential for lower food productivity and production, was anticipated since the virus was predicted to continue to circulate one or two more years, depending on its severity and duration.
The global lockdowns witnessed not only a major disruption to food supply chains, but also a major global economic slowdown.
These crises resulted in lower incomes and higher food prices, putting food out of reach for many; undermining people's right to food and stalling national efforts to meet the United Nations' Sustainable Development Goal (SDG) 2 of 'Zero hunger'.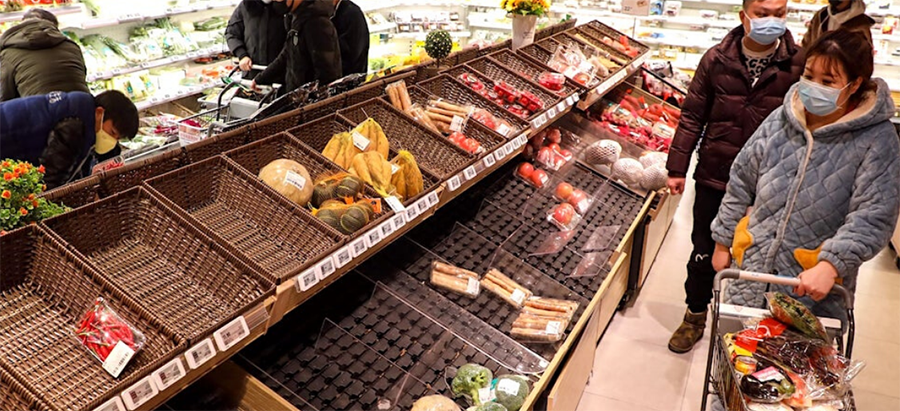 The dynamics of food security and nutrition risks are serious.
Even before the outbreak of the pandemic, according to the UN Food and Agriculture Organisation's (FAO's), State of Food Security and Nutrition report (2020), some two billion people faced food insecurity at the moderate or severe level.
Since 2014, these numbers have been climbing, rising by 60 million over five years.
The COVID-19 pandemic seriously undermined all efforts to achieve SDG 2.
In the face of future food productivity being affected, especially if the virus is not fully contained and lockdown measures continued, FAO estimated that an additional 83-132 million people, including 38-80 million people in low-income countries, like Zimbabwe, reliant on food imports, would experience food insecurity as a direct result of the pandemic.
According to FAO, and the World Food Programme (WFP), at least 25 countries, including Lebanon, Yemen South Sudan and Zimbabwe, would risk significant food security deterioration due to secondary socio-economic impacts of the pandemic.
The global lockdown measures affected the availability, pricing, and quality of food.
The closure of restaurants and other food service facilities led to a sharp decline in demand for certain perishable foods, including dairy products, potatoes and fresh fruits, as well as specialty goods such as chocolate and some high value cuts of meat.
In many countries, there were reports of food items being dumped or ploughed back into the fields; either because of collapsed demand or difficulties in getting the produce to markets.
Farmers without adequate storage facilities, including cold storage, found themselves with food that they could not sell.
The movement of food through international trade channels was particularly affected by lockdown measures.
As borders closed and demand for certain food items dropped, food producers reliant on selling their crops via distant export markets were highly vulnerable, particularly those producers focused on perishable food and agricultural products, such as fresh fruits and vegetables or specialty crops, such as cocoa.
In the early months of the COVID-19 outbreak, some food exporting countries imposed export restrictions on key staple food items like rice and wheat, which led to some disruptions in the global movement of these staples as well as higher prices for these crops.
Many of these export restrictions were since lifted.
As the demand for food contracted due to declining incomes, food producers and food systems workers were further affected.
Food systems were estimated to lose 451 million jobs, or 35 percent of their formal employment.
Similarly, the UN estimated that one third of food system livelihoods were threatened, especially those in the informal economies, due to the pandemic.
The resulting drop in purchasing power among those who lost income had a major impact on food security and nutrition, especially for vulnerable populations.
For example, in Latin America, according to FAO and CELAC, over 50 percent of employment is in the informal sector; and according to the International Labour Organisation (ILO), more than 400 million full-time jobs were lost during the second quarter of 2020, as more countries enforced lockdown measures, including Zimbabwe.
By the end of 2020, as severe hunger hotspots emerged, the World Bank estimated an additional 71-100 million people would experience extreme poverty as a direct consequence of the COVID-19 outbreak.
The WFP, estimated an additional 130 million people would face acute hunger as a result of the crisis, nearly doubling the 135 million people already facing acute hunger.
The UN reported some 45 million people became acutely food insecure between February-June 2020, mainly located in Asia and sub-Saharan Africa, including Zimbabwe, where WFP, estimated 1,6 million people were already dependent on food aid, preceding the pandemic's outbreak; with 34 percent considered to be 'chronically malnourished'.
This is generally attributed to a diminished access to cash and increasing food prices, rather than a decline in agricultural productivity or food availability.
In its broad connotation agriculture includes farming, animal production, forestry, fisheries and aquaculture, and related activities.
Dr Michelina Andreucci is a Zimbabwean-Italian researcher, industrial design consultant and is a published author in her field.
For views and comments, email: linamanucci@gmail.com