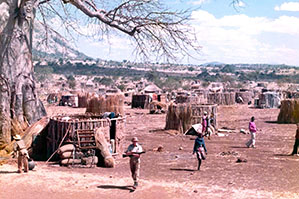 THERE is a survey going around saying we were better off 60 years ago than we are now; that our lives were better off in 1955 than in 2015, that we were happier in colonial Rhodesia than in independent Zimbabwe.
It's difficult to find where to begin when dealing with this kind of thinking and the perception it creates.
Many years ago, my father told me in the small village they lived in near Enkeldorn (now Chivhu) in 1955, he would never forget the strong talk doing the rounds they would be removed from Manyene to nobody-knew-where to make room for envisaged white farmland.
The eventual eviction happened several years later and I witnessed it.
It's difficult to imagine there can be a survey today that concludes we were better off then, than we are now.
Back then, the country didn't even have a single black lawyer.
Herbert Chitepo, left with a year at Fort Hare University to become the first black lawyer in the Federation of Rhodesia and Nyasaland, would make such a huge impact when he returned, we grew up thinking everyone called Chitepo was a lawyer.
The name was synonymous with the practice of law.
The man mounted brilliant defences for the nationalists arrested by the colonial regime as the fight for freedom gathered momentum; that was how we heard his name.
It's unthinkable someone can say the black man was better off then, than he is now.
If anyone said that, it is easier to believe they are white.
In other words, such a conclusion is arrived at by someone defending colonialism.
The first car to come to our village and that was back in 1958, belonged to the chief, a blue Bedford pick-up truck that he used to ferry stuff to his little store that I remember most for its sweets and buns.
Everyone talked about the pick-up truck as if it belonged to all of us, the entire community and we lived in rondavels and the school, Zvamatobwe, was more than five miles away.
The village is now gone and in its place are neatly painted brick-under-asbestos or even tiled houses and here and there, dysfunctional telephone lines get into some of these houses; we have come a long way.
In 1955, Salisbury, that was the name for Harare, had four African townships: Mbare then called Harare, Highfield, Mabvuku and Mufakose.
The rest came later.
In Kambuzuma where I stayed just after it was built in the mid-60s, you counted the number of people who owned cars in the entire township on the fingers of your hand.
Its absolute madness to say we were better off in 1955 than we are now in 2015 no matter the amount of scholarship one explains it with.
You would have to break every rule to arrive at that conclusion.
And yet some people will believe it, even shamelessly admitting we cannot do without the goodwill and help from our former colonisers.
Those are the same people who, during our liberation war, said we could not take on the 'mighty' whiteman and win.
Those are the same people who said during the land reform exercise we would not take land away from the whiteman and win.
The other day, one of my white friends said when we finally overcome the difficulties of the past decade and sanctions are removed, what will be left behind is a Zimbabwean far stronger in character and mindset than the Zimbabwean of 2000; someone slightly above the average African.
He admitted that is why Robert Mugabe and ZANU PF won the 2013 elections resoundingly in spite of the onslaught from the West and their local surrogates; you can't fool them because they know what they want.
In spite of the difficulties that the country faces, much of the despondency and frustration exists in the media sponsored by the West.
The reality is that outside that crisis in the newspapers, ZANU PF is in total control.
Seriously, how can anybody claim the Zimbabwean, who has overcome and survived these turbulent and bruising circumstances, is worse off than he was in colonial Rhodesia?
What statement and message are these surveys supposed to convey?
In our case, they are intended to convey the inadequacy of the black man to manage his affairs and the futility of the liberation war.
They are intended to carry the subtle message we need the leadership of the whiteman to move forward.
And more often than not, they are sponsored projects paid for by our former colonial masters.
Some people will argue that this backward looking approach will not put food on our tables.
While that may be true, until we begin to see it is the major reason why there is no food on our tables, we will never be able to put food permanently on those tables.
The British pride themselves that they are the only people in the world with an unwritten constitution; that it is written in everyone's heart and mind.
But before that happened, they knew and were agreed on who they were, what they stood for and where they were going.
And above all, they taught their children to have it engraved in their hearts and minds for the purposes of continuity and posterity.
Cecil Rhodes embodied that British persona.
Until we do that, we will continue to have surveys that will glorify our past under white rule and condemn all efforts to chart our own independent way forward.