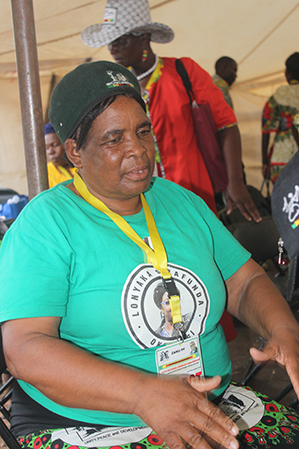 Recently in Victoria Falls
"THAT harmony we had in the past is coming back," said President Robert Mugabe in his closing remarks at the 15th ZANU PF Annual National People's Conference last week in Victoria Falls.
The well-organised colourful event saw over 6 000 delegates, including 56 diplomats, gather at Elephant Hills Golf Course.
Dethroned former ZANU PF political commissar Webster Shamu was also present at this insightful occasion that left people with a bigger picture of where ZANU PF is going as a party.
Guided by the theme: 'Consolidating People's Power through Zim-ASSET', the conference saw all the country's 10 provinces endorsing President Mugabe as the party's sole presidential candidate in the 2018 elections.
Corruption, it was resolved, must be nipped in the bud forthwith because it is destroying the country.
Women resolved that Article 7 (1) (b) of the ZANU PF constitution be amended to re-instate the previous provision that one of the two vice-presidents and second secretaries be a woman by 2016.
Youths, on the other hand, said it was vital for Government to speed up regularisation of the National Youth Service Programme through an enabling Act of Parliament as provided for in the Constitution and to ensure that the National Youth Service gets adequate financial support for its operations.
As custodians and defenders of the liberation war heritage and in recognition of the fact that they already paid through their blood and supreme sacrifice to the liberation of the country, war veterans urged Government to consider exempting veterans of the liberation struggle from all taxes and levies, especially toll fees and land taxes,
But away from the politicians, the ordinary ZANU PF supporter from the village left Victoria Falls quite refreshed in a way.
The violence from 'warring factions' that was anticipated at the conference by the so-called independent media came to naught.
The hullabaloo anticipated turned out to be a fallacy.
In fact, President Mugabe described the conference as: "One of the most successful People's Conferences we have had for a long time."
The Patriot interviewed people from different provinces after the conference and this is what they said:
Kapala Enock (Ruzane District, Mashonaland East): "The message from this conference is loud and clear.
This is the time for those who had deviated from the party to come back because ZANU PF is moving forward.
"The slogan: 'Unity begins with me, unity begins with you, unity begins with all of us!' must be in the heart and mind of every Zimbabwean for without unity, our country is doomed.
"That is the message we will carry back home, that unity, peace and development must be maintained as ZANU PF's underlying principles."
Margaret Munkuli (Dobola Mabobolo District, Binga): "This conference has been great, especially for some of us from Binga.
"The First Family has transformed Binga in a way we never imagined and that is why we came to this conference, to pay tribute to our leaders because Binga was once marginalised, but President Mugabe is ensuring that we get the recognition we deserve.
"As we speak, massive development projects have come to Binga because of Amai Dr Grace Mugabe and we are so grateful.
"Because of Amai, we even have our very own choir called Dobola ZANU PF Chirimba Mabobolo Choir.
"Come 2018, ticharamba takabatana kuti tirambe tichisimudzira Binga zvekuti MDC tichaichinja neZANU PF."
Ronica Makopa (Masimba District, Masvingo): "Patakabva kumusha taiti hakuna kumira mushe kuVictoria Falls, asi zvese zvafamba zvakanaka.
"I think the problem we were having is that there were certain people who did not understand what it means to be in ZANU PF, but as we go back home, we will carry the message from our President.
"That we must always be united, solve conflicts peacefully and work together for the good of the party."
Hatina Tsangamidzi (Chimanimani District, Manicaland): "Musangano uyu wanakidza kudarika makore ese.
"Tinotenda Baba Mugabe naAmai nekuramba vachitibatanidza.
"Kwedu kuChimanimani tinotenda zvekare Baba naMai Undenge nokuramba vachitibata zvakanaka.
"Chinhu chikuru chinofanira kuziva vanhu ndechokuti ZANU PF ndeyeropa.
"Kune vakawanda vakafira nyika ino, naizvozvo hatife takasiya mhandu dzichiiparadza.
"Naizvozvo tinoti: 'No to factionalism'."
Kenneth Mutiwekuziwa (Magudu District, Mashonaland East): "What we are witnessing in ZANU PF is a resurgence never seen before.
"There are some who think disputes are unusual in any party, but as veterans of the liberation struggle we understand that these small differences will come to pass.
"ZANU PF has mature individuals who have been members for decades and who know that fighting for tiny things is meaningless.
"What we fight for is ensuring that the ideals of the liberation struggle are not only maintained, but imparted to the country's future generations because the fact remains that our country did not come on a silver platter.
"People died for this land called Zimbabwe."
As delegates returned to their respective provinces with various goodies donated by Amai Dr Mugabe, to them, the message from the conference was in black and white: Work towards the 2018 elections begins now!