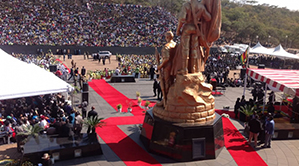 PART of my empirical research on contemporary post-colonial African heritage studies questioned, hypothesised and computated the value of memorial monuments and public civic art on the national fiscus.
As the calendar marches on and this April we celebrate 36 years of our independence, it is appropriate for us to give thought to the notion of preserving our memories for posterity.
What nobody has accounted for, however, is the destruction of the social fabric of the nation which resulted from the liberation war; the men, women and children.
The fathers, mothers, sisters and brothers who went to war and left behind a domino effect of widows, single mothers and broken homes resulting from the war of liberation.
How natural patterns of human population growth were disturbed, distorted and the fabric of family dismantled, resulting in increased widows, orphans and the infamous term 'single mothers'.
These are grave social issues, resulting from the war of independence which have made absurd situations like 'single mothers' seem as if they were natural.
What intrigued me was how many Western nations have created wealth from the memory of their conquests in the form of public monuments and art, whether the causes were political, civic or otherwise.
But be their causes legitimate or grossly oppressive, exemplary in distressing historical events such as the Vietnam War, the holocaust or the wars of the colonisation of Africa and India etc – Western civic designers, engineers and artists have made permanent features out of such events and preserved the memories of history for human contemplation and reflection and at times for patriotic training.
This brings me to the issue of Chibondo, Chimoio, Freedom Camp, Nyadzonia and other sites where horrendous massacres occurred during the struggle for Zimbabwe's liberation.
All of these historic injustices were and still are commemorated, contemplated and illuminated via war monuments and museums and have become huge tourist and educational sites beyond, and despite, the gravitas of human injustice perpetrated on the victims of these human errors in history.
Zimbabwe and many post-colonies have yet to take serious stock of the cost of the war in humanitarian, financial or spiritual terms – that way value can be applied to that aspect of our heritage.
What pre-thee was the pecuniary cost of the liberation struggle that our economy bears today?
Not many economists can answer that question?
What is the compound interest of grief or loss of a limb or the premature death of a loved one?
What is the cost of self-sacrifice?
What lessons can post-colonial memorial monuments and museums teach us about the follies and inanity of war and human destruction?
Should these memories not be stored and recorded before they are lost?
African memories are being lost in the throes of more immediate personal struggles for human survival in the oppressive constructed urban environment which we inherited from colonial times.
But it is never too late to re-coup our memories because they cannot be erased quite yet.
Justifying the creation of heritage sites and monuments is a national responsibility which adds to our identity, history and understanding of self.
The West has managed to turn some of the world's greatest human disasters into contemplative spaces, historic monuments and public art that function on a secondary level to commemorate our departed.
In Zimbabwe, the National Museums and Monuments have expanded their portfolio to preserve more recent historical events such as the Chibondo shrine, which is a noble gesture.
Like culture and art, war monuments are heritages that should be created for the betterment of our citizenry, but should also generate revenue which impacts on the Gross Domestic Product (GDP) and revenue for the survivors of the liberation war.
Rhetorically speaking, African liberation memory is priceless!
The power of images and memorials lie as much in their presence as in their future.
Preserving someone's portrait is preserving his/her memory.
The importance of war memorials creates an awareness of man's errors and interrogates society to learn from its follies so that man does not make the same mistakes again.
The loss of a loved one is remembered in words and images as well as on stones and bronze plaques erected in their memory.
The Tomb of the Unknown Soldier at the National Heroes' Acre should be a space where every Zimbabwean should visit and pay national respects.
Images of the struggle and public art such as memorials and historical monuments can contribute to urban design and the revitalisation of civic infrastructure; enhance and personalise public space; comment on environmental and social conditions; and activate civic dialogue.
The development and adoption of public war monuments through a national public art master plan provides an opportunity to establish a shared vision for a community's public realm and a true visual and historic understanding of the meaning of Zimbabwe's war of liberation and independence.
Public art and monuments address the need to catalyse socio-economic development, while celebrating and commemorating the story of African empowerment and socio-political freedom.
Dr Tony Monda holds a PhD in Art Theory and Philosophy and a Doctorate in Business Administration (DBA) in Post-Colonial Art and Heritage Studies. He studied law and photography at the Corcoran School of Art, Washington and holds a Law and Art Diploma from Georgetown University, Washington DC. He worked with WALA – (Washington Area Lawyers Association). He is an author, art critic, art consultant and a practising visual artist. He is also a musician and Corporate Image Consultant.