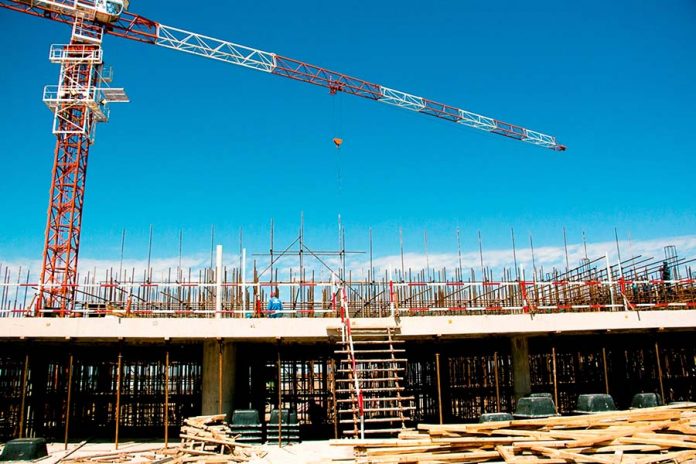 WHEN African insurance experts converged in Namibia for the 23rd Reinsurance Forum last month, there was enthusiasm, optimism and hope over the future of the African re-insurance industry.
The continent's growing middle class, growing demand for technology and big infrastructure projects offered promise for insurers.
"There's a real buzz about the sector because opportunities are immense," once said James Norman, KPMG's regional insurance head, in 2016.
"There's a young population, a growing middle class — most with smartphones — and an increasingly large Diaspora coming back.
"There's a whole new generation of savvy consumers with disposable incomes and large infrastructure projects being built."
Africa was described as a 'giant waking up.'
The continent has seen a surge in mega infrastructure projects ranging from huge hydro-dams to skyscrapers.
From the Nacala corridor rail and port project in Mozambique, Caculo Cabaca Hydropower Project in Angola, Modderfontein New City in South Africa, Inga 3 dam project in the DRC, Konza Technology City and Pinnacle Towers in Kenya, Lekki Deep Seaport in Nigeria to Zimbabwe's Kariba South Power expansion, these are mega construction projects shaping the continent.
However, that gusto in the hot desert air of Namibia was short-lived.
Reality slowly sank in.
Foreign contractors have been accused of 'predator practices' of not using local labour or developing local skills and even focusing on infrastructure to suit their own ends rather than those of the domestic population.
One of the 'predator practice' is that of dodging national policies on re-insurance of these mega construction projects.
Most foreign-funded mega construction projects come with their own insurance.
This is despite national policies that require national projects to be insured locally as a way of reducing capital flight and helping strengthen the domestic financial system.
Remember the Karuma controversy when Sinohydro Corporation, the company which undertook the construction of the 600MW Karuma Power Dam in Kiryandongo District in Uganda, refused to pay premiums amounting to
US$11 million to a consortium of 23 insurance and re-insurance companies, but instead was comfortable paying to China-Re.
The insurers in the consortium included UAP Uganda, Kenya and South Sudan, Swiss Re, American International Group, Jubilee and Goldstar Insurance, Lion Assurance, Britam, Zep Re, East Africa Re, Africa Re and Uganda Re.
The five-year policy, whose premiums amount to US$11 million (Shs 41,2bn) is to hedge against damage to the power plants, tunnels and other facilities during construction of the hydropower project.
Instead, Sinohydro wanted to source Contractors All Risk (CAR) policy from China-Re despite Uganda's national policy that requires all national projects to be insured with Uganda-Re.
The agreement signed between government and Sinohydro was supposed to insure the dam against physical loss or damage to facilities, equipment; third party insurance, automobile liability insurance, workers compensation and design insurances.
The same case is with the Isimba project by China International Water and Electric Corporation in Uganda, where the agreement required for the contractor to acquire an All Risk Insurance policy within 60 days from the date of advance payment (August 2014), but three years down the road, the insurance has not been acquired.
Zimbabwe's Insurance and Pensions Commission (IPEC) has bemoaned the practice saying local insurance companies have lost out in potential revenue as most projects come with 'overseas investment' insurance.
"In most cases, when investors provide a financial package to undertake some projects in Zimbabwe, these packages come with insurance cover," said the IPEC acting head of Pensions, Nhau Chivingira.
"This cover is usually provided by insurers who are domiciled out of Zimbabwe.
"As a regulator we are concerned with this situation because it results in contravention of Section 72 of the Insurance Act (Chapter 24:07), which restricts placement of Zimbabwean insurance business with insurers who carry on business outside Zimbabwe and are not registered in terms of the same act, without the approval of the Commissioner.
"Placement of insurance business with insurers outside Zimbabwe means that the local insurers are denied an opportunity to insure the same risk.
"This means that they will be losing business to foreign insurers."
Foreign insurance companies such as German's Euler Hermes insurance, China's Sinosure, Korea's K-sure, UK Export Finance, America's USExim, the Netherlands' Atradius and Coface in France have been fingered as some that are benefitting at the expense of local insurance companies.
But China's Sinosure has been identified as the main culprit.
Monster or Messiah?
Latest statistics provided by the China Export & Credit Insurance Corporation, also known as Sinosure, shows that the company had provided insurance services worth US$233,37 billion to Chinese businesses in Africa by the end of July this year.
According to the statistics, services provided by Sinosure have covered a variety of fields including railways, highways, electricity, minerals, telecommunications, petroleum, agriculture and machinery, while the cumulative payment of claims has now reached US$2,23 billion in six months.
The Sinosure Overseas Investment Insurance is available for equity and debt investments made by Chinese enterprises in projects outside China.
Sinosure has provided professional services for many co-operative infrastructure projects in Africa, including the Maputo Bridge in Mozambique, Caculo Cabaca Hydropower Project in Angola and the Transmission Line Project for Upgrading of the Egyptian National Grid.
The rehabilitated 840-mile Benguela railway line, for example, now connects Angola's Atlantic coast with the DRC and Zambia.
And Chinese-financed roads have cut journey times from Ethiopia's hinterland to the strategic port of Djibouti, facilitating livestock exports.
The latest being the US$2,4 billion Abuja-Kaduna-Kano (AKK) project in Nigeria.
About 85 percent of the money is expected to be funded by the financiers which include Industrial and Commercial Bank of China (ICBC), Bank of China and Infrastructure Bank of China with Sinosure, China's Export Credit Agency (ECA) providing insurance cover.
Zimnat Trade Credit, Bonds and Guaranteed division said foreign investors should stick to the provisions of the Zimbabwe Constitution which calls for all investors, especially in infrastructure projects, to secure all the necessary bonds and guarantees.
"It is all provided in the Constitution that foreign and local investors have to secure bid bonds, performance bonds, advance payment bonds, retention bonds and the commercial all risk bonds for any construction project," said Tendai Mlambo, a trade credit and surety bonds and guarantees expert.
However, most foreign companies have been obstinate in following African nations' policies when it comes to re-insurance obligations.
Some try to justify themselves arguing that African re-insurance companies do not have the capacity to insure such huge projects.
"Whilst the IPEC acknowledges that the local market may not have adequate capacity to insure certain risks, the law requires that before a risk can be placed with an insurer who is outside Zimbabwe, local capacity should be exhausted first," said Nhau Chivingira, in his capacity as IPEC acting head of pensions.
"Thus, in granting approval, the Commissioner should ensure that local capacity is exhausted first."
Africa's incapacity has been dispelled as Africa and Trade Insurance Agency (ATI) recently insured the Kipeto wind project in south-west Kenya by Overseas Private Investment Corporation (OPIC), an American financing and development institution, and the British company Actis.
ATI will provide 10-year insurance cover, renewable on demand, 'to protect the project against the risk of late payment in electricity purchase.'
However, some blame African Governments for signing international investment agreements (IIAs), mainly bilateral investment treaties (BITs), with little attention to trade-offs such as loss of national and regional policy space.
So far, African countries have signed more than 1 000 BITs.
According to the United Nations Conference on Trade and Development (UNCTAD), in 2013, Africa's bilateral investment agreements amounted to 27 percent of global BITs.
And, China-Africa BITs are said to have 'failed' to strike the right balance between protecting Chinese investors and safeguarding the public interest in Africa.
According to a 2016 report titled China-Africa Investment Treaties: Do They Work? published by the International Institute for Environment and Development (IIED), African countries have tended to be 'rule takers' in investment treaty negotiations.
Thus, signing a BIT dissuades a host country from altering its own investment policies.
But Chinese companies involved in construction work in Africa argue that their hands are tied and do not have an option but to insure with Sinosure.
"Companies generally do not like to seek out Sinosure insurance; their premium is too high," said one Chinese investor who refused to be named.
"Sinosure insurance is a precondition for loan disbursement by Chinese Government-linked banks such as China Exim Bank and the China Development Bank.
"BITs are not very important to Sinosure because portfolio managers know that Chinese companies operating in Africa mostly rely on connections and relationships with local stakeholders when problems arise.
"Sinosure staff are evaluated based on the amount of insurance sold, which would create incentives for largesse, and whether there is a BIT between the two countries or not is not in the scope of the consideration."
And if nothing is done to address these challenges, the growth potential for the re-insurance sector will suffer a demise.
African re-insurance companies will continue to bleed, losing out US$5 billion dollars a year in potential revenue and job creation to external insurers.
As China works to implement the Belt and Road Initiative, the largest public works programme ever, the issue of China's overseas investment' insurance is likely to pop up.