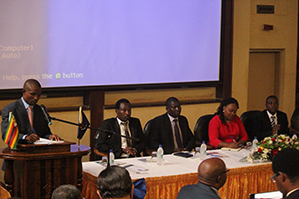 MOST companies have engaged consultants and parted with 'an arm and a leg' in a bid to sort out their managerial problems so they can increase their output and profit margins.
Regrettably, in the majority of cases, after a year-or-two of implementing recommendations suggested by these consultants, many a business has found itself mired in the same problems they wished to weed out. In the worst case scenario, firms have collapsed despite implementing 'expert' recommendations.
In spite of Zimbabwe boasting consultancy firms with astute business surgeons, at times firms that engage these consultants have failed to implement their recommendations owing to a myriad of challenges.
The most recurring is the one-size-fits-all prescriptions that are brandished as the panacea to firms' problems.
At times firms face challenges simply because they fail to implement recommendations.
This is where the role of research kicks in.
Past research on the challenges dogging companies in various sectors of the economy seem to have been swept under the carpet or is gathering dust in someone's bottom drawer.
Noticing these recurring management problems, among other factors, the University of Zimbabwe's (UZ) Graduate School of Management (GSM) has been churning out researches through its Master of Business Administration (MBA) programme that seek to benefit various economic sectors.
While research by academics has been dismissed as pedagogical rumblings, the GSM recently sought to dispel this misconception, bringing together relevant stakeholders of their research focus to persuade the authorities to implement study recommendations.
The findings and recommendations, if taken on board, experts opine, will accelerate economic turnaround efforts.
The GSM last week held a workshop under the theme 'The UZ/GSM making a difference to socio-economic development through research', which brought together researchers, lecturers, public and private sector stakeholders.
Delivering his keynote address during the workshop, UZ Pro-Vice-Chancellor Professor Pedzisai Mashiri said as part of the university's 2016-2020 strategic plan to becoming a hub of innovation providing cutting edge education, the GSM had mooted synergies with the public and private sectors.
Prof Mashiri said the synergy between UZ and industry was mutually beneficial.
The UZ would provide the intellectual knowhow and research skills while industry funds research, directing academics on key problems to solve and ultimately implementing recommendations.
"Our biggest challenge is the dissonance in solving problems among people who need to work together in forging these synegies such as politicians, academics, Government and industry," said Prof Mashiri.
One might ask, how does industry help research?
The answer to that question is: By providing areas to problematise, so it is the prerogative of industry to communicate their needs to academia, while academia chips in with the human capital, research skills and ultimately come up with development-oriented research.
What was most interesting about the workshop was how the researchers, MBA graduating students whose dissertations were rated the best, presented their findings side-by-side with their supervisors, while all the other relevant stakeholders were given a chance to probe the researchers on their chosen topics.
The presentations focused on five key sectors of the economy which included banking and finance, public sector, agriculture, small-to-medium enterprises and telecommunications.
Presentations that generated a lot of interest from the floor included Brighton Chinyemba's study (supervised by Dr Walter Mkumbuzi) which probed the impact of non-performing loans (NPLs) on bank liquidity as well as Latifa Kassim's study (supervised by Dr Arnold Chidhakwa) on RBZ directives on liquidity and liquidity risk management.
Both studies established that banks were mostly responsible for NPLs when they offer loans to people with no capacity to pay back.
Comments from the floor indicated there was need to redefine liquidity as most banks were adequately capitalised, but as part of their role of capital preservations, they fail to unlock or liquidate their assets to meet their clients' cash requirements.
Chinyemba's study recommended that Zimbabwe Asset Management Corporation (ZAMCO) play a more central role in employing credit rating systems to manage credit risk, while banks should avoid insider loans.
Engineer Tapiwa Kunyadini's research paper (supervised by Dr David Madzikanda) focused on the public sector, delving into the intricacies of municipalities' use of ICT as part of strategic management.
Eng Kunyadini found that Harare and Bulawayo municipalities, despite having a number of strategic initiatives, were largely failing to pursue their strategies due to a number of factors.
He singled out failure, for instance, by Harare and Bulawayo's municipalities to leverage its long list of immovable property that was being abused by employees who were moonlighting while the councils failed to deliver.
The study suggested municipalities adopt geo-spatial ICTs, which are tracking devices that link council resources with the approved work breakdown structures.
Also focusing on the public sector was Munyaradzi Kwembeya's paper (supervised by Dr Nyasha Kaseke), titled 'Revenue collection from the informal sector'.
The study focused on the taxman, ZIMRA, elucidating data that ZIMRA had largely failed in efforts to formalise the informal sector mostly because they were employing strategies tailor-made to collect revenue from the formal sector, rendering the strategy ineffective.
The Patriot Editor, Professor Charles Pfukwa, who doubles as Dean of Social Studies for Bindura University of Science Education, applauded the presenters for their engaging research efforts. He said that while the presentation skills varied from speaker-to-speaker, what was consistent was that solutions to the problems the country is facing had been proffered.
GSM director, Dr David Madzikanda, said many of the challenges the country is facing would be addressed if academic researchers and industrialists worked together.
"We want to make such workshops the new normal such that information generated through such discussions can inform decision-making," said Dr Madzikanda.