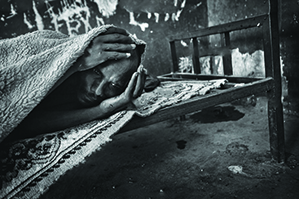 MODERN day challenges the world over have resulted in the increase of mental health related illnesses.
While great strides have been made to ensure that minor mental related illnesses like depression are contained before they develop to mental disorder, very little attention has been done to improve the treatment of mentally ill patients.
Zimbabwe still uses chlorpromazine, commonly known as 'CPZ' as the main anti-psychotic drug in the country, whereas other countries have phased it out because of its side effects.
Mentally ill patients in Zimbabwe are treated for free in State Hospitals, but have to bear the brunt of the side effects that include stiffness of the body, retarded psychomotor activities, excess salivation, drowsiness, and fatigue among others.
Fluphenazine Decanoate commonly known as 'FD' which is another drug used as an anti-psychotic drug, is an injection which mentally ill patients are supposed to get every month.
The director of the Zimbabwe National Association for Mental Health, Ignatius Murambidzi said most mentally ill patients avoided taking their medication because of the side effects hence making it difficult to contain their condition.
He called on Government to intervene and procure newer 'user friendly' drugs.
"Pharmacies in the country do not have the latest medication for mental illnesses so we have since recommended Government through the Ministry of Health and Child Care to add new drugs on the Essential Drugs List so that the country acquires the latest medication," said Murambidzi.
"Mental health illness has not been given much attention like other conditions so we are appealing to Government to support us in order to demystify the concept."
Murambidzi said as an organisation, they conducted psycho-education to help relatives of the affected in order to help them lessen the burden through equipping them with the skills on how to take care of the patients.
"We have an organisation called 'Tirivanhu Therapeutic Community', a joint project of the Social Services, Government and Zimbabwe Prisons and Correctional Service where families and the patient are brought together to enhance interaction," he said.
"This is sort of a rehabilitation centre where they stay for 18 months, during the same period, they occasionally take their patients home and should assess and evaluate the progress and should they observe anything amiss, they report back to us so that we take note of these."
Murambidzi, however, commended the move by Government to raise the CD4 count threshold as a positive to counter mental illness because the HIV virus affects the brain cells when it reaches its final stage.
"If someone realises that they are HIV positive, early signs of mental illness are reflected through denial, depression and these develop into a major health concern as the virus progresses affecting the brain cells," he said.
"However, the raising of the CD4 count threshold has arrested the progression of the brain damage hence we urge people to adhere to their Anti-Retro Viral drugs as doing so decreases the number of potential mental health patients."
Mr Murambidzi said there was need to decentralise mental health services across the country.
In the capital mental health institutions are at Harare and Parirenyatwa Hospitals, while in Bulawayo there is Ingutsheni.
"The distances that patients need to walk are sometimes far as most of them are localised in the main towns hence the need to ensure that even those in remote areas have access to adequate care under properly trained personnel," Murambidzi said.
"It is against this background that we propose community participation so that we decongest these major hospitals while also removing the stigma associated with being in their own category."
According to Mr Murambidzi, at least one in every four Zimbabweans has a mental health related illness although he highlighted that there are no proper statistics due to the poor attention given to mental health illness.
The new proposed drugs for mentally ill patients which are said to be user friendly are Clozapine and Olanzapine.
They are currently being used in most developed countries including South Africa.