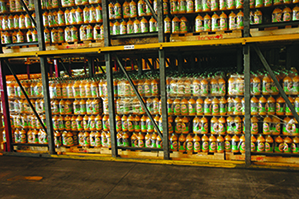 THE Schweppes Zimbabwe Limited's (SZL) Employee Share Ownership Scheme has begun to bear fruit in a move that has silenced critics of the Indigenisation and Economic Empowerment Programme.
When the indigenisation and economic empowerment programme was launched in 2010, it was received with disdain, particularly by Western governments who launched a sustained media onslaught against the initiative.
President Mugabe's 'company seizures', 'company grabs', 'senseless macro-economic policies' were among the denigrating epitaphs that were labelled against the programme.
They predicted that all indigenised companies would collapse within three years, but Schweppes has proven them wrong.
Launched in 2011, Schweppes Employee and Management Share Ownership Scheme, under a deal where, Coca-Cola Limited, a foreign-owned firm which used to have controlling shares in Schweppes, disposed off a 51 percent stake to employees.
This resulted in management getting 20 percent equity while workers acquired a 31 percent stake in the beverages manufacturing company.
SZL managing director Charles Msipa, told The Patriot this week that the company had managed to record capacity utilisation growth over the past five years with more achievements realised after the localisation process.
He said the company has managed to sustain and grow its operations as compared to the pre-indigenised period.
"Our business has grown significantly post dollarisation to date," he said.
"We have a strong management team which has resulted in the organisation receiving various accolades for key achievements.
"We have installed a US$16 million plant in state-of-the -art hot fill production line in 2012, the first of its kind in Sub-Saharan Africa.
"In light of this, SZL became the fourth company in Africa to launch Minute Maid Pulpy Orange, which is the 14th billion dollar brand for the Coca-Cola Company."
The European Union and its Western allies imposed illegal sanctions against Zimbabwe, in a bid to derail its empowerment programme by crippling its economy mainly the agriculture and manufacturing sectors.
As a result, many foreign owned companies closed down operations under the pretext of lack of capital, when in actual fact they wanted to further the regime change agenda.
Msipa said Schweppes has managed to continue realising profits through improved capacity utilisation despite economic hardships being experienced in the country.
"Business performance has been very good," he said.
"Volume by category has grown significantly with cordials at 111 percent, water 668 percent while juices have grown by 1 894 percent in a four-year period.
"Despite the challenging business environment, we have been posting a profit annually to the point where we declared shareholder dividends in 2010 and 2012."
Due to SZL increased operation levels, Msipa said, the company has developed more marketing strategies to grow the business throughout the country.
"We have invested in capital projects focusing on market and capability development which includes increasing our sales team countrywide," he said.
"Last year, Schweppes managed to open two new depots in Chitungwiza and Gweru.
"We have also procured new trucks to replace our ageing fleet.
"Ten new trucks have been added to the fleet post dollarisation and we have plans to add more in 2014, of which four have already been ordered.
"We have also increased cold drink equipment by 516 percent in the last four years with additional plans for 2014."
Msipa said the organisation was always run by locals and with that strength, beneficiaries of the share ownership scheme were always committed and worked harder for the survival of the company.
"The business has always been managed primarily by locals even before the indigenisation policy came into effect although ownership rested with Coca-Cola Central Africa," he said.
"The organisation is also focussed on operational excellence to drive efficiencies from a production, people and systems perspective aiming at achieving waste elimination, competitive sourcing and cost reduction to drive competitiveness and profitability."
However, just like most companies in the country, Msipa said SZL was also facing challenges to access more capital to maximise their operation.
"Like other organisations, we do have challenges relating to high local interest rates, which makes fundraising for capital projects more difficult," he said.
"However, due to our good business performance, we have been able to access various long-term funding options such as the PTA loan which complemented our internal funds for the purchase of the hot-fill production line in 2012."
Msipa said the company would continue working hard to give best service and products to the people of Zimbabwe in assisting the country to turn around its economy.
"We have an aggressive growth strategy focusing on both the domestic and regional markets which includes exports, mergers and acquisitions," he said.
"The domestic market remains a priority with various product and packaging innovations planned for the short and long-term.
"We understand the impact of these liquidity constraints on both our customers and consumers.
"The Mazoe price reduction from US$3,50 to US$3,00 a year ago was one strategic response to these  challenges affecting our consumers."
Schweppes Zimbabwe featured annually in The Coca-Cola Company Central, East and West Africa Business Unit – Bottler Excellence Awards over a four- year period
An employee share ownership scheme is a contribution plan that provides a company's workers with an ownership interest in the company. 
Under such schemes, companies provide their employees with stock ownership, typically at no cost to the employees. 
Shares are given to employees and are held in the scheme's trust until the employee retires or leaves the company, or earlier diversification opportunities, creating an opportunity for workers to amass long-term savings and benefits from their work.
Employee share ownership schemes are envisioned in the Indigenisation and Economic Empowerment (General) Regulations of 2010.
The model of Zimbabwe's indigenisation law places prominence on wealth creation (that is growing the national cake) through broad-based participation of the indigenous people in economic activity.
Schweppes Zimbabwe Limited is a typical indigenised company that has seen locals successfully taking over and making progress for the betterment of the Zimbabwean economy.