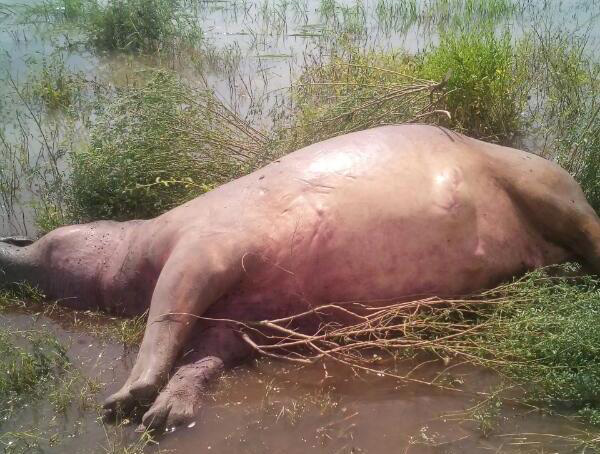 By Rudo Shoko
THE pesticide carbaryl is suspected to be behind the recent death of 11 hippos in Binga District near Lake Kariba.
In an interview with Patriot Environment, the Bhejane Trust, a non- governmental organisation (NGO) said investigations are still underway on what could have caused the hippos' death.
The Bhejane Trust, initially established to monitor the black rhino, is now extending its services to ranger deployments.
Last week, 11 hippo carcasses were recovered at different points in the Chavira Forest and along Mlibizi River near the Zambezi River.
The Bhejane Trust says: "The hippos appear to have been poisoned accidentally by villagers spraying a pesticide, carbaryl, on their crops. Carbaryl is used to control aphids and other outdoor pests.
"The crops are right by the water's edge, putting them straight in the line for the hippos to graze."
According to National Pesticide Information, carbaryl is a man-made pesticide that is toxic to insects.
It is commonly used to control aphids, fire ants, fleas and ticks.
Carbaryl is a pesticide that acts primarily as an insecticide, but is also competent as a molluscicide and acaridae.
It is used on a variety of crops including soya, corn and citrus.
It is also applied to livestock and home garden uses.
It may also cause mutagenic effects (changes in genetic material, usually DNA, of an organism and thus increases the frequency of mutations above the natural background level) in humans.
As with many other insecticides, carbaryl negatively impacts several aquatic organisms and poses a threat to populations of beneficial insects such as bees.
Studies have also demonstrated carbaryl's ability to bio accumulate (become concentrated inside the bodies of living things) in aquatic bottom-feeders such as crawfish and snails.
The National Pesticide Information also points out that carbaryl can rarely be a danger to the mammals as the insecticide cannot even kill birds which would have consumed the chemical in rivers.
However, speaking to journalists recently, the Minister of Environment, Water and Climate Oppah Muchinguri-Kashiri urged farmers to understand the pesticides they use, especially those in areas with wildlife.
"Without study and knowledge to establish how (pesticides) much damage (they have) on fauna and flora, our wildlife becomes vulnerable in the process, so whatever is put on the ground ends up in our water," Minister Muchinguri-Kashiri said.
"It affects our fish, our crocodiles, our hippos and we are seeing that this is a feature that we ignored in the past.
"Awareness programmes by the Environmental Management Agency (EMA) will help address the problem."
However, some critics opine the hippo poisoning might be a case of a poaching escapade gone wrong.
They suspect rhinos could have been the target.
Poaching is rife in Zimbabwe, dropping the total population of white and black rhino to around 800 from more than 950 last year.
A conservative group, Lowveld Rhino Trust notes that more than 50 rhinos were poached in 2015, double the figure of hippos lost in the previous year
According to the National Geographic News, in 2008, several hippos died at Masai Mara Reserve after ingesting a powerful insecticide called carbofuran.
Hippos ate the contaminated grass and the lions became paralysed after eating hippo carcasses.
The death of the hippos in Binga comes barely a year after dozens of elephants were poisoned with cyanide by suspected poachers in Sinamatela Camp, within Hwange National Park.
Cyanide, which is widely used in Zimbabwe's mining industry, is relatively easy to obtain due to lax controls and it has been used repeatedly by poachers.
In 2013, at least 300 elephants died after waterholes and salt-licks were poisoned with cyanide in what was described as the largest massacre of elephants in this part of the world for the last 25 years.
And in October 2015, at least 62 elephants were reported to have been poisoned by oranges laced with cyanide in Kariba and Hwange National Park.
The International Union of Conservation of Nature (IUCN), which monitors the conservation status of species, classifies hippos as vulnerable because of illegal trade in their teeth and demand for their meat.
In their last assessment in 2008, the IUCN estimated the world population of rhinos to be between 125 000 and 148 000 hippos.
The present world ban on the trade in elephant ivory has meant hippo teeth, which can grow up to 60cm, have become a valuable substitute.
Ecologists warn that the loss of hippos could undermine the Zambezi River and the grasslands ecosystem in the parks as hippo dung provides essential basic elements for the food chain, particularly for fish.
This would in turn affect people who depend on fish for their livelihoods.
The world's population of hippos has crashed by 95 percent, leaving the giant creature in danger of extinction.
According to the Congolese Institute for the Conversation of Nature, less than 30 years ago, more than 29 000 hippos lazed in the rivers and the rainforest backwaters of the Virunga National Park in the Democratic Republic of the Congo but now only
1 300 remain.