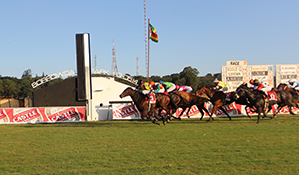 THE continent's oldest sponsored horse race, Castle Tankard lived to its billing last Saturday at Borrowdale Park in Harare.
The 52nd edition of the Grade One race was full of surprises as Equina made it first to the finishing line ahead of tipped Coltrane.
Coltrane – a four-year-old gelding – was the pre-race favourite.
In the last 200 metres, Equina passed the pre-race favourite and also ahead of last year's winner 'A King is Born', in a time of 119.47.
Equina was a heartbreak to several punters who were left counting their losses after the race.
Ridden by South African-based Zimbabwean-born jockey Karl Zechner, Amy Bronkhorst, Equina's trainer walked away US$50 000 richer after the 2 000 metre race.
A King is Born came second while Coltrane came third.
Other runners like Captain's Tiger, Madigan, Super Trouper and Ginepri were also expected to put up a good run, but fell by the way side.
South African thoroughbreds are dominating the Castle Tankard as only two Zimbabwean thoroughbreds were part of the race.
Since its inception, no black jockey has won the Castle Tankard.
One horse, Taranaki, has managed to retain the Castle Tankard.
It won in 1978 and 1979.
Fashion Maker also made history as it won the continent's oldest horse race twice in 1997 and 1999.
Since the year 2000, the Kirk Swanson stable managed to win the grand prize a record four times with different runners.