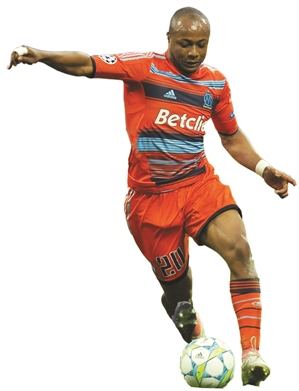 WHEN the soccer World Cup is on, Africa becomes one country.
We want to support any country from Africa because of our shared colonial history and our racial and cultural background.
If Africa was not divided into many countries during the Berlin conference, it might have been one country like India or it would be a United States of Africa. Then we would have a better chance of winning the World Cup.
The African players who have made Africa proud in football over the past 100 years are celebrated.
The details include the Africans who played in international games in Europe and other countries.
We celebrate the players who have given Africa many reasons to be proud in football.
We begin by George Weah who was named the greatest African player of all-time. He had speed, immense power and great shooting ability.
Defenders felt intimidated and terrorised by George's ability to run and also his massive presence and technical ability to play football.
George would exercise sudden acceleration and his dodging ability and shooting power was also enhanced by an incredible pinpoint accuracy.
Among the games he played include the FA Cup with Chelsea, AC Milan and the French Ligue title with Paris Saint-Germain.
In 1995, Weah was named the World Player of the Year by FIFA.
He also won the CAF's Player of the Year in 1989, 1994 and 1995.
For George, 1995 remains a remarkable year.
He won the Onze Mondial European Footballer of the Year and Ballon d'Or awards, UEFA Champions League top scorers.
Between 1994 and 95 George scored 194 goals and became the African Player of the Century in 1996.
George Weah was Africa's finest player and simply the most talented and best of the best.
After Weah we highlight Samuel Eto'o of Cameroon.
He played with some of the world's finest.
He therefore occupies the space for Africa and the world's greatest.
He was an 'attractive, enigmatic figurehead' and a superstar who made Africa proud because he was a fearless player who left all his opponents in no doubt that he was the conqueror on the football ground.
He was a most fast footed committed player.
According to one Ghanaian sports writer, Etoo's "hunger for goals never gets in the way of his desire to do the best for his team…..and capable of leaving his markers flailing behind him.
"He possessed thumping drives, delicate chips, jinking runs, audacious back-heels, even the odd header – the Cameroonian had a myriad of ways to find the net."
Due to his talent, Eto'o became the African 'brand' when football was becoming big business in Europe.
He played for Mallorca Copa del Rey in 2003, the Barcelona La Liga between 2004 and 2009, Copa Del Rey and others in Italy and also the UEFA Champions FIFA Club World Cup in 2010.
In Cameroon Eto'o played for the African Cup of Nations in 2000 and for the Cameroon Olympic Team which won the Olympic Gold Medal in 2000.
His honours include the Young African Player of the Year in 2000, African Player of the Year in 2003, 2004, and 2005.
He was the UEFA Champions League Best Forward in 2006, La Liga Top Scorer in 2006, African Cup of Nations All-Time Top Scorer, RCD Mallorca All-Time Top Scorer, Cameroon All-Time Top Scorer, 2005 FIFA World Player of the Year Third, UEFA Champions League Final Man of the Match 2006 and the , FIFA Club World .
Abedi Ayew Pele of Ghana was another fast and most skillful player to emerge out of Africa.
One commentator on the History of Soccer website described Abedi Ayew Pele as "one of the finest to have ever kicked the ball.
"Brash.
"Skilful.
"Tricky.
"An uninhibited playmaker. …Throw up an 'African Best Player List' out to the watching public and the name Abedi Pele perpetually will make, even, the most elite list.
"His dexterous skills and elegant athleticism makes him one of Africa's most successful exports and one of its most fêted sons.
"He wielded a perfect combination of aggression, passion and off-the-chain skill. "His legacy can be seen at the uppermost levels on Europe's pitches today, weighed down as they are with talent from Africa…"
He was the only Ghanaian named in Pele's 'FIFA 100' list of the greatest players in the history of global soccer.
For many young Africans, Abedi Ayew was an incredible inspiration to many Africans who watched him play against some of the best international players.
In his national team of Ghana, Abedi showed the soul of sport.
He played 67 caps and scored 33 goals.
He holds the honours for winning the 1982 Africa Cup of Nations, the 1992 Africa Cup of Nations Best Player, African Player of the Year in the years 1991, 1992, 1993, European Champions League winner in 1993, French Ligue 1 champion and French Cup winner in 1989.
One of his finest successes was to win the Prince of Qatar Cup in 1983 and the UAE Cup in 1999.
From Nigeria
came Nwankwo Kanu whose gift of soccer was amazement to many. Even the Queen of England acknowledged this African talent and there is a photo of her shaking his hand to congratulate him on his success.
Among his honours was the 1993 U-17 FIFA World Cup, African Footballer of the Year in 1996 and 1999, African Cup of Nations in 1994, Barclays Premier League in 2002, 2004, Community Shield in 1999, 2000, 2003 with Arsenal, FIFA Club World Cup in 1996 and the UEFA Champions League in 1995 followed by the UEFA Europa League in 1998 International.
Another football writer on the soccer website noted that Kanu was the, "most decorated player in African football history. …. He scored spectacular goals, terrorised defenders with his aggression and grit and went over the top when the boots were flying.
"As a forward he combined brute force and subtle skill to a devastating effect, which made him at his peak the majority of top-flight central defenders' most-feared opponent.
"His head was always up, bless his lanky stature.
"He had great ball control and his dribbling art in tight quarters was awesome-superb."
As the 2014 World Cup comes to an end in Brazil, we should celebrate these African soccer players who have bought pride to our African heritage.
The list is long, and will be continued in part two in next columns.