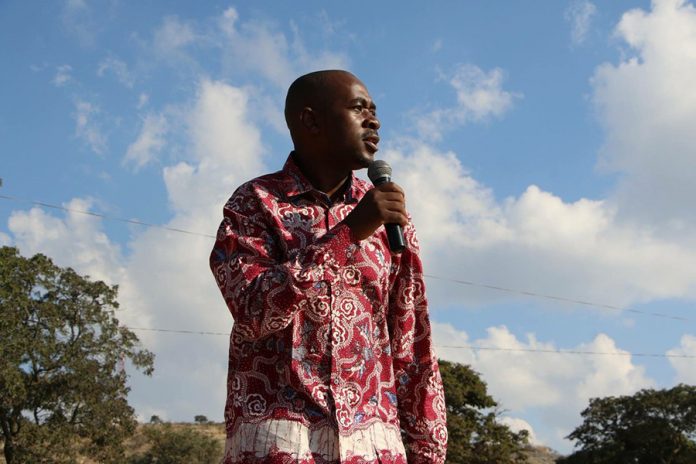 THE much awaited 2018 polls are here.
On Monday, Joly 30, the country goes for the harmonised elections which for the first time in two decades, will not feature both the former President Robert Mugabe and the late Morgan Tsvangirai.
Despite numerous threats from Nelson Chamisa who leads an outfit called MDC Alliance, Zimbabweans will exercise their democratic right to choose a candidate who is in sync with enduring national interest.
And as far as the election campaign is concerned, Chamisa had nothing to offer the nation.
When he realised that no one was buying into his ideas of spaghetti roads and bullet trains and that the people had had so much of his lies, he abandoned his campaign trail and went into attack mode.
One-by-one, he began playing his deck of cards.
His rallies have been mainly about attacking his rival ZANU PF presidential candidate, ED.
First it was why ZANU PF's presidential contender was not campaigning.
Chamisa was not aware of the fact that his biggest contender, President Mnangagwa, was busy fixing the economy.
And later when President Mnangagwa hit the campaign trail, Chamisa started to complain about how ZANU PF was carrying out its voter mobilisation.
Chamisa made outrageous claims that his rivals were pulling everything out of their bag of tricks to deny his MDC Alliance victory at the forthcoming polls, including attempts on his life.
When the Zimbabwe Electoral Commission (ZEC) released the voters' roll, he had found a scapegoat.
Justice Priscilla Chigumba was his joker and deuces.
Every time Chamisa opens his mouth, he spits vitriol, hurling obscenities at his latest victim, Justice Priscilla Chigumba.
Chamisa and his outfit want to usurp the functions of ZEC.
This is despite having many lawyers in the MDC Alliance hierarchy.
The opposition party has been making irritating and exasperating demands around the voters' roll and ballot paper, including quality and printing, transportation, storage and safekeeping.
Surprisingly, last week, Zimbabwe Election Support Network (ZESN), which we have covered extensively for its shenanigans in past elections, trashed claims by the Alliance that the voters' roll was full of anomalies.
ZESN released the findings of its audit of the voters' roll and concluded that the elections register was credible despite negligible anomalies that would otherwise not impact on or prejudice the process.
ZESN, a member of the Crisis in Zimbabwe Coalition, is a regular recipient of funds from America's key 'democracy' manipulating organ, the National Endowment for Democracy (NED), as well as US Agency for International Development (USAID).
In 2008, the USAID's website advert read in part "…supporting the ZESN in its efforts to ensure transparency in the electoral process for the upcoming elections."
Then it was 'collating' election results on all polling stations around the country and announcing the results before ZEC.
In areas where the MDC-T had not done well, it would flag a red light and highlight the need to work harder in the next election and where MDC-T had performed better, it was accompanied by a green light stating all was good in that area.
On April 1 2008, ZESN announced on BBC that Morgan Tsvangirai had won just over 49 percent of the vote with Robert Mugabe garnering 42 percent.
But ZESN has finally seen the light.
With an ally gone, Chamisa ran out of options but still thought he had another deuce, as he cried foul on ZEC's postal voting, claiming election rigging.
In a Bulawayo incident at Ross Camp, MDC Alliance made noise demanding to have their election agents present, those demands and what the Act provides for is totally different.
The opposition party was all over social media claiming police officers were coerced to cast their postal ballots.
Going against the Electoral Act, MDC Alliance's Dorcas Sibanda, provincial deputy organising-secretary of the MDC-T, Tsepiso Mpofu and others were recorded counting police officers' postal votes cast.
His blue-eyed boy Tendai Biti quickly called a press conference and told the world that ZEC was rigging the election.
But then again, they did not get the international attention they had hoped for.
However, his foul mouth attracted attention of the international community such as EU Ambassador Philippe Van Damme who commented that: "Gender-based violence (GBV) starts with abusive language and disrespect for personal integrity."
But again, Chamisa made a wrong pick, as Justice Chigumba has stuck to the law.
The elders who visited the country last week were his last hope.
Chamisa had so much trust in the Elders Council when he heard that it was heading for Harare.
The Elders did not mince their words regarding the MDC Alliance's demands.
"What is important is that we all play by the rules and we make reasonable demands; if we make demands which are unreasonable and which cannot be fulfilled, we are complicating processes," said Koffi-Annan.
In disbelief, the Alliance quickly questioned the credibility of the Council of Elders.
Chamisa, who has already been relegated to second position in the forthcoming elections has vowed to make the country ungovernable if ZEC does not concede to their extravagant electoral reforms.
"Hakudyiwi rinopisa muno … mukaita zvokutamba ndinodira jecha muupfu. Hamuridyi sadza iroro," charged Chamisa while addressing his supporters in Mkoba, Gweru, last weekend.
Poor Chamisa, all the cards are gone and the probability of winning the election are zero.
To make matters worse, MDC Alliance is broke.
With no election campaign material, one or two adverts and banners, it is all gloom for the 'main' opposition party.
MDC Alliance has been seeking donations to fund its election campaigns.
The party has launched a 'donate for change' EcoCash platform on merchant code 204861 registered under Nelson Chamisa Trust in order to get donations from supporters.
With no money in his war chest, no friends and allies, Chamisa's political future looks very bleak.