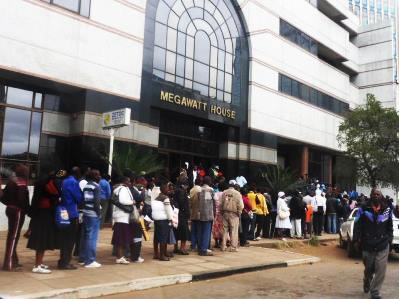 THERE was something perturbing about President Robert Mugabe's message in Victoria Falls that Government and ZANU PF were and are laden with corrupt officials; that those entrusted with serving Zimbabweans have a regressive and deleterious mindset that has become the bane of this country's prospects for the highly anticipated economic growth and development.
In that message, it was scary not only to the perpetrators of the crimes in question, but progressive Zimbabweans who are understandably agitated over why we burden our leader with such simple tasks as having to take it upon himself to deal with the scourge of corruption.
The same message once again brought to the fore the need to speed up the re-establishment of the much maligned national youth service and a complete overhaul of the curriculum in order for our officials to have a positive mindset towards the country.
One strongly feels that the stern warning to the corrupt officials was just the start of the second coming of Zimbabwe and the first step towards cleansing a country and system that has been on ascendancy since the historic July 31 2013 harmonised elections.
Of course the message has been sent, but it is then a question of whether the corrupt officials are listening.
There have been several cases of corruption from Government and the ruling ZANU PF party officials, but little has been done to effectively deal with the chronic problem afflicting the country.
Zimbabwe's economy has finally been given the chance to shine once again in the world by President Mugabe's Victoria Falls pronouncements.
"You put people together even as they work in parastatals, they begin to steal," he said.
"Ndozvavanongoda.
"Wovaisa pamwechete even mumabanks avanoti vakaita, mari dzevanhu vavakuba.
"Are universities and institutions of learning training thieves?
"Kubira vanhu vavo.
"Maisa mari dzenyu mumabanks vanotora vakugovana.
"Iye zvino tiri kutambudzika, takabata vanosevenzera vaChinamasa (Minister of Finance). Cde Chinamasa is struggling to mobilise finances for agriculture or resuscitate our factories."
These corrupt officials have created institutions that care more for their expensive egos than the country's burgeoning economic prospects. 
Yet their careers are set to remain in a state of flux with most set to be fired and arrested according to information in The Patriot's possession.
"The money is put in banks for distribution, but those under him create fraudulent companies behind Cde Chinamasa (Minister of Finance)'s back," said President Mugabe.
"They then direct the Government to transfer the money to those companies.
"Ava vekubank varikungoti tirikuita zvirikudiwa neMinistry.
"Uyu ndidirector arikutiti transfer our money havarambe voisa mari ikoko.
"Yaenda mari ikoko vakunogovana.
"Ndovamwe vatakabata musiuno.
"Ndovamwechete, ko vamwe vatisati tabata, baba iwe-e?
"So what kind of people should we appoint?
Real officials who have the country's interests at heart are what the majority is crying for.
But, those tasked with developing the country are doing nothing as required by the mandate bestowed on them by the President.
Ironically, when the going gets tough, the same corrupt officials leave everything to President Mugabe as evidenced by his concerted efforts to rescue his ZANU PF party from defeat during the July 31 2013 harmonised elections.
The era of senseless sloganeering is surely in its winter period.
Examples of how well knitted and sophisticated corruption in the country is, are just too many.
Information we have indicates that Cabinet recently ordered the termination of the US$750 million Development Bank of Southern Africa (DBSA) and the National Railways of Zimbabwe (NRZ) infrastructure rehabilitation deal after the Minister of Transport and Infrastructural Development, Dr Obert Mpofu detected anomalies.
A Chinese company, our sources revealed, will do similar work for less than US$150 million.
What it means is that if the DBSA deal had gone through, the country would have been prejudiced of around US$600 million!
On the other hand, the Central Mechanical Equipment Department (CMED), a parastatal under Dr Mpofu's ministry has its fair share of problems, chief among them incompetence.
Cde Goodwills Masimirembwa must be livid with members of his board who are taking ages to attend to the issue of those youths who want to do a mass bus transit investment.
We hope he will act on that and not let the country lose another potential mega investment and at the same time deprive youths a stake in the country's economy.
At the Zimbabwe Electricity Supply Authority (ZESA) the new Minister of Energy and Power Development, Dr Samuel Undenge inherited an institution that needs to exorcise the ghost of corruption that reigned supreme under his predecessor Dzikamai Mavhaire and his ousted deputy Munacho Mutezo.
The duo, in connivance with several interested parties floated a Smart Metering tender that claimed the country required 300 000 meters instead of 60 000.
This was after they ignored advice from ZESA technicians that a pilot project precedes the tender.
On the positive, ZESA has done away with Mavhaire's nonsense and is forging ahead with plans for another tender with a pilot project first.
Then there is the State Procurement Board (SPB), where deep rooted corruption is said to exist.
Why does it take forever for the SPB to process and announce winners of tenders?
Do they not create room for corruption when they take weeks if not months to announce the winners?
"You are just not a people's leader or even a good neighbour to the ordinary people," said President Mugabe.
"So what people are we if as we are given jobs we try to look for chances of cheating?
"If that job is one which makes you manage some money, finance, you must be absolutely honest."
With the fate of corrupt officials having been sealed through the raft changes coming in the next few weeks, the new officials taking over must be preoccupied with the values and virtues of honesty, integrity, discipline and patriotism.
Those without these values have no place in the era we are heading to.
Everyone has been warned.