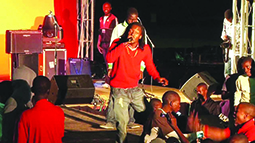 CHIBUKU Neshamwari traditional dance competition finals explode this weekend at the Harare Gardens.
Chibuku brand manager, Stanley Meck said this year's edition will have many surprise acts.
"Chibuku is the people's beer, and Harare Gardens is the place to be come September 14," said Meck.
"Our consumers will enjoy great entertainment, free of charge and get to interact with their favourite brand in a friendly environment."
Among the surprise acts will be popular poet Albert Nyathi who will add flair to the event.
Chibuku Neshamwari is in its 50th year and has become one of the most popular dance festivals in the country.
Delta Beverages began sponsoring the dance competition in 1963.
Meck said Delta Beverages will continue supporting activities that promote Zimbabwean culture.
"As a Zimbabwean company, we value the privilege of promoting and celebrating our culture and heritage, which is all part of what it means to be proudly Zimbabwean to us," he said.
"Through our Chibuku brand, we have been committed to the arts for over 50 years as Delta Beverages."
The Chibuku Neshamwari dance competition is run as a tripartite partnership that includes sponsors Delta, technical partners National Arts Council and the Zimbabwe Traditional Dance Association.
This year's winners of the golden jubilee edition will walk away with US$4 000 cash, while runners up will get US$3 000 and US$2 000 respectively.
A cross section of popular traditional dances ranging from Mbakumba, Mbende, Bira, Setapa, Chihodha, Muchongoyo, Dinhe, and the traditional crowd favourite Nyau will be on offer.
The competition comes at a time when Delta Beverages has launched a new product, Chibuku Super.
Provincial winning groups competing at this year's finals include: Budiriro Cultural Arts from Kadoma, Hwahwa School of Arts, Gweru, Rarira Dendera, Marondera, How Mine, Umzingwane, Umkhakaso Wemajaya, Victoria Falls, Chivaraidze from Chipinge, Chisa Chiredzi, Guruve Arts and 1st Lilongwe, Harare.
Last year, Harare's Batsiranai Group scooped first prize.
Meanwhile, after spoiling National University of Science and Technology students in Bulawayo last weekend, Delta Beverages will host the Lion Lager Campus Nite activation for Great Zimbabwe University students at Mucheke Stadium today (Friday September 13 2013).
King Shaddy, Shinso Man and Winky D will grace the event.