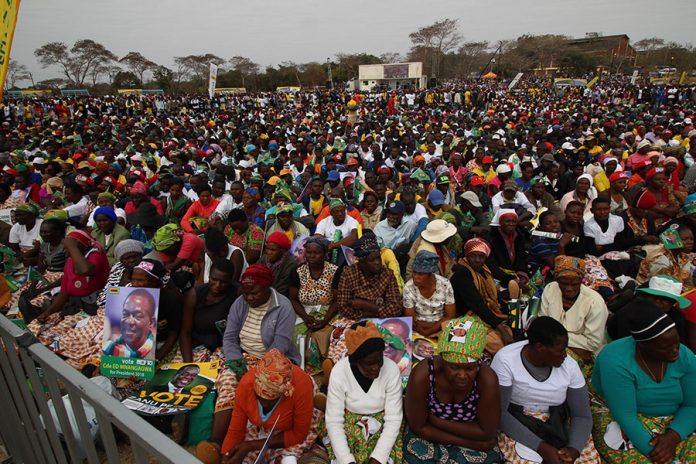 By Alvin Madzivanzira and
Gracious Mugovera
A BUMPER crowd which formed a sea of green, white and yellow attended President Emmerson Mnangagwa's star rally at Chinhoyi University of Science and Technology (CUT) Sports Grounds.
It was the second time President Mnangagwa was welcomed to the farming and mining town.
The first was at the CUT graduation ceremony where he capped 1 218 students on December 2 2017.
Tuesday was his second visit to the town which witnessed the first shots that marked the beginning of the Second Chimurenga in April 1966.
The famous seven guerillas who engaged the enemy were David Guzuzu, Arthur Maramba, Christopher Chatambudza, Simon Chingozha Nyandoro, Godfrey Manyerenyere, Godwin Dube and Chubby Savanhu.
Chinhoyi, which lies some 116km west of Harare is housed in Mashonaland West Province, a strategic province with vast arable land and endowed with several minerals.
It is an energy hub.
Before the rally, President Mnangagwa and Vice-President Dr Constantino Chiwenga met farmers, miners and businesspeople in the province where farmers appealed for security of tenure on the land.
President Mnangagwa also met the province's aspiring councillors, MPs and Senators (together with the candidates who lost in the primaries) in the forthcoming elections.
Some of the candidates include Philip Chiyangwa, the Party's candidate for Zvimba South constituency, Kindness Paradza (Makonde constituency), Ziyambi Ziyambi (Zvimba), Christopher Mutsvangwa (Norton) and Freddy Kapuya, aspiring MP for Mhondoro-Mubayira constituency, among others.
Mashonaland West has 22 House of Assembly constituencies and six senatorial seats.
President Mnangagwa appealed to the multitudes to continue maintaining peace, a hallmark of this year's harmonised elections.
Said President Mnangagwa: "I am saying to you Zimbabweans, we are a peaceful people, we want a non-violent election campaign.
"We want a peaceful election.
"We want a transparent and credible election.
"This we can achieve, this we have achieved, up to now we are campaigning.
"Hakuna kana party inorambidzwa kucampaigner.
"Varikucampaigner kusvika kwavanoda maleaders ikozvino i23 inini ndiripowo ipapo."
Meanwhile, VP Chiwenga, on Monday, addressed a rally at Gwanzura Stadium in Harare.
The VP urged the residents of Highfield and Glen Norah to vote for ZANU PF and shun MDC-run councils that have destroyed cities.
He expressed concern over the pathetic state of roads, street lights and other facilities that have not been repaired due to failure of MDC councils.
He criticised MDC-run councils for failing to deliver services despite residents paying rates.
"Idzo nhamo dzese dzokuti hapana mvura, mvura irikuuya masvondo maviri,matatu haipo apo ponziyo ngaibhadharwe nyangwe yanga isingauye tirikuzviziva zvose izvozvo.
"Marates anokwira nokuti nyangwe dai pasingatakurwe marara acho anenge asi marates anofanirwa kubhadharwa.
Kumwe kwataudzwa kunana Highfield West masewer haachatoshandi, akaparara kare," said Vice-President Chiwenga.
Failure of MDC-run councils to provide better services and road rehabilitation has seen President Emmerson Mnangagwa directing the Ministry of Transport to take over rehabilitation of roads.
This initiative has seen the condition of most roads around the country improving.
VP Chiwenga urged residents of Highfield who had joined the MDC in the previous years to come back home (ZANU PF) and assist in the development of the nation.
"Zvino zvatakateerera vese vaparidzi venhema ava, hatichaziva vekuteerera, makateveraka vakawanda, mawana shanduko here? Ngatichidzokei, kusina mai hakuendwe, todzoka kuZANU PF yedu yakatanga nezvematongerwe enyika ikaunza rusungunuko," said VP Chiwenga.
He said the new dispensation will ensure the country is developed and provide employment for everyone.
"Ndipo pakabuda hurongwa hwatinoda kuti tiyeuchidzane nhasi, hwatinoda kuti tigare tichirangarira nokuti Zimbabwe yatiri kuvaka haichazove Zimbabwe yekare," he said.
Highfield, said VP Chiwenga, will always remain important in preserving the history and heritage of Zimbabwe.
"Muno muHighfield ndimo makatanga zvematongerwe enyika. Makanga mune mafounding fathers, saka vakafa kana vapenyu vanoridza tsamwa vachiti zvii zvakuitika."
The Government, he said, would restore the country's prestige in areas of tourism, industry and commerce, among others.