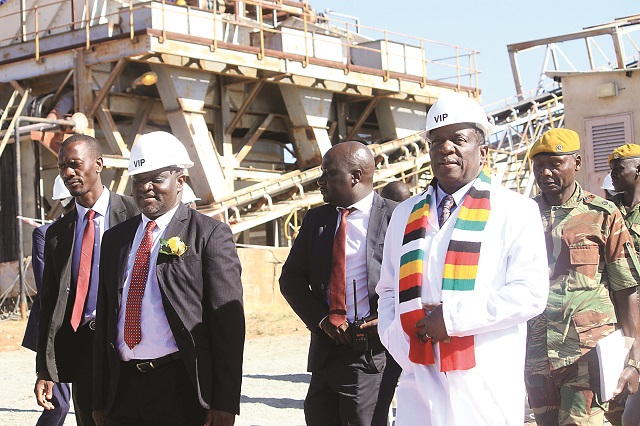 IT was supposed to be a tight contest, a battle in which ZANU PF and their presidential candidate President Emmerson Dambudzo Mnangagwa had to be stretched and taken to the wire but this election has turned out to be a bizarrely one-sided affair.
Come August 1 2018, come the moment, there will be a continuation of the current set up.
To put it into context, ZANU PF will easily win this election.
ED has bagged this one.
Even before Zimbabweans cast their vote on Monday, focus for those blessed with the gift of foresight must be solely on the future.
There is so much to do for ED and his team.
There is so much ground to cover.
Already, a solid foundation has been laid in the form of the many visible things that have been done.
This is what makes this election an easy run for ED and his ZANU PF.
The ruling party will go into this election armed with solid ground for notching yet another victory.
They will go into the election buoyed by the many successes they have scored on the economic, political and social fronts.
They will not be hampered by the bane of pre-electoral promises when they plunge into this election.
Incumbency anchored on delivery has given them the much needed ammunition to subdue what has been clearly a bewildered opposition.
This is an election where the economy takes centre stage, and ZANU PF has not been found wanting on that end. It is now time for ED to look ahead into the future and start putting in motion processes to lead the country with a full mandate.
Sideshows by the MDC Alliance cannot, and must not, hamper the development the country urgently needs.
Of course, there are several changes that need to be made, especially in Cabinet and in the general make and shape of Government. That is a matter for another day, for another time.
But first things first.
Prior to the November 2017 events, the pervasive question was: Is ZANU PF still representing the people?
The answer to that was a resounding no, something that would ordinarily embarrass those associated with the party leadership then.
True, ZANU PF had abandoned its founding values and principles.
It had removed itself from the majority, in the process betraying the ideals of the struggle.
It had been hijacked by a few greedy individuals who hounded out true revolutionaries with the ethos of the party at heart.
And now ZANU PF has done the fundamental act of returning to the people.
And it has always managed to reconnect with the majority.
That is a simple strategy that has eluded the opposition for all their self-proclaimed strategic thinking and planning.
They have tried to feed the narrative that a ZANU PF win will trigger economic collapse of unimaginable proportions.
That has yet to find takers in a country where people have witnessed the revival of the economy and they are not about to disrupt that progress.
On October 10 2016 a local daily published an opinion piece which claimed that a ZANU PF victory in Monday's election will be Zimbabwe's worst nightmare.
Titled 'What if ZANU PF wins the 2018 elections?,' the article tries to create the impression that the ruling party is devoid of ideas to turn around the country's economy.
It says:
"A Zanu PF win is a nightmare most people would not want to imagine. But that nightmare is most likely going to be our reality post-2018 elections. It is not an extension of the current state of affairs, but a deterioration — a huge plunge. The period between 2018 and next elections will be the most painful of our time. It simply means the succession drama will be full-time Zanu PF business, leaving the country neglected. It will be the last days and the end of time. It means a final push and more looting and externalisation of national resources. It also means continued misuse and abuse of power to contain any dissent. The gap between the people and system will then grow wider. The little attention people are getting today is simply to manage emotions ahead of 2018 elections. That too will come to an end."
But to be fair to the MDC- Alliance leader, Nelson Chamisa, the young man has given his 'best' shot in this campaign but this is where it all ends.
The difference between experience and immaturity has been visible.
There has been a gulf between ED's strategic thinking and Chamisa's childhood exuberance.
There has also been a huge difference between ZANU PF's mobilisation capacity and the MDC Alliance's childish antics.
ZANU PF has been on the ground, galvanising its supporters while the MDC Alliance has either been locked in boardroom squabbles or in the streets, harping about this or that senseless issue against ZEC.
This has been the difference between the two parties.
This has also been the difference between ED and 'Nero'.
In fairness, the MDC Alliance has been a huge disappointment.
At one point, it looked as if Zimbabwe had finally found an opposition that would bring something meaningful to the national political table but as Zimbabweans cast their vote on Monday, they will be casting away yet another political opportunist.
When Zimbabweans vote on Monday, they will be voting for a leader they can trust.
They will be voting for a party that carries their hopes and those of the nation.
Let those with ears listen.