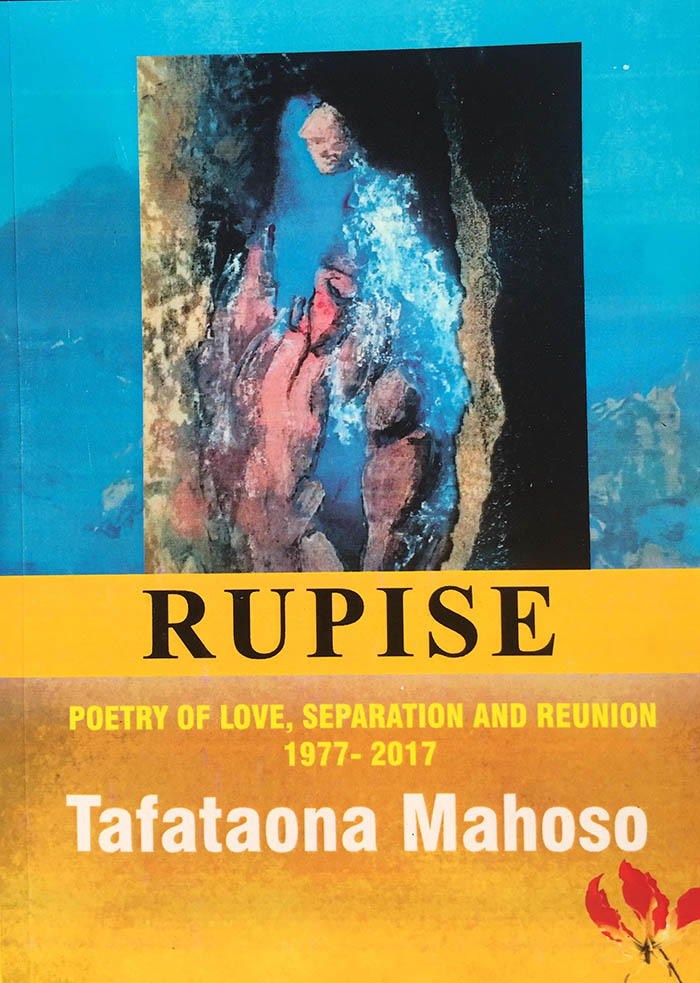 Rupise – poetry of love, separation and reunion (1977 – 2017),
By Dr Tafataona P. Mahoso
Samwasika Heritage Products
ISBN 978-1-7706-070-9
ON a literary level, Rupise in Shona (Ndau) means a hot spring/geyser; which, according to the poet: "What would be by-passed as another mound of wet rocks, just another puddle of water or just a ravine, soon becomes a place to pay attention to, to visit, to linger at, to show to a friend, to come back to and commemorate."
This unique landmark is cradled in the Eastern Highland's Nyanyadzi Mountains of Zimbabwe.
Other poets have also written on the force of water in shaping the local landscape out of which they and their poems have grown.
The actual presence of water is essential to the survival of life as we know it.
In Zimbabwean aesthetics and cultural ideology, water is as a powerful cultural metaphor as it is a force of nature; equally inspiring poetry, music, art and human nature.
In Zimbabwe, there is no river that does not have its own song or lyrical verse; from 'KwaHunyani' to 'Mhondoro Dzinonwa munaSave', from 'Musikana Aibva kuChitomborwizi' to the Zambezi and Kariva.
In African tradition of verse, Rupise is a meditation on the symbolism of water; warm and therapeutic in the musing of the poet.
Rupise, the unique water body and iconic symbol of this poetry collection represents a cultural, philosophical and aesthetic construal of the socio-psychological effects and impact of water on our being.
For indigenous Zimbabweans, water is an everyday presence in thoughts and deeds.
Water is a powerful, authoritative and integral element of our cultural ways, often determining the physical and intellectual activities of the seasons and fertility of the agrarian environment.
Here Dr Mahoso's celebration of water in the poetic form of Rupise, and the crossing of rivers and lakes is culturally informed and quite commonplace in many nations in other parts of the world.
The poetry of the English Romantic period, for instance, contains many descriptions and ideas of nature.
Romantic poets like John Keats, Percy Shelley, William Wordsworth, Samuel Taylor Coleridge and Robert Southey loved nature and celebrated it, in its various dimensions.
Like Dr Mahoso, they drew inspiration from the beauty of green meadows, lush forests, high hills, river banks, vibrant flowers, rural scenes, wild wind, fresh air, sunrises and sunsets, among others.
Almost all the romantic poets touched every scene of natural beauty.
The concept in modern science, that suggests humans have an inborn tendency to seek connections with nature and other forms of life, such as Rupise, is termed 'biophilic hypothesis'.
This concept was introduced and popularised by Edward O. Wilson in his book Biophilia (1984).
First used by Erich From to describe a psychological orientation of attraction to all that is alive and vital – the term 'biophilia' means "…love of life and living systems."
Wilson defines biophilia as: "…the urge to affiliate with other forms of life".
He suggests that biophilia describes "… the connections that human subconsciously seek with the rest of life."
He posits the possibility that humans have deep affiliations with other life forms and nature.
Most indigenous African people, especially Zimbabweans, were well-grounded in biophilic, harmonious existence with nature and love of all living systems; a concept that permeates Dr Mahoso's book – Rupise.
The personification of Rupise, the hot springs, as a woman and the visual interplay between human life, mountains, life-giving water and warm, wet rocks in Dr Mahoso's collection of ecopoetics recalls T.S. Eliot's (Thomas Stearns Elliot 1888-1965) symbolism of water in the poem 'Waste Land' (1922), except in Dr Mahoso's poetry, a note of new life, optimism and cultural pride contrasts with Eliot's message of despair in the future of the mechanised material world.
Rupise is an African-centered notion of being.
Writes Dr Mahoso: "In African philosophy, the earth is a living organism. We live and thrive when we change environments, only because the trees, grass, water and, even, the dust of the space allow us to survive and then to acclimatise our skins, our nostrils, our palette; so that we live to fulfill what we went there to do".
Any Zimbabwean who has experienced a decade or more overseas would understand the importance of being grounded and belonging as well as the abyss of separation of self, spirit and the ancestral earth.
This abyss leaves profound memories of what Mahoso describes as 'poetry of love, separation and reunion'.
Here, Dr Mahoso's poetry traces his scholarship and his experiences as a young student in America and England, immersed in foreign lands and waters.
Salient in this book are Dr Mahoso's expressions of the coming of age and romantic liaisons of adolescence, which in earlier Zimbabwean traditions was guided by an older woman like 'mainini' Rupise, which were normally set by the riverside.
As the author notes in his Preface: "Rupise records and celebrates the power of women's presence in a man's life; it equates the overwhelming power of woman's presence and love with the ability of the earth as place, as space, as depth and as gravity for movement to shape, cradle and extend an African child's language, identity and voice…"
Dr Tony Monda holds a PhD in Art Theory and Philosophy and a DBA (Doctorate in Business Administration) and Post-Colonial Heritage Studies. He is a writer, lecturer, musician, art critic, practicing artist and corporate image consultant. He is also a specialist post-colonial scholar, Zimbabwean socio-economic analyst and researcher. E-mail: tonym.MONDA@gmail.com