By Farayi Mungoshi
AFTER the death of Dr Charles Mungoshi, Government was reminded once again of the suffering writers go through concerning theft of their intellectual property.
Zimbabwe Writers Association's Monica Cheru-Mupambawashe, at Dr Mungoshi's funeral, made a public plea to the ministries involved to assist in ensuring that writers are given back copyrights by publishers. She argued that most of Zimbabwe's early writers, despite being able to republish their works digitally, are still unable to market them (digitally) in the face of technological advancement as publishers are still holding their copyrights.
National Arts Council director Nicholas Moyo said an inter-ministerial sub-team had been created to look into the issue.
He said they would, this year, look at the issue of Copyrights and Intellectual Property from a completely different angle, cognisant of technological advancement.
Veteran writer and film-maker Aaron Chiundura-Moyo, according to an article by Prince Mushawevato of The Sunday Mail, intends to reclaim copyrights to all of his books which include Ziva Kwawakabva and Ndabve Zera.
If successful, Chiundura-Moyo's initiative will affect at least six publishing companies as they would be losing one of Zimbabwe's finest Shona novelists of all time.
Chiundura-Moyo believes and argues that writers are losing revenue due to publishers' lethargy in embracing new technologies and understandably forcing young writers to question whether publishers even care about writers.
Despite having written and published for over four decades, Chiundura-Moyo said he was not well-off and continued to struggle.
Do publishers care, that is the question?
When Baobab Books, a publishing house, went defunct without even telling the writers, original books of various authors, including works of the late Dr Mungoshi, were found being sold on the streets of Harare and not in bookshops where they are supposed to be.
Among the books were the late Yvone Vera's 1993 publications Nehanda and Under the Tongue (1996); the late Chenjerai Hove's Bones; the late Alexander Kanengoni's Echoing Silence; as well as the late Dr Mungoshi's Milkman doesn't deliver milk only and Stories from a Shona Childhood.
Baobab Books boasted works by some of Zimbabwe's finest writers and highest achievers in the writing fraternity in and outside Zimbabwe.
How such an award-winning publishing house came to this sad position remains unclear but what is crystal clear is that writers got a raw deal from the publishers.
By selling/offloading books to vendors for resale to readers without following general contract procedures that see the writer reclaim copyrights or is given back unsold units published in the event that a publishing house closes down, Baobab Books breached agreements and denied writers their rights and possible revenue.
However, such stories are often talked about within the writers' circles yet rarely followed up on and, as such, authors continue to suffer injustice.
Such behaviour, of offloading books into the streets, has escalated the piracy problem and it is time tougher measures are taken to protect writers.
Where is the love, the care and understanding once extended by these publishing houses?
I recall the homely feel, as a child, playing on the wooden floors of Zimbabwe Publishing House (ZPH) in the early 1980s with my young brother Graham – (years before the rest of my siblings were born) while waiting for our father to finish editing, writing or doing whatever he was doing then.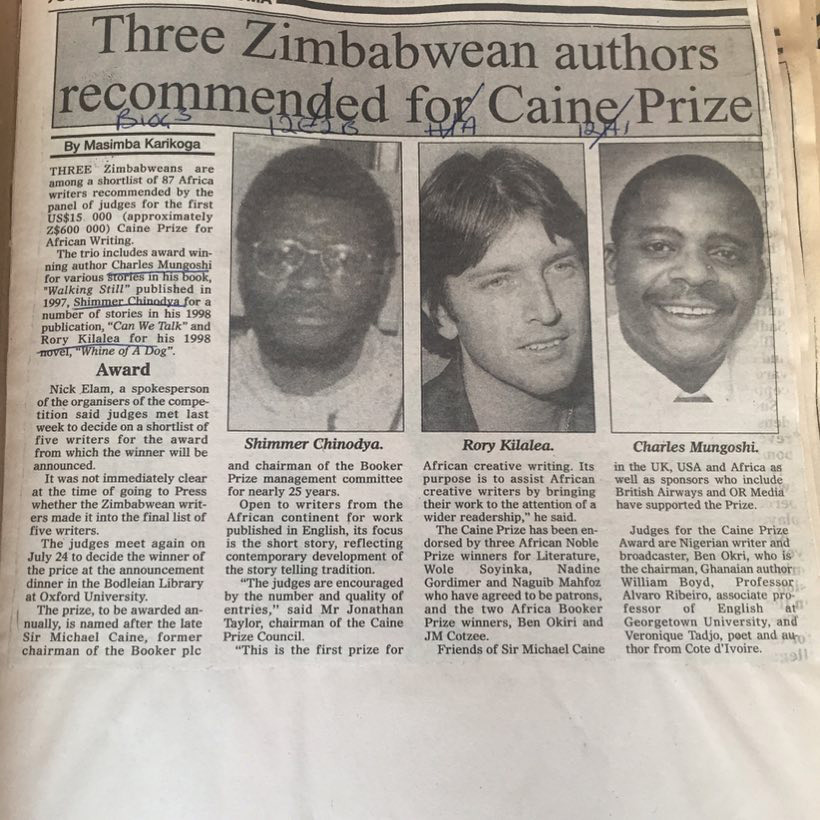 It didn't feel like a work place, maybe because I was a child then and that's how children are — carefree. But then, how would you explain the drinking and laughter the late Dambudzo Marechera, the late Dr Mungoshi and the late publisher David Martin shared then?
While Martin was the publisher, he also had a personal relationship with Dr Mungoshi and even Marechera to the extent Marechera, at some point, would sleep at the offices there.
Can we say today publishers still have that kind of relationship with their writers?
Sadly, I don't see it anymore.