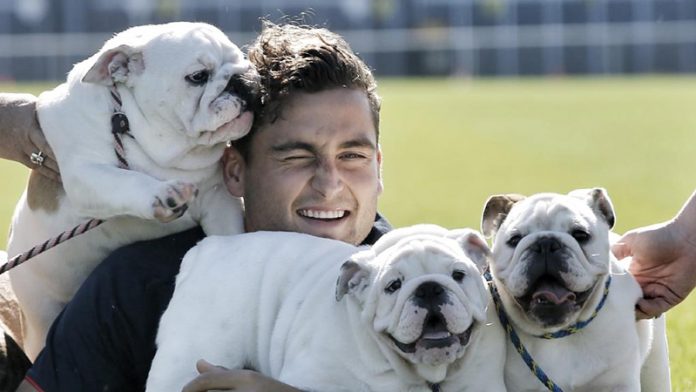 ZIMBABWEANS in England marvel at the love Britons show their animals, especially cats and dogs.
Many have been repulsed on seeing a dog share a bed with its owner — a common thing here.
Back home in Zimbabwe, dogs sleep outside.
Britons can splash thousands of pounds on a dog, money some of them do not even spend on their children.
This writer booked a cottage for a holiday in South Wales.
Having arrived at night, the writer was woken up early in the morning by a soft shake and a miffed voice from his son.
He informed me that we had booked a house near a grave.
I peeped outside and indeed I saw a small grave.
In typical African reaction, I grabbed the phone and asked the owner why he had not informed us that the cottage was in a graveyard.
The owner informed us that we were not in a graveyard and that the grave we had seen belonged to John.
John had been knocked down by a car.
He was fully grown. He was four, and a lovely dog.
Dogs' graves are decorated and well-maintained.
This would be taboo in Zimbabwe. 
But that's how much the Brits love their dogs. 
The Home Office granted a man a visa because he had said he could not leave his dog alone in the UK.
He indicated that he had formed a strong bond with his dog.
The dog is a very important family member here.
People hire dog-walkers to walk dogs and clean them.
You can hardly walk two steps without seeing a dog walker.
There are even parks dedicated to dogs and beaches set aside for dogs.
Many people love to see pets and play with them in the UK.
For many years now, Britons have enjoyed the reputation of being a nation of pet lovers.
At home and internationally, this praise has persisted albeit amid controversy.
There are some British ladies who have refused to marry, arguing their dogs would be jealous.
Dogs are loved more than humans.
Britain is the first country in the world to start a welfare charity for animals.
This spirited effort to rescue and preserve the dignity of animals led to the formation of the Society for Prevention of Cruelty to Animals (SPCA).
The society rescues injured and sick animals in a bid to rehabilitate them; it is funded by people of goodwill.
More than half of the Brits keep a minimum of one pet.
To be more specific, British households in total host 6,6 million dogs and 7,7 million cats.
Goldfish are always on demand and there are 18 million of them kept in homes.
Animal stories featured in the media always get an overwhelming response.
Heroic acts of animals are featured endlessly.
But this is the rosy side; recent reports have a different story to tell. 
Despite Britain being a nation of pet lovers, reports have confirmed that up to 10 million pets in the nation suffer from physical and mental stress.
A large number of dogs are overweight and half of all the cats are obese pets, left for many hours at home alone and this has contributed to the problem.
Cats and dogs should not be left alone for more than four hours.
In light of this, animal cruelty in a nation of pet lovers is hard to ignore.
Many have purchased pets but they do not know the first thing about taking care of their furry friends.
Ignorance of how to look after pets has contributed to negligence of pets in the UK.
In fact, some pet owners do not know how to feed their pets.
Brits are indeed a nation of pet lovers but love comes with responsibility.
Invariably, back in Zimbabwe, we put human life and welfare before dogs — and cats.