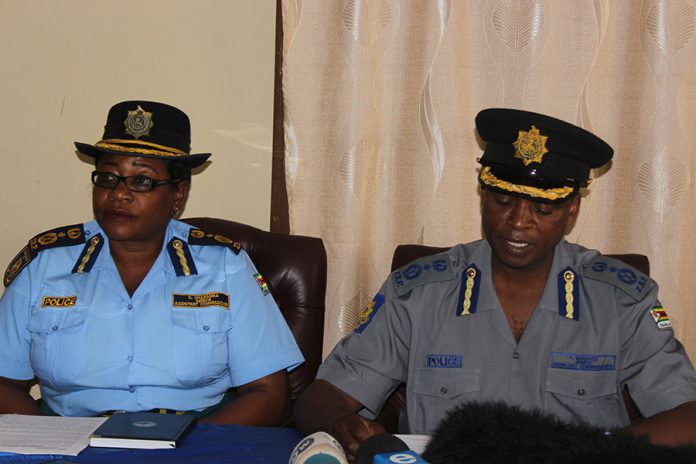 AS the nation prepares for the 2018 harmonised elections between July and August 2018, the Zimbabwe Republic Police (ZRP) has warned all political parties and their members to desist from engaging in intra and inter-party violence.
The warning comes as ZANU PF is set to hold its primary elections this Sunday, April 29, with other political parties expected to announce their primary elections date.
It is against this background the ZRP has engaged political parties, Zimbabwe Electoral Commission (ZEC), Zimbabwe Human Rights Commission (ZHRC) and other stakeholders to ensure an environment conducive to the holding of peaceful, credible and violence-free elections is maintained.
Addressing the media recently, Commander 2018, ZRP Harmonised Elections, Senior Assistant Commissioner, Erasmus Makodza said any form of violence, threats or harassment of voters or rival contenders would be dealt with in terms of the country's laws.
"Adequate security provisions have been put in place by the police to ensure primary and harmonised elections are held in a peaceful environment," he said.
"In this respect, the judiciary, in liaison with the police and other stakeholders, has set up special courts throughout the country to speedily deal with politically motivated crimes."
Snr Ass-Com Makodza warned members of the public against inflicting, or threatening to inflict, bodily injury upon any person, abducting or detention of people, causing or threatening to cause unlawful damage to a person' property and withholding or threatening to withhold from a person any assistance or benefit to which that person is legally entitled.
"Illegally doing or threatening to do anything to the disadvantage of any person, compelling or attempting to compel a person or persons generally to attend or participate in any political event and obstructing a political party or candidate Electfrom campaigning in any election through intimidation will not be tolerated," he said.
He urged the media to continue to report objectively and factually during these plebiscites, while avoiding peddling hate speech and falsehoods.
The warning by the ZRP comes at a time when the MDC-T, in particular is rocked by intra-party clashes between Nelson Chamisa and Thokozani Khupe.
The intra-party violence began at the burial of the MDC-T leader Morgan Tsvangirai with rowdy youths threatening to torch a thatched hut in which Khupe and Douglas Mwonzora had sought refuge after being assaulted.
Timeous intervention by the police saved the situation.
Last month, more than 15 people were also injured in Bulawayo when rival factions clashed at the party offices.
Twelve people, including Bulawayo Deputy Mayor Gift Banda and Ward 1 Councillor Mlandu Ncube have since appeared in court in connection with the violence.
Three top allies of former MDC-T vice-president Khupe have also appeared in court over the violence at the MDC party offices.
The Bulawayo violence left several people, including Khupe's personal assistant Witness Dube, injured and her Land Rover Discovery vehicle extensively damaged as infighting continued in the troubled party.
The opposition party's youth militia, called the 'Vanguard', which staged a guard of honour for Chamisa in Chinhoyi recently, has been fingered in the several violent incidents that have occurred in the party.
It is suspected the so-called 'Vanguard' was responsible for the violence that occurred in Buhera during Tsvangirai's burial. Several people, including journalists, have raised concerns over the militia as they had been subjected to harassment.
However, to ensure there is minimal violence, ZRP Commissioner-General Godwin Matanga has set up teams of experienced investigators in provinces to expedite the investigation and compilation of dockets for prosecution.
This is in line with Section 133H of the Electoral Act, Chapter 2:13.
Section 36(1) of the Criminal Law Codification and Reform Act, Chapter 9:23 provides that courts can impose a maximum sentence of 10 years imprisonment on anyone who commits politically motivated crimes, thus members of the public are accordingly warned.
More than 120 political parties have so far registered to participate in the 2018 elections and the number is growing by the day.
The political parties have notified ZEC of their intention to participate in the 2018 polls.
More are expected to participate as the registration window is still open.
The vetting includes the payment of US$1 000 for aspiring presidential candidates and security clearance on criminal convictions.