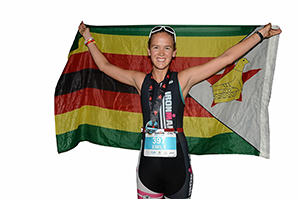 By Evans Mushawevato and Emergency Mwale-Kamtande
ZIMBABWE could have more than an excellent duo in the world of Triathlon.
Currently the best triathletes and the future of the sport are Chisipite Senior School girl Rebecca Duncan and St John's College's Drew Williams.
However, tucked away in the United States at the College of Idaho is Emily Hawgood who is silently doing her thing and putting Zimbabwe on the map of the best triathletes in the world.
Emily, daughter of Beatrice farmer Stoff Hawgood, has represented not just herself or family, but Zimbabwe in the most gruelling and challenging triathlon competition.
An avid runner, cyclist and swimmer, Emily participated in this year's Cairns Ironman in Australia.
The Cairns Ironman is an Ultra distance Triathlon of 3,8 kilometre (km) swim, 180km bike ride and a 42,2km run in that order on the West Coast of Australia.
If she was in Zimbabwe it means she swam from Harare's Main Post Office to WaterWhirld and then cycled from Waterwhirld to Nyazura, then ran from Nyazura to Odzi which is a few kilometers away from Mutare.
What began as a desire to test her abilities, get Zimbabwe into a prestigious competition and 'do something crazy', ended in a victory beyond her imagination.
"I finished second in my age group of 18-24 year olds in a total time of 11 hours 50 minutes 59 seconds, 47th lady and 297th overall," she said.
"I did the swim section in one hour one minute and 42 seconds, the bike in six hours 20 minutes 32 seconds, and the run in four hours 20 minutes 15 seconds."
More than 1 000 people participated in the ultimate endurance test race.
"I found out about the Ironman when I went on holiday with some friends in South Africa, during which two guys from Zimbabwe who were staying with us competed in the South African Ironman in Port Elizabeth," she said.
"The night before the race I couldn't sleep I was so excited, I stood on the sideline all day wishing I was out there and I promised myself one day I would do an Ironman.
"I then arrived at The College of Idaho in Idaho, USA, and my swimming coach had done a few Ironman events.
"In January 2014 we both signed up to do the Boise Half Ironman and participated in June 2014.
"I absolutely loved the race and when I got to the end I knew that I just had to do the full distance event, and so I signed up (for the Cairns Ironman)."
But what began as participation to get a feel of the event ended up a serious competition when Emily realised she was doing well for a beginner.
Her experience during the race is the stuff of blockbuster movies.
"I went in without any knowledge of what it would be like, with a goal of just meeting the cutoff times for each stage of the race and finishing under the final cut-off time of 17 hours," she said.
"I started off the swim in the ocean, under a beautiful sunrise among 1 000 competitors as the youngest competitor.
"During a stage in the swim I got bashed in the eye and saw my time at the half way point, and my competitive spirit kicked in and my mindset changed from compete-to-complete to race-as –hard-as-you-can, I came out of the water completely shocking myself in a time of 1:01:42."
It was fun and hard work at the same time, she said.
"The last part of the bike was my hardest, I saw a sign saying 13km left, but 5km of pushing my legs thinking I was almost there, I shouted to my friend to ask her how far and she shouted back that I had at least 20km, I told her that was impossible, but knew she was right," said Emily.
"I finished the bike in 6:20:32.
"In the last 5km it was getting dark and starting to rain, (I was) hungry, tired and hurting.
"I knew that I had to finish no matter what, so I put my head down and sprinted.
"Running down the red carpet was pretty amazing and overwhelming, the lights, the people, the announcer saying 'You are an Ironman' and the realisation of reaching a very intimidating goal.
"It's hard to describe the feeling and all the emotions."
Draped in the Zimbabwean flag, she revelled in her achievement.
"She is a proud and patriotic Zimbabwean, an ambassador of her country who will take every opportunity to tell everyone who cares to listen about the beauty of her country," said the proud father Stoff.
Emily is there, just needing an embrace from the Sports and Recreation Commission to represent Zimbabwe at various platforms like the Olympics, Pan-African Games and other competitive events.
She is a star not in the making, but already made as evidenced by her exploits all she needs is sponsorship and support from all stakeholders.