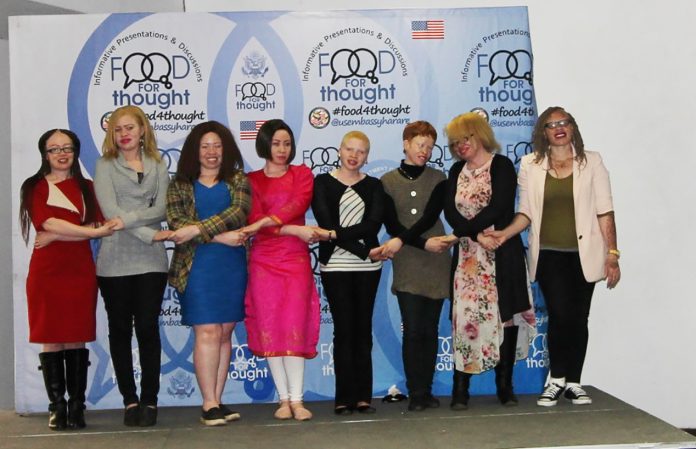 By Catherine Murombedzi
'SHINING our light as an empowered community', read Alive Albinism Initiative (AAI)'s 2018 theme as they raised awareness on discrimination.
Globally, this is the fourth year of drumming up albinism awareness.
The United Nations General Assembly adopted a resolution proclaiming June 13 2015 International Albinism Awareness Day.
Zimbabwe marked the day with national events while in Harare, Alive Albinism Initiative (AAI) spent the day raising awareness.
People need to understand that colour does not shape a person, rather character and actions do.
Owing to a lack of melanin, the genetically-inherited condition leads to little or no pigmentation in the eyes, hair and skin.
Albinos have eye sight problems and often develop skin cancers due to exposure to the sun.
There are myths to albinism which leads to albinos facing discrimination and persecution.
In Malawi, Tanzania and other countries, albinos have been attacked and killed for ritual purposes.
Albinos have been murdered due to a false belief that this brings good luck, wealth and 'cures' HIV/AIDS.
The 'demand' for albinos in Malawi is so high bodies have been exhumed for resale.
Locally, albinos have been subjected to discrimination which can only be understood by talking to them.
Although there have not been any brutal attacks, the emotional trauma is real.
Albinos have adjusted to facing each day as it comes, with some not taking part in a number of public events.
By nature of their skin, albinos need protection from the sun.
The lack of the dark pigment melanin, which helps protect the skin from the sun's ultraviolet radiation, means people with albinism have an increased risk of sunburn and skin cancer caused by direct sunlight.
In order to avoid sunburn, people with albinism have to use sunscreen lotion with a high sun protection factor (SPF) and should always wear protective clothing before getting into the sun.
Some imported sunscreen lotions turn out to be harmful and ineffective due to weather changes.
Sunscreen lotions are expensive and beyond the reach of many.
A bottle of sun protection factor 50 (SPF50) lotion costs US$30 or more depending on the manufacturer.
Albinism challenges range from health to social.
AAI has noted this and, with support from CBZ, are now able to distribute appropriate sunscreens for acne and dry skin.
Besides lotions, albinos need protective clothing before getting outdoors in the sun.
Sun hats and sunglasses give shade when outdoors.
An albino, Tapiwa Gwenlisa Mushonga, a founder of Alive Albinism Initiative, said empowering albinos is a requirement that she has embarked on.
An activist focussing on the rights and empowerment of Persons With Albinism (PWA) Gwen seeks to have albinos getting the correct sun protection lotions. Gwen envisions PWAs rising to compete in all spheres in life.
Empowered PWAs can be ambassadors for society tolerance. When empowered, albinos do not recoil into shells thereby transforming the mindset of society.
"Albinos need to come out of their shells and by doing so, they change the community mindset," said Mushonga.
Albinos do not live in isolation, but in a competitive world which demands an empowered individual.
Anashe Blessing Murombedzi, a teenage journalism student, said not everyone has the ability to face life under stigma. She is happy to be a part of AAI.
"Not everyone is strong enough to face the world on their own, AAI has helped me ignore stares from people who need awareness daily," said Murombedzi.
She recalls the challenges she faced when she started school.
"Some children with albinism stop attending school and I understand them," said Murombedzi.
"They are teased and teachers at times do not protect them. They are called nasty names like murungudunhu. This hurts a lot. I remember my first day in school, most pupils did not want to sit next to me and very few wanted to shake my hand.
"I only had one girl who became my friend. At break time, some pupils shouted out musope. Today, people still stare at me. However, I am grown up and I do not mind them. Little ones get hurt by such discrimination, retreat and keep to themselves. I therefore have to hold the hands of minors living with albinism.
"I kept changing schools due to discrimination. In the seven years of primary education, I attended four schools. Some pupils avoided sitting next to me and were outright rude. This led me to changing schools until I ended up at a good school that was accommodating and understood albinism. So, at times, it can be really bad that one can end up missing school if the family is not supportive," she added.
She says, however, she has a little sister who loves the way she looks and wishes she too had such lovely skin and hair.
"My baby sister Tino wants to be like me, she uses my antiseptic soap and also applies my lotions and such support is important in life. It is not everyone who thinks we are below them."
Murombedzi said she had taken journalism to raise awareness on child rights and people with disabilities.
"The mental aspect of children is usually not taken care of. Parents and guardians provide material goods, ignoring the mental aspect. Psycho-social support is critical, I am happy to have family support and empowerment by AAI," she added.
"In most cases, news reports on disadvantaged communities are token, that needs to be corrected. Someone needs to right that wrong; someone needs to speak as an empowered writer from lived experiences — I am on that journey."
Dr Rebecca Chisamba, a televison personality and counsellor, graced the 2018 World Albinism Awareness event in Harare.