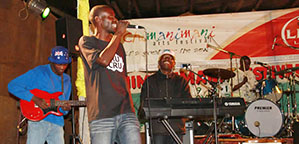 FORMER Assegai Crew lead vocalist, Thomas Marimbita, popularly known as 'Ras Angaz' has come out of sabbatical bouncing back onto the music scenes with a new album Gukumatsatse.
Artistes in the group, based in Manicaland province, went their separate ways in 2010 following the death of most founding members.
Major among the disagreements was the issue of relocation by surviving members.
With fortunes declining in the music industry, some groups have seen it prudent to move to Harare where earnings are perceived to be better.
While groups that have relocated to Harare have not found instant fortune, they have earned enough to keep their outfits afloat.
The scourge of piracy that has crippled the music industry has made live shows the only viable lifeline for artistes, but in smaller towns performances are characterised by low turnouts.
"Lawrence Karimanzira and I (Ras Angas) believed we could get better fortunes in Harare compared to Mutare, but other members that include Silas Makumbe were not in agreement and wanted to remain in Mutare," said Marimbita.
The split has led to the 'death' of the once popular outfit led by the talented late Stobart Chidikano of the 'Kanyama Karipi' fame whose video was shot at the popular Mereki joint in Warren Park, Harare.
Ras Angas said his album is meant to revive the 'Ragga Manyika' music genre, popularised by the defunct Assegai Crew.
"The album delivers unique rhythms and rhymes of Manicaland," he said.
"It has five tracks, 'Shanje', 'Handirambe', 'Hwaihwai', 'Prodigal Son' and a reggae gospel song, 'Mweya Wangu'.
"The title of the album refers to a special Manyika dish that is prepared by special ingredients well known for satisfying those that consume it."
The song 'Handirambi' is a remix of Paul Matavire's song on a reggae tune, while 'Shanje' highlights the issue of jealousy between lovers.
In 'Hwaihwai', Ras Angas is calling on all Zimbabweans who migrated to other countries to come back home and help to rebuild the economy.
There are two gospel tracks, 'The Prodigal Son' which talks about a sinner 'coming back' to God and 'Mweya Wangu', a song that calls for God's blessings and favour in hard times.
Marimbita, who is currently playing with Too Open Band, said his new album has been well received as evidenced by responses during live performances.
"At the moment I have been working with Too Open Band during their live shows and they have given me the opportunity to play some of my songs," he said.
"However, despite being well received by music lovers, there are still a lot of challenges especially marketing the album countrywide due to financial constrains."
The defunct Assegai Crew released their first album titled, Zvese Mari which carried the hit song 'Amaibhoyi' popularly known as 'Kanyama Karipi' in 1997.
Formed in 1991 in Mutare, original members of Assegai Crew included the late Stobart Chidikano, Herbert Keyara, Silas Makumbe, Totichii Makureya, Brian Nhanhanga, Brian Chiriga, Robert Chagora and Mike Moyo.
In their formative years, Assegai Crew became popular for their expert delivery of covers from many genres, but soon began composing their own music, a fusion of ragga and Afro-pop with lyrics in Manyika which they branded 'Ragga Manyika'.
The song 'Amaibhoyi' went viral on all local radio stations, reaching number one, on the then Radio 3's 'Top 20'.
The band went on to release a second album titled Nyarara in 1998 and Mabororo Disaster in 2002.