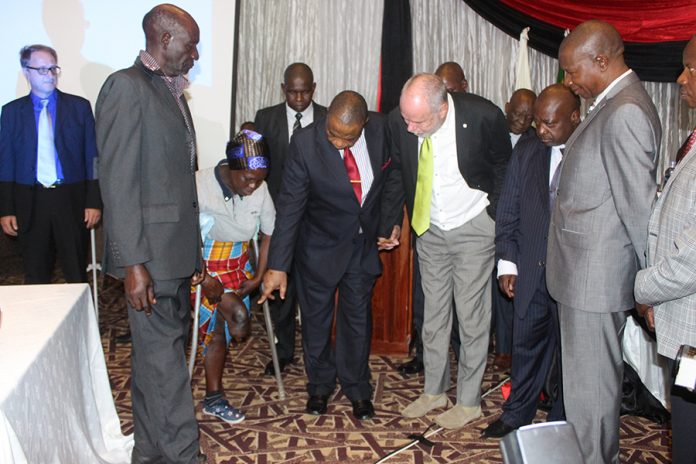 FAMOUS JADA, a resident of Mukumbura District, Mount Darwin, is one of the many landmine victims who suffered at the hands of the Smith regime that wanted to stop the movement of freedom fighters in and out of the country during the liberation struggle.
Zimbabwe, to date, is Zimbabwe has taken onwership of the mining problem and has registered tremendous progress in making sure that its people are safe.
It is signatory to the Anti-Personnel Landmine Ban Convention (APMBC) which mandates the country to take responsibility for the landmines in order to ensure a safe environment for its people.
The Convention bans the use, stockpiling, production and transfer of anti-personnel mines.
It outlines that all mine-infested states should clear all minefields, assist mine victims and reduce risk to those exposed to the landmine dangers.
Zimbabwe became a state party in 1999 and the country has sought for five extensions of varying durations to clear mined areas.
The last extension period was granted in December 2017 during the 16th meeting of state parties in Vienna and expires in December 2025.
Landmine clearance in Zimbabwe started in earnest in 1982 where only gaps were opened on selected spots to facilitate infrastructural development, access to water and grazing land.
Unfortunately, no records of mined areas are available to facilitate easy clearance.
Speaking during the launch of the Zimbabwe National Mine Action Strategic Plan 2018-2025 in Harare recently, Vice-President General (Rtd) Dr Constantino Chiwenga, who is also the Minister of Defence and War Veterans Affairs, said the plan would guide players in their operations.
Said VP Chiwenga: "The main purpose of the plan is to guide Zimbabwe's mine action players in their operations.
"It clearly sets out the goals and objectives as well as the strategies for achieving them.
"The plan also stipulates the estimated quantity of resources required in order to complete the remaining landmine challenge in the country.
"I appeal to donor agencies already funding demining in Zimbabwe to consider increasing the funding.
"We urge those with the capacity to consider funding and supporting this noble humanitarian cause for the sake of Zimbabwe's future generations.
"A boost in funding will enhance the demining operations by increasing the number of teams hence expedite the completion of the programme.
"This indeed is the desired end state, as we grapple with the challenge of totally eradicating the landmine challenge that has negatively impacted on the economic development and safety of our communities living around the mined areas."
International Committee of the Red Cross (ICRC)'s regional weapon contamination manager for Africa John Sorbo said there was need to take ownership of the problem in order to address it completely.
"In all my weapons expert experience, there is no country which is close to what Zimbabwe is doing in terms of addressing the mines," Sorbo said.
"Funding always takes time and the best is to take ownership of the mine problem in order to handle mines.
"Zimbabwe has taken ownership of the problem and has registered tremendous progress in making sure that its people are safe."
Japanese Ambassador to Zimbabwe Toshiyuki Iwado, on the other hand, said his country is determined to ensure a mine-free Zimbabwe.
Said Ambassador Toshiyuki: "In these areas where many people live in poverty, clearing the land of mines helps them to find their way out of poverty and improve their lives.
"It allows people to safely fetch water, farm, herd their livestock, gather firewood or wild fruits and children safely go to school.
"It also gives people the peace of mind that comes from knowing their children and family members are safe.
"Clearing the land of these mines improves human security and allows increased social and economic activities.
"I was deeply touched by the passion and enthusiasm of the deminers and I promised that I would do my best to support demining in Zimbabwe towards the realisation of a mine-free country.
"I wish to emphasise once again that the implementation of this new Zimbabwe Mine Action Strategic Plan will be a huge challenge, but as long as we do not give up on our co-operation efforts, it will surely be completed.
"I will continue to make every effort to support mine clearance and personally hope to see the last mine removed from Zimbabwe's soil by the end of 2025 at the latest."
Commenting on the need to be part of conventions, Nicholas Mbara, the director for Policy Public Relations and International Affairs in the Ministry of Defence and War Veterans Affairs said the army personnel ensure quality is done for the safety of the local people.
"Zimbabwe was part of the convention negotiations and accession to the Treaty. Because of the country's participation in the negotiations, it delayed pursuing its mandate to ensure a mine-free Zimbabwe," Mbara said.
"The promise of assistance by the European governments took time and it is unfortunate that in all that process of achieving our goals, the donors withdrew their support during the Land Reform Programme.
"We are happy that the country continues this process and our Military personnel engage in quality assurance and clearance once the accredited organisations finish their process."
Speaking to The Patriot, Jada said his lack of knowledge of what lay under the water as he stepped onto it (mine) resulted in him losing his leg.
Jada narrated his ordeal to The Patriot: "I was going to my field and because it had rained I was not able to make out what lay under the water pool which I stepped into.
"It was here where I lost my leg.
"Since 1986 I have had to fundraise in order to get an artificial leg. The artificial leg which I managed to get from Parirenyatwa Group of Hospitals was not as perfect as that which I received for free from HALO Trust.
"Now my job is to tell other people to keep out of the fields because there are many who have died from the landmines."
This part of the strategy of a mine-free Zimbabwe where women, girls, boys and men safely engage in sustainable livelihood activities and where mine victims are fully integrated into society is also spelt out.
The goals to the five pillars of mine action are stockpile destruction, survey and clearance, mine risk education, victim assistance and advocacy.
Zimbabwe has four accredited international demining organisations working in the country which are Hazardous Areas Life Support Organisation HALO Trust, Norwegian People's Aid NPA which have been working since 2012 while Mines Advisory Group (MAG) and Apopo were recently accredited with MAG, having started operations in December 2017.
Apopo is expected to start soon.
The fifth player is the National Mine Clearance Unit, a squadron of military engineers specialising in landmine clearance.
The squadron has registered tremendous progress in the Sango Border Post minefield where they are deployed, albeit against resources constraints.
The military deminers are currently working on one stretch of the double stretch of Sango Border Post to Crooks Corner minefield while the other stretch was allocated to Apopo.
Zimbabwe initiated consultations with the Geneva International Centre for Humanitarian Demining GICHD in November 2016.
A formal proposal was then presented to Government which was approved without any challenges, leading to commencement of the process.
Zimbabwe has the following minefields, Victoria Falls to Mlibizi, Mukumbura, Musengezi to Rwenya, Mukumbura, Sheba Frest to Leacon Hill, Burma Valley, Rusitu to Muzite Mission, Sango Border Post to Crooks Corner, Lisulu, Kariba Power Station and Forbes Border Post to Border Streams.