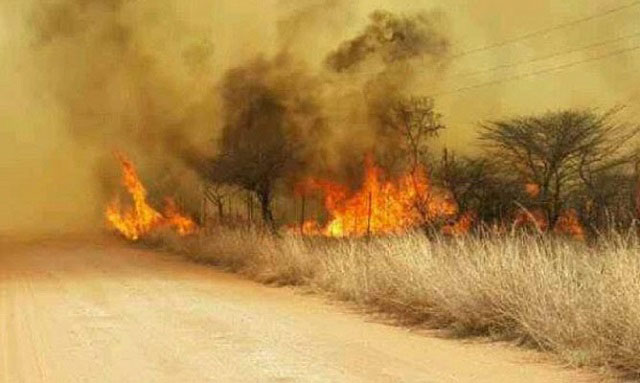 THE 2017 Fire Report by the Environmental Management Agency (EMA) has indicated that Agricultural equipment, household property, plantations, livestock and transport systems worth US$314 509 were burnt by fires in 2017.
Statistics show that in 2015, 16 lives were lost.
This was revealed during the recent launch of the National Fire Week which marks the end of the rain season.
Despite attempts to safeguard property and lives and stop the menace to the bio-physical and socio-economic environment because of the trail of destruction, deaths continue to occur.
Veld fires are fires that get out of control in open spaces.
They usually occur when oxygen, biomass and fire or friction combine.
Veld fires are caused by opening up of arable land using fire, deliberate lighting of fires, gold panning, improper disposal of ash and clearing of vegetation for easy hunting, among other things.
The Fire Report discloses that a 3,29 percent of total land area was burnt translating to a cumulative total of 1 268 534 hectares which were burnt from 2 705 fire incidences.
The report adds that in 2016, a total of
1 197 335 hectares and 1 652 fire incidences were recorded.
A total of 715 awareness meetings were done in 2017, with 1 560 548 people attending, while a total of 159 media talk shows were done and 928 fire orders were given in Mashonaland West, 804 in Midlands, 659 in Mashonaland East with the least in Manicaland at 65.
A total of 323 346 ha of land was cleared giving a total of 438 863 bundles of thatch grass harvested.
A total value of $1 015 987 was realised from 606 600 thatch bales valued at US$1.50.
As the fire season begins, EMA urged people across the country to desist from starting veld fires and exercise caution.
The construction of fireguards must be done between April and June before the fire season begins from July 31 to October 31.
Each district has a fire guard demonstration project to assist people, especially farmers in constructing the standard fire guards.
The fire season is characterised by dry vegetation, hot and windy conditions which are conducive for fire outbreaks.
Acquiring knapsack sprayers or water bowsers, using counter burning methods, reducing fuel load by hay bailing and beaters also helps in the process.
Listening to the weather on the fire danger index and having community fire alert systems in place is another tip.
Statutory Instrument 7 of 2007 of the Environment Impact Assessment and Ecosystems Protection Regulations states that it is an offence to deliberately start open fires during the fire season, failing to put fireguards is an offence, passing or driving past a fire without stopping to assist in putting it out is an offence and failing to report a fire within seven-working days is also an offence.
EMA has an African Monitoring of Environmental Sustainable Development (AMESD) satellite fire detecting machine that alerts EMA on places burning anywhere in Zimbabwe by recording a 50m by 50m radius of that place.
Once the co-ordinates are noted, EMA sends its team on the ground to have the fire put out.
The machine also helps Zimbabwe to monitor fires that may cross from the neighbouring countries.
The Forest Act 19:05 EIA and Ecosystems Protection Regulations Statutory Instrument 7 of 2007 guard against veld fires.
The Food and Agricultural Organisation (FAO) with partners that include Environment Africa and SAFIRE are engaged in a programme that builds the capacity of communities by helping them have fire management plans and committees.
The website for National Fire Protection Association provides the following tips in combating veld fires:
l Clear leaves and other debris from gutters, eaves, porches and decks. This prevents embers from igniting your home.
l Remove dead vegetation and other items from under your deck or porch, and within 10 feet of the house. Learn more about the basics of defensible space on the Firewise website.
l Screen or box-in areas below patios and decks with wire mesh to prevent debris and combustible materials from accumulating.
l Remove flammable materials (firewood stacks, propane tanks) within 30 feet of your home's foundation and outbuildings, including garages and sheds. If it can catch fire, don't let it touch your house, deck or porch.
l Wildfire can spread to tree tops. Prune trees so the lowest branches are 6 to 10 feet from the ground.
l Keep your lawn hydrated and maintained. If it is brown, cut it down to reduce fire intensity. Dry grass and shrubs are fuel for wildfire.
l Don't let debris and lawn cuttings linger. Dispose of these items quickly to reduce fuel for fire.
l Inspect shingles or roof tiles. Replace or repair those that are loose or missing to prevent ember penetration.
l Cover exterior attic vents with metal wire mesh no larger than 1/8 inch to prevent sparks from entering the home.
l Enclose under-eave and soffit vents or screens with metal mesh to prevent ember entry.