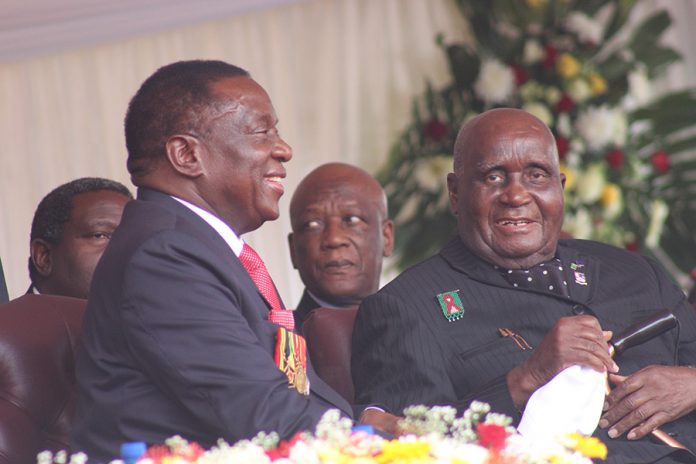 WHEN Cde Emmerson Mnangagwa was sworn in as President of the Republic of Zimbabwe on November 24 2017, it was a momentous occasion, with deep meaning of our liberation struggle.
A war veteran had taken the throne.
This is correct, our country was liberated by the gun, thus November 24's events correctly follow in the footsteps of what happened on April 18 1980, when a veteran of the liberation struggle took the office, after leading a gruelling liberation struggle.
And so to celebrate that occasion, an icon of reggae music, a descendant of the African people, Bob Marley descended on Rufaro Stadium and chanted 'Africans are liberate Zimbabwe!'
And so November 24 was very special.
We are a country still on course.
ZANU PF, the party which waged the armed struggle is still on course.
It chose another freedom fighter to take the throne of Zimbabwe.
Zimbabwe has still honoured its pledge, that it was born of the fire of the revolution.
Former Zambian President, Kenneth Kaunda, the only surviving icon of the original four Frontline states leaders came to grace the grand occasion.
This veteran of our struggle for liberation made the event so special.
He was in the company of the current President of Zambia, Edgar Lungu and former President Rupia Banda.
The family of Zambia was lavish in their love and respect for us on this historic occasion.
There is something special about African brotherhood and it was showcased in the most beautiful way on this state occasion.
Ian Khama, Botswana President's attendance symbolised a relationship that dates back decades.
Sir Seretse Khama, a prince of the Bamangwato of Botswana, as ruler of Botswana did not deny us succour as we struggled to liberate Zimbabwe.
Botswana was a recruitment-safe haven for both ZANU and ZAPU and a home for many refugees from our country in those trying times.
Comrade Sam Nujoma, that giant of Namibia's struggle, was there too at the National Sports Stadium.
South Africa was represented by its Minister of Telecommunications and Postal Services, Siyabonga Cwele.
I mention Mozambique last, not because she is the least, but she is a twin sister to Zimbabwe.
Where could we have gone to and what would we have done without Mozambique?
Mozambique's bond with us dates back to the days of Mwenemutapa, when we were one people.
We still are kith and kin and Mozambique did not let down her brothers and sisters in their hour of need.
They carried the cross of our liberation with us.
President Filipe Nyusi was there, and in that gesture, we saw Mozambique, we saw our dearest friend and brother, Cde Samora Machel.
We were all consoled and gratified.
Zimbabweans came in their thousands and the stadium was filled to capacity.
It was all ages, even children came to witness this grand event which had come to pass in their lives.
When Cde Mnangagwa rose to take the oath, he was greeted tumultuously.
No one was left in any doubt that he was their choice.
They were at peace with him.
In his inaugural speech, the President touched the hearts of all patriotic Zimbabweans.
He also talked about issues that haunt Zimbabweans on a day-to-day basis; accessing their funds, charges by banks for deposits, as well as inefficiency in the delivery of service to the people.
President Mnangagwa underscored something that is fundamental to what ZANU PF is all about.
That it is about serving the masses, not a search for positions of power and privilege.
This is a salutary point, for why did so many lay down their lives in the liberation struggle?
It was to free the masses. Although no Bob Marley descended on National Sports Stadium this time around, it was still a spectacular day.
We continue to salute and honour this great freedom fighter, President Mnangagwa who is at the helm of Zimbabwe.
We pray Musikavanhu protects him as he takes care of his children.