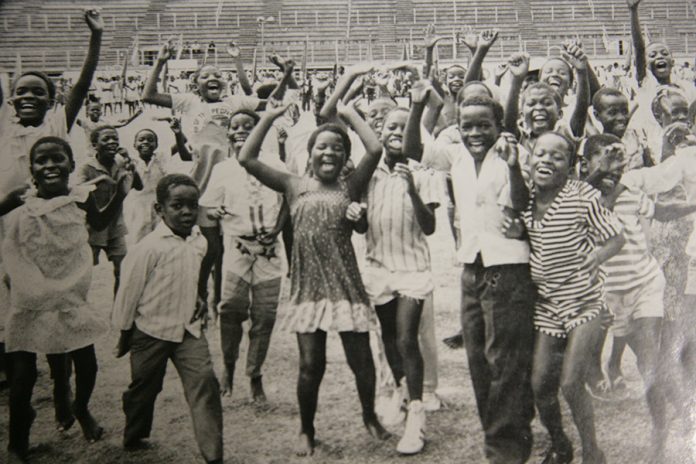 IT all started navana veChindunduma.
Ndivo vakaramba kugara muutapwa, vakati toenda kuhondo kunavamwe, tindodzidzira kurwa tisunungure nyika yedu.
These children are the genesis of the new curriculum in Zimbabwean, not the one of yesterday but of the truth of what should be taught in this great country.
Ndizvo zvindunduma zvedzidzo yedu muno muZimbabwe.
Ndivo vakatanga kuramba kudzidza muusungwa nokuti vakati tiri magamba. Chatakavinga kuno kusango kusunungura nyika.
Vakadavira dare parakaridzwa richiti:
Handei kuhondo
Handei komuredhi
Handei kuhondo hapana anoramba
ZANU yadaidzira pakati peZimbabwe
Handei kuhondo hapana anoramba
ZAPU yadaidzira pakati peZimbabwe
Handei kuhondo hapana anoramba
So young, so tender, so vulnerable, they were no longer comfortable to sit by the fireside with their mothers and roast mealies. They were no longer comfortable to romp in the pastures and enjoy milk straight from the cow's adders, nor to play 'Sarura wako' in the moonlit nights.
They could no longer be at peace because their land had become a place of captivity but with characteristic bravery of sons and daughters of Zimbabwe, they chose to abandon all for the fight for freedom.
Ivava ndivo vakabhadhara chikwereti chokuti muno mudzidzwe zveunyavi, zveushingisi hwenyika ino.
That we are a sovereign people hazvifi zvakatendereka pasi pemureza wenyika ino kuti titongwe navabvakure. Hazvigoni. Zvakabhadharwa kare hazvicharambiriki, muno muZimbabwe.
Many heard the call to take up arms and free the nation but they did not heed the call, but the children did. As they sang variko kuhondo vachiti:
I can hear Zimbabwe calling
Take your arms and free the nation
I can hear Nehanda calling
Take your arms and free the nation
I can hear Chitepo calling
Take your arms and free the nation
This is precisely what they did, and they redeemed others, no just themselves.
Many across the land are free now because of these children, they fought with the rest of us and they achieved something special.
Zimbabwe yakasununguka.
Zvino tovaitirei, vakoshi ava?
Some died at Doiroi, Chibawawa, Nyadzonia, Chimoio, Pasichigare, Matenje and Mavhudzi.
They died excruciating deaths from disease pasina mishonga inokwana, from malnutrition and malnutrition-related diseases, from psychological traumas, poisons and toxins from the enemy's dastardly chemical warfare, from napalm, bullets as well as shrapnel wounds.
Pane ungazvikwanisa here kuzviripa izvezvi zvakadzika kudai?
Pane angakwanisa kuzviputsa here?
Ndiani?
Ndiko kusaka pachifanira kuva pakadaro. Hapana chingadzikinura this greatest sacrifice.
The children of Zimbabwe today have to be educated correctly nokuti ndizvo zvakafira vamwe vavo.
It is a travesty to teach our children European history nokuti vamwe vavo vakafa kuti ubhunu hwuputswe, that the callousness and brutality of the whiteman should be exposed for what it is.
They bore the brunt of the whiteman's cruelty so that others could be free.
Do we now dare teach our children that whiteness is redeemable?
Vose vana veZimbabwe vakatamburirwa, vakafirwa navana ivava, whether they are in public or private schools.
We can teach no less; we can teach no differently. What would be our justification?
The children in the struggle knew very well why they had left home for the struggle, what was at stake and what it would take.
The education in the struggle is the genesis of the new curriculum not the new curriculum as of 2016, but the new education dispensation in Zimbabwe, effective as of April 18 1980.
Ndiwo mavambo ezvitsva zvokusununguka kwedu. Zvakauya ndizvo zvakazouyawo zvikatirwisa asi ndihwo hwaro hwacho uhwu hwuripo, ndiko kwazvakabva. This is the only way for Zimbabwe, ndiro ranhasi neramangwana renyika yedu.
The young ones of today will not rest until they learn what is correct so that they can take the mantle from their predecessors.
Zvakatobhadharwa kare naivava vakazvipira kurwadziwa zvakadzikisisa kudzamara simba rapera mukufa. Kwangosara kuzadzisa chete.
Mbuya Nehanda kufa vachitaura shuwa
Kuti zvino ndofira nyika ino
Shoko rimwe ravakandiudza
Tora gidi uzvitonge.