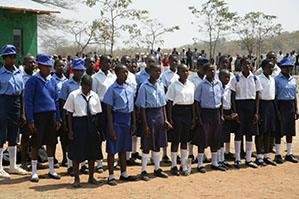 FINALLY the school holidays are coming to an end.
In a country in which we believe in foisting our children to boarding institutions, this is the time many parents will be happily consigning their loved ones to three months of boarding life.
Some children will be wearing sad faces as they leave to serve another installment of time in school.
Not because they are leaving behind the joys of a history-laden month of April; Chinhoyi Battle, Independence Day and execution of Nehanda and Kaguvi.
No!
It is because no more television, movies and social media applications.
From day one, this term and on, every morning at school thereafter, the children will be reciting the National Pledge:
"Almighty God, in whose hands our future lies, I salute the national flag. "Respecting the brave fathers and mothers who lost lives in the Chimurenga/Umvukela.
"We are proud inheritors of the richness of our natural resources.
"We are proud creators and participants in our vibrant traditions and cultures.
"So I commit to honesty and the dignity of hard work."
There are many countries that have adopted the concept of a national pledge.
In the Diaspora we have happily let our children recite these foreign pledges designed to humiliate and make traitors of them.
Take the American pledge recited even from pre-schools:
"I pledge allegiance to the flag of the United States of America and to the republic for which it stands, one nation under God, indivisible, with liberty and justice for all."
It is a pledge to the divinity of American arrogance, supported by history versions from that side.
It is a pledge supported by American commerce and foreign policy.
It is a lived reality.
To some school children in Zimbabwe, the National Pledge will be in addition to singing of the National Anthem and recital of the Lord's Prayer.
The National Anthem is a stately song that gives a summary of Zimbabwe's struggle history and blessings.
It is rich in language, rhythm and emotion.
It is a product of a national competition.
It is testimony to the overall winner, the late Solomon Mutsvairo's genius.
It is constructed in our own language.
It sings very well in the indigenous language.
The National Flag is a product of patriotic heraldry nurtured over struggle years and blossoming with the emphatic people's victory in 1980.
Both are products of deeply engrained historical and cultural existences.
These are nationally relevant symbols expressed in schools and beyond; at any occasion and gathering requiring firing by emotion of patriotic allegiance to Zimbabwe.
We sing the National Anthem and wave the National Flag each time our beloved Warriors line up for a match.
We sing the National Anthem, among other occasions, to begin a school day, to listen to a state speech and to honour national achievement.
The Lord's Prayer; many of us first encountered it in Sunday school.
I found it too long and it was no big deal missing one or two lines.
That I knew the Moses history around it and grew up in a family that had nightly Bible readings that gave context to the prayer helped little.
At prep school one of the teachers, Mr Chideme, somehow managed to figure out I could not properly recite the prayer.
He always singled me for individual recital. He used a thick stick to drive the demons from my palms.
I am not sure whether I eventually managed, but today each time I fumble my recital I think of old Mr Chideme and his thick stick.
As my son heads back to school to begin daily recital of the National Pledge, I am asking myself: Is this a National Pledge or a National Schools Pledge?
If it is the former then why has the construction and promotion been left to officials in this one Ministry only.
If the latter, how will the zeal be transferred to post school existence?
Was it constructed in our own language?
Will the school children understand the context?
From where will they create the context to attach to the pledge?
The National Pledge, whose recitals begin in schools from next week will be denied the context of complimentary national history.
History is a subject on its way out in many schools.
History and indigenous languages has been relegated to a course for the weaker students.
In the few cases where it is offered, the content and supporting literature still leave a lot to be desired.
And in a number of cases, under the Cambridge syllabus, it is about the French Revolution and Germany unification.
In primary schools, there is a loud cry for learning materials that resonate with the National Pledge.
As our infants begin the Sunrise Reader journey to learn to read, they are told land resources like farms are for David and Jenny's ancestry, not Tatenda and Chipo's.
They don't know the history of the land.
They don't know the Chimurenga/Umvukela.
Without the right context, our National Pledge will miss the emotion to fire up our patriotism.
We cannot let it become an empty recital.