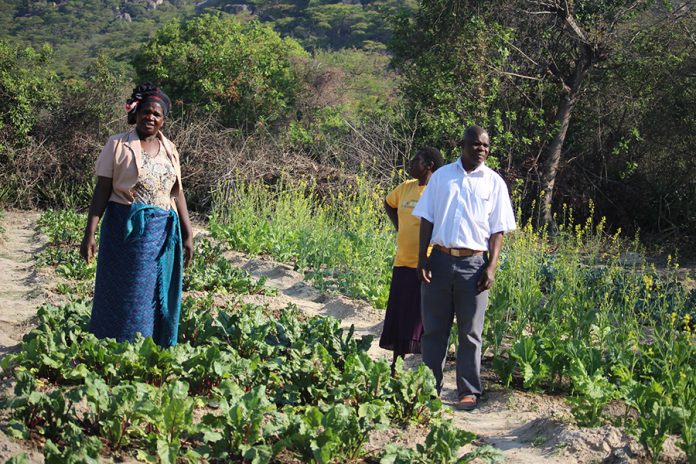 THIS publication has always factually pointed out that certain NGOs are not that benevolent and are pushing for regime change through seemingly noble projects.
This week we look at Heal Zimbabwe Trust (HZT), an NGO publicly touted as a 'peace building group', but reportedly manufacturing false incidences of politically motivated violence.
The Patriot was recently in Rusape where investigations established that HZT was misrepresenting facts in order to dupe donors into bankrolling the struggling NGO.
HZT, founded in 2008 by Rashid Mahiya, operates in the country's 26 districts, including Tsholotsho, Zaka, Bikita, Chipinge, Buhera, Mutare, Rusape, Makoni West, Headlands, Murehwa, Mutoko, Mazowe, Uzumba, Muzarabani, Mbire, Gokwe North and Gokwe South, among others.
However, in recent years, it has not be unspared from donor fatigue.
The Patriot can exclusively reveal that HZT has deployed 103 'information animators' who secretly gather information on politically motivated violence and submit exaggerated reports to their 'situation room' for documentation.
The information animators are divided into three groups and operate mainly on WhatsApp groups administered from Harare.
A source, who refused to be named, said: "The so-called 'victims of political violence' are identified and taken to Harare for training to be information animators.
The job of an information animator is to gather information secretly from ZANU PF, traditional leaders and councillors through what are called 'Community Peace Clubs'."
Ideally, a Community Peace Club is a ward-based community group of people who come together purportedly to promote peaceful co-existence in their communities.
Investigations by The Patriot in Makoni West's Ward 12 revealed that HZT's Community Peace Clubs mainly consist of 'victims of political violence', who are 'compensated' through poultry and livestock projects.
These so-called 'peace clubs' have income-generating projects such as horticulture gardens, mikando, poultry and goat schemes — all funded by HZT.
Villagers receive between 100 and 200 chicks, chicken feed, horticulture seeds and between one-10 goats per group.
And for one to benefit from poultry and goat projects, he/she has to be a victim of political violence.
This has led to an increase in the number of people claiming to be 'victims of politically motivated violence and other human rights violations,' as most villagers do not want to be left out in this scandalous 'economic gain'.
HZT also sponsors activities that congregate large crowds such as clean-up campaigns and sporting activities.
Apparently, HZT takes advantages of these gatherings to spread messages of regime change.
The activities are organised by Community-Based Organisations (CBOs) which then mobilise people through Village Development Committees (VIDCOs) and Ward Development Committees (WADCOs).
In Makoni West, a CBO, Family Visions Child Trust, organises activities and peace clubs for HZT.
As a 'token of appreciation', Family Visions Child Trust, led by Obert Gonzo, was availed funding for building offices and the director's house at Mubvurungwa Shopping Centre.
Gonzo is currently mobilising traditional leaders and councillors for a workshop that is scheduled for September 20-21 2018 at Chiundu Secondary School.
To deceive villagers and legitimise their activities, unsuspecting ZANU PF members, councillors and traditional leaders such as village heads and headmen are appointed to lead the peace clubs.
Before reading into HZT activities on the ground, one would think the Trust is indeed an organisation that seeks to promote peaceful co-existence in Zimbabwe.
However, a credible source told The Patriot: "Peace clubs are used as a cover-up by animators to gather information from their peers.
They also use them to create friendship with ZANU PF members and traditional leaders.
However, what is worrying is, these animators are now manufacturing incidences of violence in their reports.
The juicier the story, the more the funding you receive for peace clubs."
In Ward 12, information animators reported attacks by members of the Zimbabwe Defence Forces (ZDF) at Chiware Shops.
However, villagers dismissed such claims, saying peace prevailed before, during and after the recently held harmonised elections.
Furthermore, HZT co-ordinator Shylock Rumero has been fabricating claims of violence in Muzarabani.
Rumero claimed the assault of an opposition member whose house was burnt was committed in Muzarabani, when in fact, the offence was committed on Mozambican territory by non-Zimbabweans.
Traditional leaders in Mozambique confirmed the MDC Alliance supporter in question, one Joseph Kaswa, was expelled from Mozambique by political leaders for involving himself in trans-border politics.
HZT has since reached out to the two MDC Alliance activists – Joseph and Lloyd Kaswa – adopted them and subsequently housed them at a so-called 'safe house' in Hatfield, Harare.
It's important to note that HZT was founded when the political situation in Zimbabwe was tense, hence the trust attracted funding from the West to embark on peace-building projects and it flourished.
However, in 2009, the country reverted to its peaceful mode, rendering the opportunistic NGO redundant.
Ever since, HZT has been struggling to survive.
In 2014, HZT was among the NGOs fingered over alleged embezzlement of funds from international donors.
The organisation, operating as an affiliate of Crisis in Zimbabwe Coalition (CiZC), was supposed to conduct civic education programmes using the money, but the donors discovered that no such programmes were undertaken.
Instead, the organisation's directors were accused of writing fake reports on the use of the money, working in cahoots with some Zimbabweans at USAID.
Take note, Rashid Mahiya, the man who founded HZT is also CiZC's chairperson and it is our understanding that HZT has been propagating falsehoods that seek to soil the name of Government, ZANU PF and, lately, the ZDF.
"Now that the country is calm, with no victims and perpetrators of political violence, HZT has to manufacture some in order to regain relevance," said another source in Rusape, who refused to be named for fear of victimisation.
"Even in MDC intra-party conflicts, it has become convenient for HZT to blame ZANU PF."
It's on record HZT works hand-in-glove with another regime change outfit Counseling Services Unit (CSU).
The latter (CSU) claims to identify victims of violence and document cases of political violence; thereafter it hands them to the former to benefit from 'projects'.
The CSU was recently accused of stage-managing by planting persons around the country and passing them off to the so-called private media as victims of post-election violence with a view to soliciting sympathy from Western embassies and discredit the recently held harmonised elections.
Apparently, CSU is one of the NGOs affected by USAID's unilateral funding cut and is working extra hard to justify its existance.
With the help of information animators, CSU periodically scouts for a group of 20-25 people who are parcelled out as victims of politically motivated violence and conveyed to Harare for documentation.
These groups are housed at Westwood Catholic Centre in Kambuzuma, Women's Bureau in Hillside and another Catholic Centre in Hatfield for three days.
They are provided with transport and subsistence allowances throughout their stay.
These 'workshops and documentation trips' have become very popular among villagers who view it as an income-generating scheme.
In relation to HZT and as explained by our source in Rusape: "Victims used to be housed at Makuma Building in Rusape before they were transported to Harare for documentation.
But this has since changed as they are now taken from the villages and transported to Harare straight with the help of information animators."
Last month, Zimbabwe Human Rights (ZimRights) Forum, generated a 2018 Post-Election Violence Monitoring Report, claiming over 199 people had either been abducted, assaulted or killed from August 1-9 2018 by ZANU PF supporters, security personnel and traditional leaders.
The allegations are unfounded.
In Rusape, unsuspecting villagers in the Tandi area said HZT has been sponsoring and encouraging villagers to participate in Nhimbe/Ilima that involves harvesting of crops, road gully filling and clean-up campaigns at schools and business centres.
Mbuya Eunice Musariwa (67) of Tandi Central said as a 'victim of the 2008 post-election violence,' she benefitted through the goat scheme.
Said Mbuya Musariwa: "I was beaten in 2008.
I still do not know the perpetrators.
I received goats from HZT, but most goats have since died after a disease outbreak wiped goats in this area."
Another villager, who claimed to be a victim of politically motivated violence, Ernest Mukosere (41), said, he is also a beneficiary of the goat scheme sponsored by HZT.
"We received 10 goats in 2016 that we shared among our group, but unfortunately a few goats are left from the lot we received from HZT," he said.
Speaking to The Patriot, Kubatana Peace Club chairlady Diana Chikandidzi of Chitsva Village, who is also an MDC-T activist, confirmed reports that peace clubs consist of victims of politically motivated violence.
Said Chikandidzi: "Yes most of the peace club members are victims of political violence.
I was beaten in 2008 for supporting MDC-T.
I do not know the perpetrators but after the incident, I received counselling services from CSU's Tete Miriam and Daphine.
I went to CSU for counselling four times.
During the counselling services and my stay in Harare, that is when I met Manjovha who took us to HZT.
I have benefitted immensely from the peace club's chicken poultry, garden of peace and the goat schemes."
Pundits contend HZT is taking advantage of unsuspecting villagers, claiming to have the people's rights at heart.
It's also regrettable that traditional leaders and opinion leaders do not see HZT for what it is – wolves in sheep skin.
The so-called peace clubs have become a breeding ground for regime change activists.
Responsible authorities take heed.