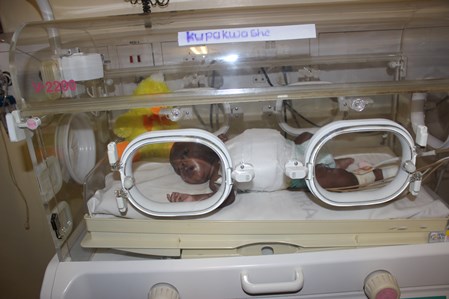 ZIMBABWE turns 35 years amidst challenges and successes, set-backs as well as big strides.
Depending on what one chooses to focus on, there is no turning back.
The health sector remains one of the sectors that have witnessed this mixed bag of successes and let downs.
The nation celebrates milestones like the first major successful operation on Murewa Siamese twins Tapiwanashe and Kupakwashe in 2014 as we experience setbacks with corrupt officials at Mpilo Hospital bringing operations to a standstill.
Parastatals like the Premier Service Medical Aid Society have operations almost at a standstill while parcelling out hundreds of thousands of dollars in salaries to management and board depriving millions of subscribers to quality health care.
After the fallout with the European Union (EU) which was the chief funder of many health programmes, Zimbabwe is finally getting back on its feet and has since partnered with like-minded governments throughout the world.
Recently, President Mugabe received medical equipment worth US$89 million from China which included the latest x-ray technology, cancer detecting equipment and dialysis machines among others for public institutions.
The country has also been implementing the electronic health system that began at Chitungwiza Central Hospital.
Zimbabwe has experienced one of the highest levels of HIV infections in the world.
In 1990 estimated average HIV prevalence was above 10 percent and the rising trend continued over the 1990s.
Prevalence among pregnant women peaked in the late 1990s around 30 percent.
Implementation of prevention, mitigation, treatment and care services in the national response to HIV and AIDS has seen significant progress being recorded with prevalence getting to 13 percent while currently sitting at 15 percent.
The health sector like everything else in Zimbabwe should be understood in its full context.
Historically, health care in Zimbabwe was provided primarily to cater to colonial powers with separate care or second-provision made for Africans.
There were few clinics dotted throughout the country with many people lacking access which also had many households marginalised from any health care facility.
After 1980, Zimbabwe adopted the concept of Equity in Health and Primary Health Care and this resulted in the narrowing of the gap between health provision in rural areas and urban areas.
The government's national health programme was in line with the World Health Organisation's (WHO) 'Strategy for Health for All by the Year 2000'.
In the interests of an improved public health service, the government implemented a series of special programmes which followed the policies announced in its 'Primary Health Care' strategy.
These included an extension of the vaccination campaign against the six main killer diseases affecting infants; the diarrhoea disease control programme, children's supplementary feeding programme, national village health worker programme and the provision of free health care to the low income groups' programme
As the 90s began, there were growing inequities in health provision and health care due to the adoption of the Economic Structural Adjustment Programme (ESAP), 1991–1995, and health policy changes.
The ESAP caused public expenditure decline on health care to 39 percent in 1994-95.
This meant reduced spending on common drugs, extension and preventative health services, specialist facilities and treatment, and other components of quality health care delivery.
At the same time, the government was forced to apply a user fees system erected which barriers to health care in the way of poorer social groups who were, typically, those most in need of health services.
Due to the user fee system there was high prenatal mortality incidences and decreased access to prenatal consultancies, equipment, necessary facilities and drugs. By 1992, doctors and nurses began referring to 'ESAP deaths,' noted death of patients due to the inability of patients to pay for the minimal length of time in the hospital, or for prescription medicine.
By 2000 rural clinics and hospitals noted the near collapse of health care services under the weight of service cutbacks and imposed self-reliance.
Professional morale and service delivery within the public health system had gone down.
The deterioration of the Zimbabwean health services sector had also partially been due to increasing shortages of qualified personnel.The public sector had been operating with only 19 percent staff since 2000.
The situation deteriorated further as the nations was put under illegal sanctions that affected the economy and workers' salaries.
The bulk of the workforce in the Ministry of Health and Child Welfare earned net salaries well below those of their SADC counterparts.
Three quarters of the equipment in hospitals around the country was not functioning and this had serious repercussions on the ordinary people
According to Zimbabwe's Ministry of Health and Child Welfare, 69 percent of doctor positions, 80 percent of midwife posts and 62 percent of nursing tutor positions were vacant by 2011. Many doctors, nurses and technicians had been tempted into the higher-paying, better equipped local private sector, or foreign lands.
Morbidity (diseases) and mortality (death rates) trends in Zimbabwe show that the population is still affected by the traditional preventable diseases and conditions that include nutritional deficiencies, communicable diseases, and pregnancy as well as childbirth conditions. Over the years, chronic under-investment in the health sector made a bad situation even worse with local drug manufacturers like CAPS closing down.
In the 1980s, life expectancy at birth was 56, increased to 60 in 1990 and is now about 43.