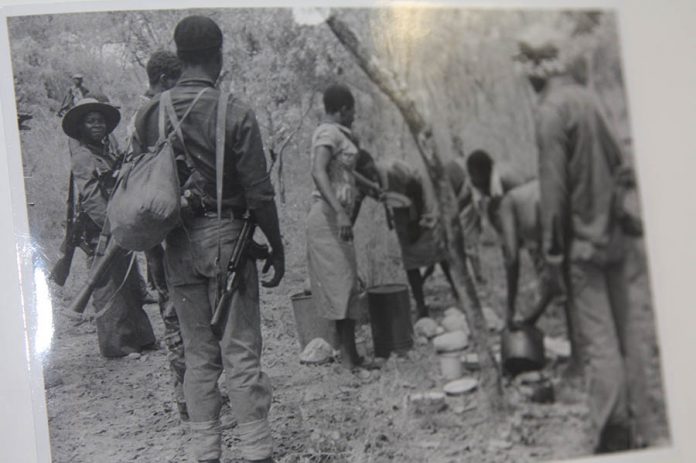 The story of Cde Sidres Kambanje,
alias Tafirenyika Zimbabwe
A RACIAL attack by a white lady and her son, who called me a smelling monkey while doing window-shopping in Abercorn Street in Bulawayo, forced me to abandon work at Backfield sewing factory.
I returned home to Mt Darwin.
It was in December of 1975 when I made this historic decision.
I was 20 years old.
I arrived home only to be shocked to see that my kith and kin had been forced to abandon their homes and driven into the so-called Protected Villages (PVs or Keeps) .
The camp was the home of 13 former villages under one chief.
The chief, however, Chiswiti, did not live with us; he was in prison because he had accommodated guerillas before his people were moved to the camp.
The majority of people in the camp were old men, women and children because the young men were away at work or had joined the freedom fighters.
The old men were often called out for drills.
It was a cruel practice.
Families were fleeing the 'Keeps', crossing the border into Mozambique because life had become unbearable.
The masses were also very hungry.
Village headmen had been promised 15 to 20 bags of mealie meal per month for their villagers upon the establishment of the camp, but now they were given only nine bags.
One bucket of mealie meal was allocated to each adult and half a bucket to each child.
Also, one bucket of beans was given to each family, irrespective of how large the family was.
This was far too little food.
Food provisions had been promised every month, but now they were received every third month in an effort to deter villagers from supplying food to the freedom fighters
Each camp at Mukumbura was given a garden in which to produce vegetables.
Each village headman was allocated a section from which each family could get a small bundle of vegetables once the rains had started.
When the rains came, people started suffering from a strange disease.
They would start shaking and then die.
Everyday children died.
We suspected the Rhodies had poisoned food rations they supplied to the villagers in the PV.
Towards the end of November, a team from Europe who toured the camp, stated that the deaths were caused by poisoning.
The army had used defoliants in May to clear the no-go area of vegetation.
By now the rains had washed the chemicals into the soil and plants had absorbed the poison.
I will live to celebrate my attack on one African Rhodesian Guard Force member of our 'Keep'.
It was on Christmas day of 1975 when I charged against a member of the Rhodesian Guard Force and viciously struck him to the ground.
He was addressing the masses who were gathered at the centre of the Keep.
In his speech, he referred to freedom fighters as terrorists.
I failed to understand the mental state of this African; referring to our liberators as terrorists!
In his address, he told us that anyone who was going to be caught supporting the terrorists was going to be severely punished.
I was shocked by his utterances.
The Rhodesian black soldier summoned me to where he was standing.
There were very few boys of my age among those gathered and I was mistaken for a guerilla.
The infamous Guard Force member clapped me.
I don't know where I gathered the courage to hit that Rhodie back.
I hit him with a hard blow on his nose.
The Rhodesian soldier started bleeding and guns were cocked before I was forced to lie on the ground.
I was then thoroughly beaten in front of the whole gathering.
I was left for dead.
I only gained consciousness at Mukumbura sub-office, their military base.
Interrogation started as soon as I came to.
I was electrocuted, beaten and threatened with the death of my whole family if they found out I was lying.
I was put in a cell while they waited for members of the Special Branch coming after the Christmas holiday from Bindura.
I was fortunate to be released after one of the Guard Forces members who happened to be my relative, came and testified that I was not a guerilla.
I was then released and offered a job to work with the Rhodesian Forces as their informer.
I agreed to all their offers just to earn my freedom.
Since Mukumbura was not far from Mozambique, I immediately crossed the border upon my release to join the ZANLA forces.
I managed to get to Tete with the help of FRELIMO soldiers where I joined other groups of ZANLA recruits.
I stayed at various FRELIMO camps before I finally got to Tembwe where I received my military training in 1977.
I was in the group that was popularly known as Gukurahundi.
I was deployed to ZANLA's Tete war province where I operated with Cdes Chisango, Charter Mutiro, Nyerere, Kasikai Patiri Pakaipa and Mukwau, among others.
Compiled by Emergencey Mwale-Kamtande.