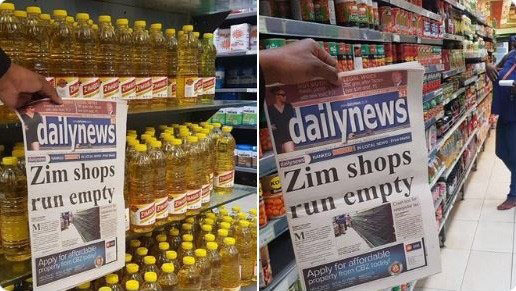 By Dr Tafataona Mahoso
ZIMBABWE has just concluded an election in which millions of supporters for the MDC Alliance failed to make a distinction between registered voters resident in Zimbabwe and able to vote on July 30 2018, on one hand, and Zimbabweans and other sympathisers with the MDC Alliance based in South Africa, Botswana, the UK and other countries who were not registered to vote here.
Part of the problem for the MDC Alliance was that messages from persons based far away from Zimbabwe appeared as if the people were here or were coming home immediately to boost MDC Alliance votes which they could cast only in specific constituencies.
The non-existent virtual vote inflated virtual minds and virtual egos all the way until the Constitutional Court demanded primary evidence to show that the MDC Alliance indeed garnered the 700 000 additional votes which they accused the Zimbabwe Electoral Commission (ZEC) of disregarding. There was no evidence of the 700 000 votes allegedly lost due to rigging!
Things have turned out to be worse when we move to financial and economic reporting in the aftermath of those 2018 elections! Apart from outright lies, readers are facing a media landscape which has not recovered from the election frenzy and partisanship.
While readers naturally expect that newspapers, whose main business is finance and economic reporting, will have enough sense to know there is no real finance and economic news without hard-nosed research findings, in reality the readers have found themselves staring at front page headlines such as this one from the Financial Gazette of October 4 2018: 'Gloom, doom linger in Zimbabwe!'
This was a shouting declaration by an editorial team whose reason for existence is to produce economic and financial analysis that they do not care about that key result area.
Whereas in other jurisdictions a real economic and financial crisis should be the reason to expect the most objective and scientifically based analyses, here, the mere allegation of a crisis is taken as justification to shout from the roofs of tall type that a total implosion is already upon us, with not even a fig-leaf of evidence to that effect!
A big section of the press now appears to be in the overtime service of economic and financial speculators and saboteurs from which the so-called parallel financial market is worshipped as the latest god.
But the reporters who spin these lies and exaggerations forget that the press has a long history, just as propaganda also has a long history.
In 2011, the late Dr Vimbai Gukwe Chivaura and I were privileged to be included in a large Zimbabwean delegation sent to South Africa to confront broad and tall lies spun with encouragement of the MDC formations by the press in that country against Zimbabwe.
So I was not surprised to read in The Herald of October 15 2018 that forensic investigators have proven The Sunday Times of South Africa was one of the key platforms employed at that time by the MDC formations and the Rhodesian lobby in South Africa to demonise Zimbabwe.
Apart from the false stories on alleged renditions of Zimbabweans from South Africa back to Zimbabwe by South African security, there were also countless stories on the supposed total implosion of the Zimbabwe economy similar to those that we are reading here and now, such as The Financial Gazette one already cited and many more, including:
– 'ED can't rig the economy', NewsDay, September 5 2018;
– 'Crisis: Fuel shortages, long queues surface', Daily News, October 6 2018;
– 'Talk to Chamisa to spur economy, ED urged as economy continues to bleed', Daily News, October 8 2018;
– 'Companies Close as Zimbabwe burns', Daily News, October 9 2018;
– 'Panic grips Zimbabwe', The Standard, October 7 2018;
– 'Bond notes disaster: Zimbabweans count costs after a week of madness', The Standard, October 14 2018;
– 'Tax storm: Zimbabwe inflation hits 155 percent', Daily News, October 14 2018; and
– 'Zimbabwe faces its worst economic crisis in a decade', Daily News, October 15 2018.
One of the stories being suppressed is that of staple food stocks.
In past speculative attacks on the Zimbabwe economy, the first shelves to be cleared were those of maize meal.
This time around it has proven impossible to empty all the maize meal shelves or to start any rumour that Zimbabwe has run out of maize meal, as used to happen.
The reason is maize stock piles at Grain Marketing Board (GMB) depots are as visible as the ConCourt trial that dismissed Nelson Chamisa's lies about being cheated out of 700 000 votes!
The story of how the Command Agriculture Programme has altered the nature of speculations on the Zimbabwe economy is the real story of the decade because it shows who is interested in speculation and how they can be defeated. History is important.
In 1953, Milton Friedman wrote:
"People who argue that speculation is generally destabilising seldom realise that this is largely equivalent to saying speculators lose money, since speculation can be destabilizing only if speculators on the average sell when the currency is low in price and buy when it is high."
There are five points from this Friedman claim which are critical for understanding the so-called 'experts' who accept and even encourage speculation in general as well as speculation based on devaluation.
The first point is the assumption that speculators in North America will not destabilise the economy because they will stop speculating at the point where they begin to lose money to those who refuse to speculate.
So the system will correct and balance itself, since players who speculate and players who refuse to speculate reside and act in the same economy and market.
This cannot work in Zimbabwe where most of the speculators are externally based and externally driven.
The year 2011 mentioned above is important here.
Most of the speculators saying the Zimbabwe economy was about to implode were in South Africa, Australia, the UK and elsewhere.
The other point is, as long as speculators are making money, their speculation is not destabilising to the whole economy because at some point they will begin to lose money due to the counter-activities of other significant players.
It is true that in the US and Europe there will be many other significant players besides state institutions.
But is that true in Zimbabwe?
No.
The third point is that speculation is logical and rational, therefore it is not only good but also inevitable.
So we should live with it.
Economists' comments on the so-called parallel market tend to take this line of argument.
The fourth point is that Friedman tried to universalise something that was peculiar to the US economy at a particular time in history.
The fifth point is on the role of expectations in an environment where the media may be so polarised as to present a sort of ideological war front.
Speculators will speculate because they expect to make money.
They will stop speculating if they expect to lose money.
But if we turn to the Zimbabwean economy, we note the following:
Much of the literature and media propaganda reveals that for a long time, forces behind the financial war against Zimbabwe were not motivated by the desire to make money as such. Their main objective was regime change, using economic war to cause implosion.
Zimbabwe has been under sanctions and fighting both an economic and a propaganda war.
So the most powerful forces behind the we note the following:
Much of the literature and media propaganda reveals that for a long time, forces behind the financial war against Zimbabwe were not motivated by the desire to make money as such. Their main objective was regime change, using economic war to cause implosion.
Zimbabwe has been under sanctions and fighting both an economic and a propaganda war.
So the most powerful forces behind the speculation for the purpose of precipitating an implosion are not resident within the borders of the country and their speculation for the purpose of precipitating an implosion
l To Page 13
l From Page 5
speculation for the purpose of precipitating an implosion are not resident within the borders of the country and their speculation and propaganda of expectations will not be immediately counter-balanced or off-set by equally powerful resident forces who refuse to speculate and refuse to accept the propaganda of expectations about the future of Zimbabwe.
Even in economies where the speculators and their counter balancing forces are both resident, Peter B. Kenen tells us that:
"Once an inflationary process has begun, moreover, it is hard to stop.
It sets up expectations of continuing inflation that permeates behaviour in labour and goods markets and thus prolong the process.
Therefore a single exchange rate change can lead to a vicious circle."
Most economists will acknowledge the important role which expectations, among key economic players, will play in driving speculative behaviour and changing economic factors and indicators.
But they do not usually go into questions of how expectations are created, promoted, driven and accelerated.
Peter B. Kenen's The International Economy, at Chapter 16, for instance, offers the following:
"International capital movements depend not only on interest-rate differences but also on investors' expectations about future exchange rates.
Furthermore they are influenced by attitudes toward risk, which affect the investors' willingness to make commitments in an uncertain world."
Among the subsections of the chapter there is one called, 'How speculation based on expectations about future exchange rates affects the functioning of the foreign-exchange market'.
The author then promises that: "We will see that speculation links the actual exchange rate today with the rate expected in the future and that it can contribute to exchange-rate stability."
But it is obvious that the author here confuses predictability with stability; and the stability of stocks with the stability of society and the whole economy.
Moreover, the author seems to take expectations as given.
So he does not explain how expectations are created, promoted, driven and accelerated; or how they could be discouraged, shortened, postponed or neutralised.
These media propaganda concerns are usually left to those engaged in psychological operations.