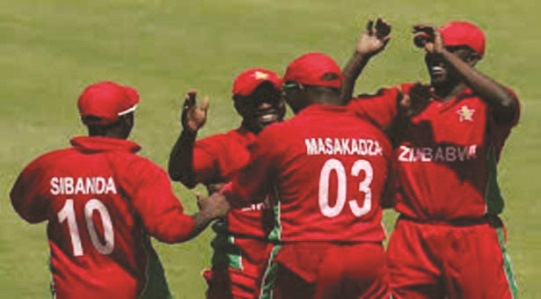 NEWLY appointed Zimbabwe Cricket 'A' side coach Walter Chawaguta has said his team is ready to take on Bangladesh in their meeting at the end of this month.
Chawaguta's side will descend on the Asian country for two four-day and three one-day matches.
He said they are not taking their opponents lightly and are leaving nothing to chance in their preparations.
The rookie mentor was appointed coach of the 'A' side a fortnight ago and the tour will be a litmus test for him and the squad.
Chawaguta said currently there are 16 men in camp and others will join the squad in Bangladesh.
"We got into camp yesterday (Tuesday) and we will be practising non-stop," he said
"Focus is on regaining match and physical fitness on the players most of whom had just gone into the off season mode."
Players, Sikandar Raza Butt, Brighton Mugochi and Tinotenda Mawoyo who are based in the United Kingdom will join the squad in Bangladesh as they are currently playing for various clubs.
Mark Vermuelean who makes his come back to international cricket will join camp on June 16 as he is currently in South Africa with his family.
Chawaguta said while the squad is a mixed bag of members from the regular team, some players are from the junior side of the national teams and the last batch is from the upcoming potential teams.
He said the squad and five officials will fly out on June 28 to Bangladesh, for two four-day and three one-day matches against Bangladesh.
After the four-dayers, five players who are being groomed to be specialists in the 50-over version of the game will join the tour, with those they replace returning home.
Squad
Brian Chari
Michael Chinouya
Luke Jongwe
Roy Kaia
Timycen Maruma
Shingirai Masakadza
Tinotenda Mawoyo
Brighton Mugochi
Tinotenda Mutombodzi
Raymond Mutumbami
Regis Chakabva
John Nyumbu
Donald Tiripano
Mark Vermeulen
Malcolm Waller
 
For the One-Day Games
Sikandar Raza Butt for Vermeulen
Joylord Gumbie for Kaia
Tafadzwa Kamungozi for Nyumbu
Neville Madziva for Chinouya
Forster Mutizwa for Waller
 
Management
Nicholas Singo – Team Manager
Walter Chawaguta – Coach
Wayne James – Assistant Coach/ Selector
Stanley Chioza – Team Analyst
Anesu Mupotaringa –Physiotherapist