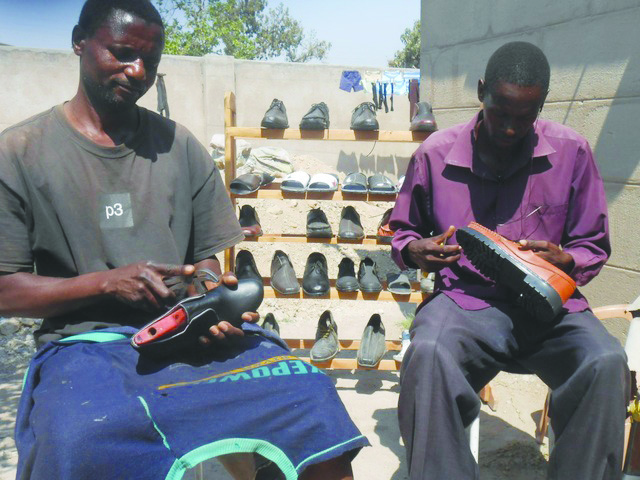 By Professor Sheunesu Mpepereki
THE Zimbabwe Agenda for Socio-economic Transformation (Zim-ASSET) is a blue print that calls for concerted action to address the nation's challenges.
Those who may wait by the roadside for the ZANU PF delivery truck to bring them Zim-ASSET goods and services to their door steps may have a long wait ahead.
Both the electorate and the political leadership need to put their shoulders to the wheel to achieve the socio-economic transformation envisaged in the blueprint.
It is not time to compete for the limited resources currently available; it is time to think outside the traditional box and do business unusual so as to unlock value and generate wealth from our abundant natural resources.
Implementation of Zim-ASSET will require a lot of ingenuity.
Various ministries are competing for the limited resources available. There is a strong temptation to line up at the treasury begging bowls in hand requesting for funds to implement a whole array of programmes. Zim-ASSET is a call to arms.
We are in a vicious economic war where Zimbabwe is fighting for its economic survival.
We must indigenise, empower and create employment, yes.
We must innovate, yes; re-strategise where necessary to ensure that our programme moves forward, yes.
That is the call from Zim-ASSET.
We need to create partnerships with other players including outsiders to leverage funding for various projects, yes.
But in doing so we must remain vigilant.
There is a new breed of pseudo-comrades among us including some who find themselves in leadership positions who subscribe to the philosophy that "regai nditsvake murungu wangu andipe mari ndidye, iye woita hake zvaanoda nomunda kana nomugodhi."
This is terrible betrayal of the sacrifices made by the povo and our liberation heroes dead and alive.
Part of Zim-ASSET requires that we weed out such elements.
Kana wapa munda kumurungu, you have abandoned indigenisation, you are no longer empowered, you have surrendered the means of production given to you.
You are not even employed as you are now the white man's charity case.
Those who are sub-letting their land and mining claims to 'varungu vedu' are no longer comrades, but sellouts.
The genuine comrades and povo who bore the brunt of our liberation struggle never looked for 'murungu wangu'.
If they had done that then Zimbabwe would not be here.
During the land repossession phase there were those who sought to 'cover' varungu kuti mapurazi avo asatorwa.
If the war veterans, povo and other political leaders had allowed that, the 4 000 Rhodesian farmers would still be on the farms.
You would not have the farm you are now clandestinely handing back to 'murungu wako'.
Just because there is a shortage of fertiliser or seed or cash for that matter does not warrant you to sell out.
We are in a war situation.
We are warning that changes of strategies should not translate to selling out the struggle.
We are in a war!
Sanctions are in place.
So tambai makachenjera.
Smart partnerships, yes, but sellout arrangements, no!
Zim-ASSET says think of strategies to make money, to save money, to efficiently deliver on your mandate wherever you are in the matrix of our economy.
The blueprint calls on all Zimbabweans in the various sectors of the economy to think outside the box.
Zim-ASSET is a challenge to our intellectuals and academics.
The nation needs its best brains to think, to devise, to manufacture, to fashion, to proffer solutions to its socio-economic challenges.
While ZANU PF put together the blueprint, it remains for Zimbabweans to craft strategies and implement an agenda that transforms the socio-economic circumstances of ordinary people.
Zim-ASSET is a challenge that we the educated must stand up and be counted.
How?
By applying our various competencies and skills to finding solutions to our challenges.
The educated of Zimbabwe now face the acid test: to apply their knowledge to solve our socio-economic challenges as clearly enunciated in Zim-ASSET.
If ours was bookish knowledge where thinking and problem –solving skills are missing, we shall struggle.
We understand the President has set tough assignments for his Cabinet team to tackle our challenges.
Politicians must form working partnerships with intellectuals, academics and so-called technocrats to address Zimbabwe's development challenges.
Politicians should cast aside their 'fear' of academics while academics must work with the political leadership to solve our problems.
Tese tiri mugango rinopisa; it is in our mutual interest as Zimbabweans to cooperate purposefully.
Our economists must follow the example of Dr Gideon Gono.
He had the courage to do the unthinkable: to think outside the box.
Hate him or like him, he crafted and implemented strategies that allowed the nation to survive a vicious attack on its financial systems.
Even the Americans have had a few things to copy from his heroic efforts to save the economy when theirs also fell on hard times.
Some academics have, however, aligned with the enemies of the people travelling around the world vilifying their own country and government.
In some cases academics have worked as consultants for NGOs churning out fake surveys portraying the country negatively.
We maintain that these are a minority, albeit a visible one.
The majority of academics and intellectuals are men and women of goodwill.
It is now time they are given the opportunity to contribute in the struggle to rebuild and grow our economy under the Zim-ASSET blueprint.
This call on government and the private sector to engage intellectuals and academics from various universities and research institutions in the implementation of Zim-ASSET is consistent with their contractual obligations.
If previously it was left to the Deans and Vice-Chancellors to move the academics, now we are calling on the government ministers to actively engage them to address specific tasks under Zim-ASSET agenda. Research at universities should primarily address national problems meaning the agenda must be set locally.
Behaving like colonial relics, university research in Africa has largely been driven by overseas donors who have also dictated the agenda.
All this must change as we call on our academics to engage in solving national problems.
To their credit many Zimbabwean universities have researched on local issues; what is needed is to intensify the deployment of research results to address the socio-economic challenges facing the people, hence the link with Zim-ASSET.