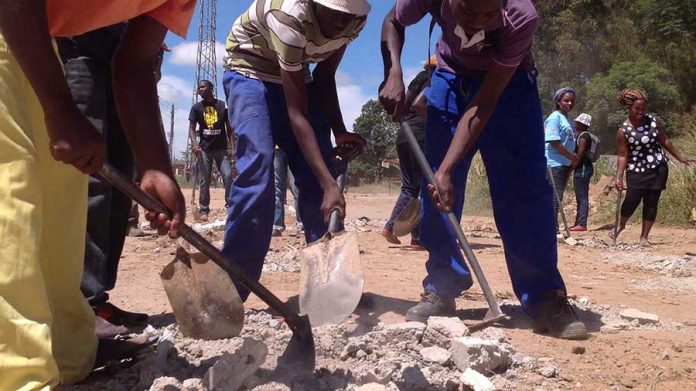 MOST of the roads in the capital city have been undergoing major face-lifts after years of neglect.
The City of Harare is rehabilitating and resurfacing the heavily potholed roads in an exercise that began in January this year.
The city is attending to 130km of roads of which 60km have been completed so far.
Like most roads in the country, which have outlived their design lifespan against the backdrop of a myriad of challenges ranging from inadequate funding to a maintenance backlog, Harare's roads have not been spared.
The potholed roads in Harare, have become an increasing hazard to drivers.
They are especially dangerous following heavy rains.
Motorists are spending a fortune on spare parts mainly suspension.
Roads like Hinn, Corner George Road and Seke Road, among others, have become hotspots for muggers who prey on motorists as they reduce speed to navigate through the potholed roads.
Some residents have taken it upon themselves to attend to the poor state of the roads, stepping in where the state authorities were not acting.
At least 800 000 vehicles drive through Harare's 4 000km road network daily, with 80 percent of the road network said to be in a bad state.
The road network has not had any meaningful routine maintenance over the last 15 years.
However, the Emergency Road Rehabilitation Programme (ERRP) and Hotspot Rehabilitation have brought a sigh of relief to Harare's motorists with roads that had become an eyesore being attended to under the programme.
The ERRP is a Government initiative that was launched in March last year after the country's roads were declared a state of disaster.
Under the programme, Harare's priority has been on arterial roads, while access roads will also be attended to as more funding becomes available.
In January, council spearheaded a programme aimed at repairing roads in the Central Business District (CBD) as well as residential areas, which had become impassable due to potholes.
According to the Environmental Management Committee minutes, council initially received about US$13 million from the Zimbabwe National Road Administration (ZINARA) for the repair of roads and storm drains in the city.
"In addition, a request for US$4 million was submitted to Zinara to fund VVIP routes," reads part of the minutes.
"The city had budgeted US$13 million for road maintenance in 2018."
In addition, council also received US$2,8 million for the hotspots programme which initially is going to cover areas in Mbare and later extend it to other areas.
Rehabilitation of road networks is already underway in most residential suburbs.
The city has already started its road rehabilitation programme in the CBD as well as other areas like Willowvale, High Glen, Marimba, Budiriro and Mabvuku.
In Mufakose, works are ongoing on a targeted six roads, while the other team is attending to the side roads for Crowborough Way.
Immediate reconstruction of roads is being implemented in Sunningdale, along Harare Drive (Arcturus Road to Drew Road and Drew Road to Borrowdale Road) and Lorraine Drive in Westgate.
Currently, there are efforts to decongest the kuMbudzi area in Harare along the Masvingo Highway by creating sideways to allow vehicles to flow smoothly.
Harare City Council director of works Zvenyika Chawatama said: "When the programme started, a list of roads that were in need of repairs was drawn up.
"Focus was initially placed on the CBD and other major roads that feed into the CBD.
"Some of the roads in town were attended to, while we also went to the low density areas.
"We have also started to do repairs in our high density suburbs in areas such as Mabvuku/Tafara, Sunningdale, Highfield, Mbare, Budiriro and Glenview."
About 57 roads around Harare such as Donnybrook drive in Mabvuku, Coca-Cola-Maruta (Seke road), Masotsha Ndlovu (Waterfalls), current shops to Budiriro 5B, Mopane road (Mufakose), Murefu Mangwende road (Glen Norah C Extension), Dzivarsekwa Street and Kuwadzana Main Street (Kuwadzana Extension) among others, are set for rehabilitation.
It is believed Zimbabwe's transport infrastructure is 18 years behind that of its regional counterparts.
Zimbabwe needs about US$5,5 billion to rehabilitate its road network.
Government is working towards raising a further US$300 million from bonds issued by ZINARA..
Separately, US$100 million has already been released to the Ministry of Transport and Infrastructure development for road repairs.
Last month, Transport Minister Dr Joram Gumbo said the US$100 million obtained from the Ministry of Finance is already being disbursed to local authorities for road rehabilitation.
Of the US$300 million, about US$30 million can be accessed from a local bank.
Zimbabwe targets to rehabilitate
50 oookm by year end.
At least 21 000km have been constructed and rehabilitated since the beginning of the year.