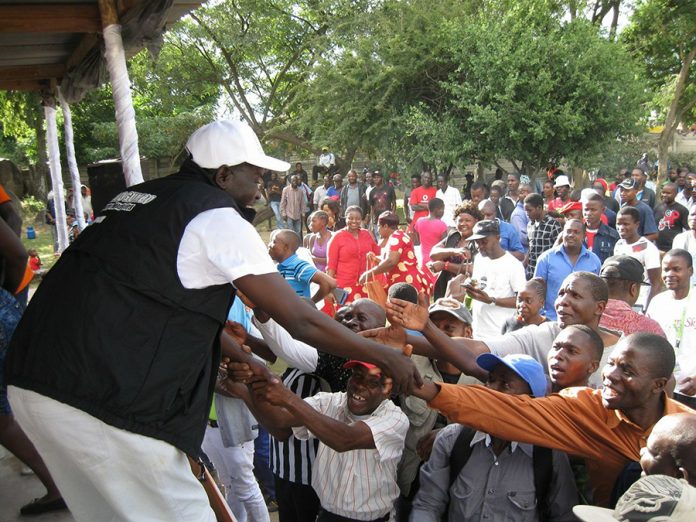 By Fidelis Manyange
KNOWN in the music circles as Sekuru Madyira, Leonard Gumbo is one of the emerging sungura artistes who have refused to let the genre get eclipsed by Zim-dancehall.
He joins the likes of Alick Macheso, Romeo Gasa, Peter Moyo and others who are continuing to satisfy the sungura fans.
Born 38 years ago in Mushawasha West, Masvingo, near present day Tokwe-Mukosi Dam, Gumbo never thought he would venture into music and become a recognised name in the genre that featured his two musical heroes, Leonard Dembo and Tongai Moyo.
To show how much he was inspired by these two musicians Gumbo named his type of music 'baruta' derived from Barura and Utakataka Express.
Barura Express was the late Leonard Dembo's Band while Utakataka Express was fronted by the late Tongai Moyo.
After completing school, Gumbo trained as an Agricultural Extension officer at Kushinga Phikelela College in Marondera.
He was not aware that his deployment to Chirimamhunga area in Seke was the beginning of his successful music journey.
It is when he met Leonard Dembo's former lead guitarist Innocent Mujintu, who invited him to his rehearsals at Kunaka Business Centre in Seke in 2008, that he got hooked to music.
"I worked with Mujintu for two years as a door man and sometimes he would give me the opportunity to do vocals here-and-there for some of his songs during live shows which gave me confidence and horned my interest in music" said Gumbo.
"After gaining confidence, I left Mujintu and teamed up with my brother Livison Bhibho, who had been Mujintu's rhythm guitarist, to record two singles, 'Gwara' and 'Muchengetei', which did not do well as we recorded digitally, apa sungura kana museve haudi izvozvo."
Gumbo recorded his debut album, Zvikumbiro Nerairo, in 2010 and once again the album was poorly recorded. It was later redone after consultation with star musician Leonard Zhakata and Tongai Moyo, whom he had met at Cephas Mashakada's funeral.
"It was not easy to be accommodated by big recording companies, let alone getting air play, as only one presenter from National FM played our album. I almost thought of abandoning music to venture into sleeve designing," said Gumbo.
The love and the encouragement he got from the Seke community gave him confidence.
"Most of the people in Chirimamhunga in Seke are descendants of vaera Gumbo. They started calling me 'sekuru' hence the name Sekuru Madyira," he said.
"Vakatosvika pakundipa mbudzi yekupembedza zita."
His new album Tavaruva is doing well on the charts on National FM Radio Station Top 20.
The album was engineered and mastered by the veteran sound engineer, Jabulani Ndlovu.
The eight-track album contains tracks which will appeal to all late Tongai Moyo's fans.
Though Peter Moyo is doing well in keeping his father's legacy alive through stage performance, Gumbo has the voice of the late sungura maestro.
His lyrics are mature and rich with meaning.
The lyrics on the song 'Tavaruva': "…Takasekwa kwemakore tikadadirwa kwemakore nhasi uno tavaruva rekuyeva…," are a true reflection of the musical journey Gumbo and his group Mhondoro Boys have travelled and endured.
To cater for sungura fans, Gumbo, together with other artistes, both local and from beyond our borders, have formed Zimbabwe Artists and Fans Association (ZAFA) which is a musicians' and fans' interactive group.
He is also a member of Gamba Remimhanzi, a local association of fans and musicians led by Rabson Umali, a National FM presenter who also has a radio programme similar in name.
Gumbo is married with two children.