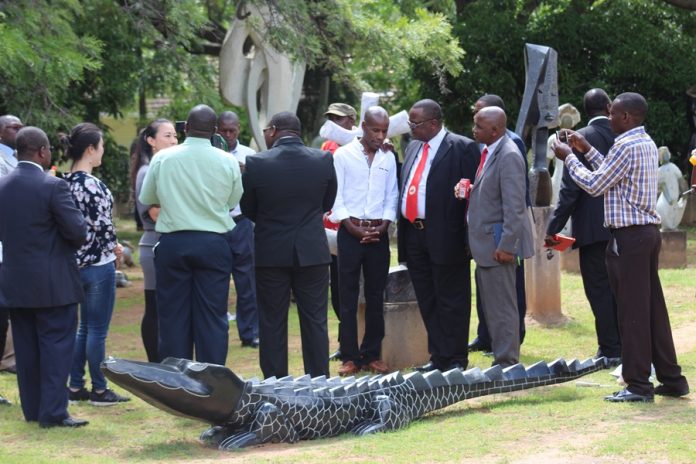 WE are in yet another new year.
Soon the year will be done, just like the previous one.
And what we will be our story, more cries, more complaints and more suffering.
The old cry that, locally, art does not pay will be repeated.
But it seems the most important point our local artistes have missed is that art is a business.
Everyday we scrutinise the decisions our artists are making in the various mediums and this scrutiny ends up a cruel sport.
We conclude our artistes are 'brainless' people.
Many artists prefer to call consumers of their art fans or clients and never customers.
Customers are precisely what your fans are at the point of sale.
However, I tend to have unanswered questions why one product would have different price tags in the same market for different clients even in the space of one hour.
It seems there is an unspoken rule that artists aren't supposed to talk about their businesses which reveals plenty about how we tend to think of 'art' and 'business' as mutually exclusive.
Below is some truth I stumbled upon on artarchive.com and would like to share with all — it might help improve their fortunes in 2018.
While not all entrepreneurs are artists, all artists are entrepreneurs.
Artists, like entrepreneurs, have a product or idea to sell, and they need to get out into the marketplace.
In order to do this, artists need (at the very least) basic business skills and a willingness to approach selling art as any entrepreneur would.
If you're serious about building a sustainable art career, there are definitive steps you need to take to build and maintain your business:
Define your signature style (mission/brand/identity in business-speak).
Your idea or your approach to your work is ultimately what you will be putting out in the market. By determining what it is you do, how you do it, and the content, subjects, and form/media, you will be defining your signature style. Once you have developed a style, you can then present it seamlessly to your audience. By defining your brand or style, you are unwittingly determining your audience.
Understand and know your
audience.
Who collects your work is important information to have. Serious entrepreneurs study the habits of their audience. They know what prices their audiences are willing to pay, where they are willing to buy, when, and how often. An artist should know this too.
For example, they know that buyers will be different at local art fairs than at trade shows or galleries. By identifying your audience early, and re-evaluating often, you'll be better able to keep up with demand, price your work, and know where to spend your precious time selling (and more importantly where to avoid).
Price your work appropriately to cover costs and make a profit.
There are various methods to pricing and evaluating work. Among other things factor the cost of overhead, materials and supplies, as well as a recommended mark-up for retailing. One of the biggest mistakes artists make is not understanding the value of their work. So often artists either inflate the value of their work or undervalue it — either way, they miss the opportunity to sell their work. Entrepreneurs understand that pricing is a fine art and so should artists.
Understand basic marketing and sales practices.
Entrepreneurs know the key to getting their idea or product to the market is through marketing and sales. You must employ marketing strategies to do that. That means you need a website that reflects your signature style, which includes high-resolution pictures and descriptions of your work, as well as a means to buy the work directly from the site (or has links to contact information or the galleries, promoters or managers who represent you).
It should also include an artist statement and a section with a regularly updated blog or newsletter. Keeping in touch with and building an audience is key to selling your work. With social media tools like Instagram, Twitter, and Facebook as well as search engine tools like Google, there are more ways than ever to reach audiences.
Keep excellent records.
Every business needs to keep track of money going in and money going out, as well as inventory. Maintaining and cataloguing your work is key to your success as an artist. You simply cannot overlook the details—often they are what make or break artists.
Surround yourself with good people, strong mentors and individuals who are succeeding and want you to succeed too.
Entrepreneurs know that networking is more than trading business cards. Business is all about relationships. And, having a network of great people around is a key to success. Most entrepreneurs know they can't run businesses on their own. They get advice from other successful businesspeople and they reach out when they need help or don't know what to do.
May 2018 be your fruitful year!
A client,
Evans Mushawevato.