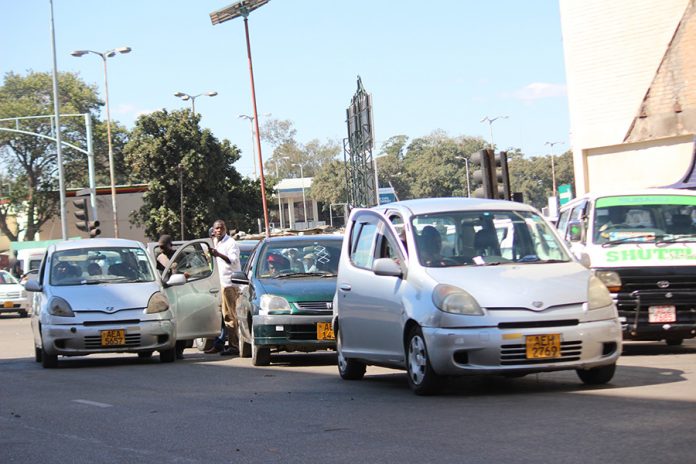 YEARS ago when I was in Dakar, Senegal, I could not believe the lawlessness by motorists on the street, and I never believed we would get from the airport to the hotel in one piece.
If someone had told me then that our Harare would ever come to that, I would have disagreed.
Last year, we lost a bright 17-year-old student at Girls High School, Joslin Gomba.
A commuter omnibus driving in the wrong direction overran her and four others.
Joslin was swept beneath the commuter omnibus, sustaining injuries which killed her before she could be taken to hospital.
It is heartbreaking that a year later, the situation that claimed Joslin's life along Takawira Street between Girls' High School and Queen Elizabeth still flourishes.
The illegal pick-up point which the commuter omnibuses have unilaterally declared, as they have done elsewhere in Harare, still threatens schoolgirls at these two high schools.
Joslin was killed on May 23 last year.
One would have thought this would have alerted us to the dangers stalking our children, but it seems it did not.
Last Friday, I was shocked to realise that our children are still vulnerable.
It was along Mutare Road at the pick-up point where students from Churchill and Roosevelt normally wait for transport on their way home.
A tiny green car, smaller than a Honda Fit, stopped.
A little girl asked the driver if 20 cents was enough for her sister, little brother and herself.
The driver looked at her for a few seconds as more children crowded around the vehicle.
He told them to get in and they filled the trunk, the back seat and the front seat in seconds.
I realised this was a daily practice.
There were about six children in the trunk, including the little girl and her two siblings, another six in the backseat and three on the front seat.
All in all there were 15 children in that little car.
I could not bear to think what would happen if that tiny car was involved in an accident.
There would be no survivors and with the way mushika-shikas conduct themselves on the roads, accidents are likely to occur.
I tried to persuade the driver not to load children like that but he ignored me.
I was troubled.
Do parents know this is how their children get to and from school?
Does the Ministry of Primary and Secondary Education know that this is how children get to and from school?
Do the police know the risk and dangers schoolchildren are subjected to? Children should be protected.
Later the same day along Borrowdale Road, opposite the National Archives, two children were playing by the roadside.
They could not have been more than five years old.
One of them had a satchel.
After some time, a commuter omnibus stopped by and the conductor put one of the children through the window.
The commuter omnibus was too full for anyone to use the door.
Somebody inside the vehicle received the child from the conductor.
When a conductor picks up a child and puts it through the window, the child cannot protest.
Apparently, in case of an accident, the same child would be difficult to identify.
Is this how our children should be handled?
Are parents at peace with this?
Is Zimbabwe at peace with this?
Is this how the Zimbabwean child should be treated?
The other child carelessly crossed that busy road, my heart skipped a beat.
On Saturday May 20 at around 2:30pm, I came across a school bus parked by a lane next to one of the filling stations on Mutare Road in the Msasa area.
The little boys apparently were on an outing, most likely a sporting event from their uniforms.
What drew my attention was that the bus was parked at a filthy place.
The place was full of all kinds of litter, just where people throw everything, the kind of place where drunkards and other carefree people relieve themselves.
In contrast, the uniforms looked so neat, they were spotless.
The children sat there innocently, with their kaylites with single pieces of chicken on the filthy grass.
It was a painful sight.
Our children are vulnerable; they depend on us to protect them.
They are so precious, they are the greatest heritage we have, if we do not look after them then there is a major problem with us.
Something has to be corrected urgently!
For a nation with such a proud history, how can we treat our children like this?
Our children are not protected if any irresponsible money monger from nowhere can just pick them outside the school.
That driver who loaded children like cabbages must have been about 20. Who knows whether he was even licensed to drive? Who knows how much driving experience he had? Who knows how road worthy the vehicle was?
The vehicle did not even have any number plates.
Parents, how can you give a little girl of eight just 20 cents and expect her to negotiate with that amount to bring home her two siblings and herself?
Can you not see where this is leading?
Ko zvaita sei?
It is a year since Joslin lost her precious young life at the hands of a cruel commuter omnibus driver. Why are we letting the conditions which stalk the lives of our children continue?