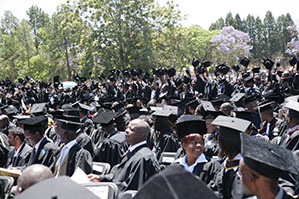 DO you remember that meeting you had with Midlands State University (MSU) students at the campus in Zvishavane, the one that shocked you that in our own time our children dare say our liberation struggle did not bring independence?
We were all so shocked and hurt that our own children, only 36 years after independence, would credit the British and Lancaster House with bringing about our independence, that very force which invaded our country, dispossessed us of everything, caused us untold suffering and cost us upwards of 50 000 lives.
That their minds could be so blurred they could even imagine, let alone believe, that it would be in the interests of the British to restore our country to us is mind-boggling.
It is also grave testimony to the hidden muscle of 'soft power'; the very reason they would use any willing tool to ensure our education curriculum, at all levels, is not determined by ourselves lest it be directed to serve Zimbabwe's interests.
I wanted to remind you of this painful episode Cde Alexander Kanengoni because quite recently I was in a discussion with a female first-year student at the National University of Science and Technology (NUST).
I asked how her first year at university was going, what the curriculum was like and then she mentioned she is doing Peace Studies and it is a compulsory course.
I had to pause as I remembered the earlier articles in The Patriot on this very issue, querying why something so inimical to our nation should be taught at all, let alone made a compulsory subject for Zimbabwe's children.
Outwardly I said: "Oh! It is compulsory, do you know why it is compulsory?"
She said she did not know, she did think it was strange though because it was not a core subject to her discipline; science and engineering.
I left it at that, but then I explored with her its origins and whose interests it is meant to serve.
I then pointed out that its ultimate goal is regime change in Zimbabwe, engineered to restore Zimbabwe to its ousted former colonisers so that once again they can loot the country's resources and keep its citizens permanently enslaved.
The young girl was visibly shaken.
"Why does the Government not stop it?" she said.
"Isn't this a state university?"
I responded that as a state university, the Government has a decisive say in what goes on at the university, particularly the curriculum.
She was silent, but not at peace.
Later on the same day I spoke to the girl's father about Peace Studies at NUST and other state universities in much the same way I had done with the daughter and his response was identical to his daughter's: "Why does the Government leave this to go on?" he said.
"These are the things we expect Government to watch out for and snuff out while still in the bud.
"If the Government leaves such things to go on, then what is our hope?"
My response was still that indeed what was taught at state universities was state business.
It must be of concern to the Government.
The girl's father was not appeased.
He was shaking his head, shocked that such could still be going on today, 36 years after independence.
He felt something was very wrong.
Peace Studies taking our state universities by storm is more than a bad omen.
It is bad news for a revolution that is under siege by those who invaded the country and milked its wealth for 90 years.
As luck would have it, four days ago, I met this same girl and she still asked me: "Are there any moves by Government to stop the Peace Studies?"
She patiently waited for my answer, but all I could say was I did not know and I still reiterated that curricula at state universities is serious state business.
She did not 'understand' me and so she did not pursue my response.
After some moments she said to me: "Is the Zimbabwe Heritage Trust (ZHT) exhibiting at the Zimbabwe International Trade Fair (ZITF)?"
I said I didn't know.
"It should be displaying at such fora otherwise how would we know all these things," she said.
"Imagine, if it were not that I know about your work, how would I know about the work of the ZHT, all these important things, how would I know them?"
She had a point.
I promised her I would follow up the issue with ZHT.
"They unearthed the so-called Peace Studies and its agenda, they certainly would have the latest on the issue," I tried to re-assure her.
As a student at NUST, she will certainly look for the ZHT stand this week at ZITF. If she finds it, she certainly will invite her friends to sample this new-found treasure in her life.
And hopefully sometime soon, ZHT will also meet NUST Peace Studies students the way they met the MSU Peace Students in Zvishavane last year and from the other side, we will expect you Cde Kanengoni to whisper a word or two.
However, as this unfolds Cde Kanengoni, you can take comfort in that the seed you sowed did not get lost.
Some young hearts still search for and cherish the truth you stood for.
Therefore you can afford to smile Cde Kanengoni!