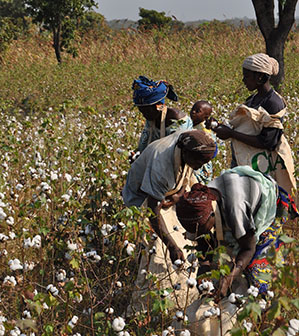 COTTON production is faced with imminent collapse as a result of a myriad of challenges, chiefly poor pricing of the commodity.
Prices offered for the crop have made producers, who cite high production costs, unhappy.
Price negotiations between producers and other stakeholders have never been fruitful always hitting the proverbial brick wall.
The challenges faced by cotton producers have not only affected the farmers, but players in the textile industry as well.
Farmers are now dumping cotton farming for other crops.
But most producers are in areas that have soils that are not suitable for other crops other than cotton.
Besides poor prices, the proliferation of second-hand cheap clothes and the importation of raw materials are adding to the woes of the sector.
The low cotton prices on the world market have worsened the bad situation as local farmers do not grow genetically modified cotton that is cheaper to produce.
The price of cotton internationally fluctuates, but currently it is around US 35 cents per kg.
In Zimbabwe prices are ranging from US 46 cents per kg for Grade 'A' and US 35 cents for Grade 'D'.
Producers insist that the prices offered can go up considering that the by products of cotton make profit for buyers.
"For example, after ginning the buyers sell the lint for US$0,40 on the international market but they are left with the seed that goes on to be sold to manufacturers of margarine, cooking oil, soap and stock-feed pushing the value to more than US$0,35 that they pay us. Farmers also deserve a share which must come from fair pricing that takes into consideration these facts," said a producer who spoke on condition of anonymity.
Zimbabwe Clothing Manufacturers Association (ZCMA) chairman Mr Jeremy Youmans told The Patriot in an interview that stakeholders in the cotton industry were formulating strategies to revive the sector.
The strategic document will be out in September.
"We are looking at the problems that affect the whole cotton value addition chain," he said.
"The issue of price of seed cotton has been a problem for the value chain in recent times.
"The problem is similar to all businesses within the chain and outside it.
"A high price of seed cotton leads to a high price of cotton lint which leads to a high price of cotton yarn, among others, so that in the end cotton becomes too expensive to make garments from, when compared to polyesters and blends of polyester and cotton."
Youmans said it was critical for farmers to finance themselves or engage in contract farming.
He said farmers must honour contracts so that buyers are motivated to support the crop in the future.
Youmans emphasised the need to set the cotton price based on the world price for cotton lint to ensure viability and success of local farmers.
"Seed cotton is paid based on weight, but 58 percent of the weight is due to the seed which is used for expressing cooking oil and making animal feed," he said.
"Only 41 percent of the weight becomes cotton lint, so all these issues need to be looked at.
"We believe we must have a pricing model for the sector."
Youmans said the country should focus on quality specialist cotton which can maximise returns throughout the chain.
However, he noted that when cotton prices are high, goods produced based on cotton become more expensive and consumers will switch to other substitute goods such as polyester fabrics and soya oil.
Government and private players, said Youmans, must work together to resuscitate the textile industry.
Chegutu West legislator, Dexter Nduna said it was imperative for Government to resuscitate the textile industry so that farmers' produce can be bought at competitive prices locally.
"Right now, there is underutilisation of the textile industry in Zimbabwe," he said.
"We are concerned with the loss of jobs in textile companies such as David Whitehead and Government should hasten to revive them for employment creation.
Nduna called for the banning of importation of raw materials or imposition of hefty excise duty on imported raw materials, and the confiscation of smuggled second-hand goods.
Zimbabwe Textile Union general secretary, Silas Kuvheya, urged Government to consider reintroducing subsidies in the cotton sector.
The textile industry at its peak employed more than 20 000 people, but presently employees about 3 000.
Kuvheya added that the influx of second-hand clothes and cheap clothes from Tanzania and Asia reflects a crisis as under normal circumstances no one would want to buy cheap second-hand clothes.
"Everyone wants new clothes provided they are affordable," Kuvheya said.
"If the textile industry is resuscitated, new clothes will be affordable."
According to the cotton industry, the estimated cotton crop in the 2013/2014 season is 200 million kg.
And 96 percent, which amounts to 192 million kg will be exported as basic lint, a primary raw material and only six million kg will be value-added locally.
The industry insists that if an extra 10 million kg of cotton lint was value added locally, about 1 000 jobs would be created.