THERE was nothing surprising about Juventus coach Massimiliano Allegri and veteran defender Leonardo Bonucci's attack of teenage sensation Moise Kean who had scored the Italian champions' last goal during their match against Cagliari on Tuesday last week.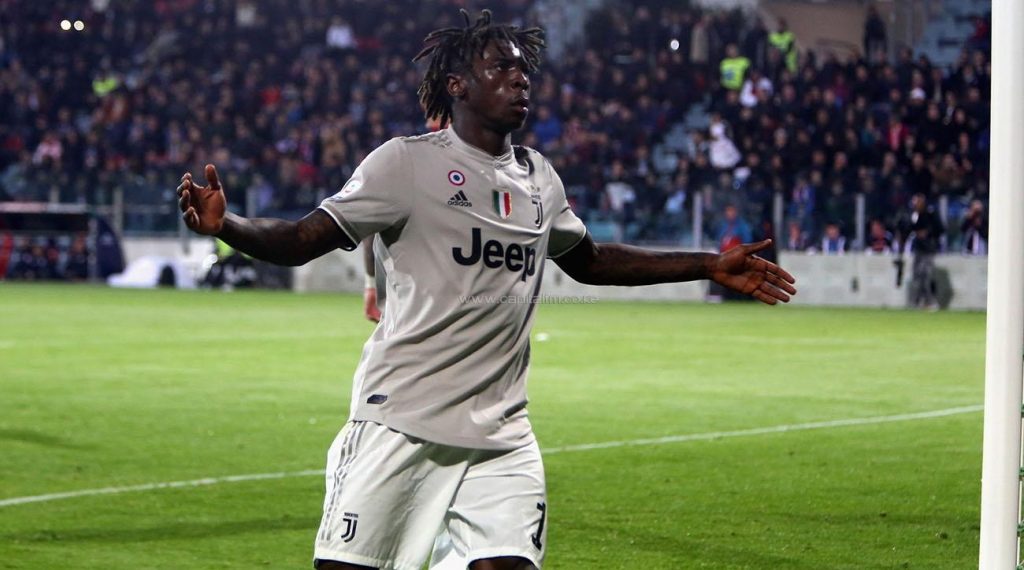 Kean, of Ivorian descent, together with his black teammates Blaise Matuidi of France and Brazilian defender Alex Sandro, had been victims of racial taunts by Cagliari fans throughout the match.
The 19-year-old striker responded by celebrating his goal in front of Cagliari fans and this prompted a furious reaction from the fans as well as Allegri and Bonucci.
This is just a bunch of racists who cannot simply fathom the inescapable fact that racism is an attack on humanity and that Kean is football's next big thing.
But that is neither here nor there!
The fact is that those who are still on the racism lane are failing to come to terms with fast emerging realities of the world.
Blacks are slowly turning the tables against previous structures of power and control that whites built on the foundation of theft, corruption and total disregard of the black race.
It is this abuse of black people by whites that, for instance, led to the bloody war of liberation by angry and abused Zimbabweans.
Memories of the abuse that Zimbabweans endured are still fresh in their minds and the continued maintenance of those same institutions of oppression by whites will provoke a similar reaction to the one that was witnessed during the war of liberation.
What is emerging from the Kean fiasco is that there has been little effort in culling racism both in football and across the board.
All we hear is talk and talk as well as silly campaigns that have yet to protect blacks from racist abuse by whites.
The time has come for the aggrieved and abused black people of the world to unite and fend off the raw deal that we have been getting from those insane whites.
Black people of the world must now push for serious reform of the United Nations which has been, when all is said and done, a lame duck when it comes to bringing order to the world.
It is a fact that the West, particularly the US, are the principal drivers of racism in the world and is manifest in the Kean incident.
"Kean knows that when he scores a goal, he has to focus on celebrating with his teammates," Bonucci said.
"He knows he could have done something differently.
There were racist jeers after the goal. Blaise heard it and was angry. I think the blame is 50-50. Moise should not have done that, and the Curva should not have reacted that way."
His bellicose coach was in tow, endorsing that insanity.
"He should not have celebrated in that manner," said Allegri.
"He is a young man and has to learn, but certain things from the crowd also should not be heard. You need great intelligence to deal with these situations and should not provoke people.
That, of course, does not mean the idiots in the crowd and the way they reacted should be justified."
What is there to learn from a grouping of people who were clearly having a time of their lives taunting black players?
Rubbish!
Let us define racism and unravel how it is an attack on humanity.
The Webster Online Dictionary defines racism as "Poor treatment of or violence against people because of their race." or "The belief that some races of people are better than others."
We will, in the next sentences, unravel how the US has institutionalised racism.
We draw from famous anti-slavery activist Frederick Douglass' famous June 14 1876 speech at the National Republican Convention.
Said Douglass:
"You say you have emancipated us. You have; and I thank you for it. You say you have enfranchised us; and I thank you for it. But what is your -emancipation? — What is your enfranchisement? What does it all amount to if the black man, after having been made free by the letter of your law, is unable to exercise that freedom, and, after having been freed from the slaveholder's lash, he is to be subject to the slaveholder's shotgun?"
According to an April 2 2019 report by Vox, racism is still rampant in the US and black students have taken a stance to push authorities to put to an end it.
Below is what the report says in part:
"In Charlottesville, students say they want school leaders 'to back the words up with action'.
On March 25, more than 100 students at Virginia's Charlottesville High School walked out of classes to protest racism, call for an end to white supremacy, and demand racial justice.
The action came just days after a teenager in a neighbouring county posted racist threats online targeting black and Hispanic students at the school. The threats led to the closure of all Charlottesville schools on March 21 and 22.
Charlottesville is still grappling with the aftermath of the 2017 white supremacist protest that shook residents and made the city a flashpoint rising attention to white nationalism across the country.
But student activists affiliated with the school's Black Student Union argued that their protests were about more than just online threats — and that the real problem was a series of deeper inequities in the Charlottesville City Schools system.
They say the system's problem with racism and bias goes back much further than 2017, and fits into larger with structural racism and racial violence. A 2018 study from a Virginia-based legal nonprofit found that black students were 4,5 times more likely to be suspended from Virginia schools than their white and Hispanic peers."
Those who still believe that whites 'love' blacks may draw a lesson or two from this instalment.
The question that remains unanswered is: Who teaches white children to be racist?
We should give serious thought to that question of our time.
Let those with ears listen.